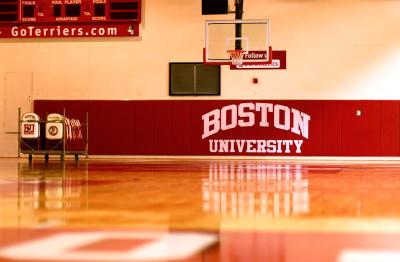 With one week until its season opener, the Boston University men's basketball team will be playing all of their conference games in Case Gym this season. The move from Agganis Arena was decided this year and is intended to enhance the tone of future basketball matches, BU Athletics spokesperson Brian Kelley said.
"Any time you have a big crowd, it helps," he said. "Our student athletes do a good job of supporting each other and we are always trying to keep the student body as active as possible in being at our games and being great fans. We are always trying to build that core group that wants to support any team at any time."
Kelley said juggling two venues all year long is "difficult" and he hopes the venue change can create a constant atmosphere at Case that is "as good as it can possibly be."
BU coach Joe Jones said he pays respect to Athletic Directors Drew Marrochello and the general department for increasing marketing efforts through significant social media exposure. He said he hopes the team will be able to play in both Case and Agganis in the future, but for the time being, he agrees with the venue switch.
"Overall we are trying to improve our fan base, so we are trying to do a good job of marketing the program and getting students, alums and local neighborhood people involved in coming to games and supporting the program," he said. "Right now the best way to [improve the fan base] is to try to do a great job of getting Case to the point where we are getting great crowds in Case. I hope at some point we create a fan base where we can sell out Agganis, but first we got to be able to do that in Case."
Conference games are critical for the men's basketball, and could "make or break [the team's] season" in terms of playing in the following season, Jones said.
While men's basketball conference games had been held in Agganis, the women's basketball team has always held its conference games in Case. Katy Steding, the women's basketball coach, said she thinks the women's team prefers holding conference games at Case due to its more intimate setting.
"I don't really know why [the team plays in Case], that was a decision that kind of came before me," she said. "The fans are right on top of you."
Cedric Hankerson, a junior in the Questrom School of Business and guard on the men's basketball team, said the change of venue has not changed how he feels about the upcoming season.
"We usually practice in Case anyways so we're really familiar with the baskets and the court so I think it's positive … Plus when Case is packed, it's really rocking and exciting," he said. "So I'm pumped for this season."
Eric Johnson, a guard on the men's team, said he's "not completely against" the decision.
"Agganis was pretty big and very hard to fill so it didn't help us with home court advantage," the College of Communication sophomore said. "Hopefully in the future we will be forced to be moved back into Agganis because of the attendance rate, but as of right now playing in Case is cool."
Several students said the BU community generally has low interest in sporting events and that the men's basketball team would benefit from the more intimate setting at Case, compared to Agganis.
Sofie Engen, a sophomore in the College of Arts and Sciences, said she thinks more students attend hockey games than basketball games as BU is generally known better for hockey.
"School spirit is pretty low compared to what I expected coming into BU," she said. "Like the hockey games, there are not that many students there and like other sporting events, not many people are that interested in going to like soccer, lacrosse and basketball."
Brittany Chang, a freshman in COM, said the student body shows significantly more school spirit when it comes to hockey games compared to other sports, including basketball.
"I feel like [fans] do effect performance, but in the end it only matters if a team is good or not," she said. "Students are only willing to support teams if they actually are scoring well or ranking high."