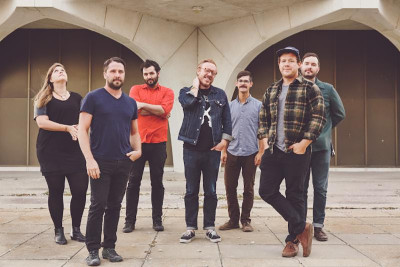 The past few years have not been easy on Library Voices. After running into countless problems on tour, the Saskatchewanian indie-pop group decided to take a break. Two years ago, when their album "Lovish" became the next goal, lead singer and guitarist Carl Johnson was mugged and seriously injured, suffering blood pooling in his brain, a concussion and lapses in smell.
Despite the possibility of never playing again, Johnson contributed to seven of the 11 tracks on the album.
Recorded in an old funeral home, "Lovish" was mixed by Dave Plowman and Alex Bonenfant of METZ, Crystal Castles and July Talk. Often described as a band for those who like Talking Heads, Library Voices formed in 2008 as a ten-member group who simply enjoyed making music.
According to record label Nevado Music, six remain in the re-emerging group: Paul Gutheil, Michael Dawson, Carl Johnson, Brennan Ross, Amanda Scandrett and Michael Thievin. Considered to be one of the saviors of Canadian pop, the band has been nominated for Album of the Year at the Western Canadian Music Awards twice — for the EP "Hunting Ghosts & Other Collected Shorts" in 2009, and for the album "Denim on Denim" in 2010.
"Lovish" is the group's third full-length album following "Denim on Denim" and "Summer of Lust" in 2011. The latter was upbeat, lighthearted fun.
"Lovish" is heavier. This album increases focus on drums and guitar to back intense emotion in the lyrics all while maintaining a beat that is rooted in a pop sound. The album is also distinctively more experimental, similar to Bleachers, whereas "Summer of Lust" felt very much like Vampire Weekend.
In an interesting twist, Library Voices added obvious saxophone to the album, as seen by the aggressive jazzy hooks backing "Zzyzx" and "Fangs of Love."
In contrast, "Slacker" and "Every Night" are on the stranger side. "Slacker" ends with violent moans from the band, and "Every Night" contains more feedback than vocals. Both are hard to understand, much like "Death by Small Talk."
A closer look at "Lovish" reveals a dance around love, alternating between praising its power and cursing it to hell. The album's promotional single "Oh Donna," also the first track on the album, sets the tone with, "All of your heroes, they're all assholes / But that don't mean you should piss on your dreams."
In a recent interview with VICE, Dawson said of the aggressive lyric, "There's a reason why people worship the dead. Everyone else is just too human."
The social critique of loving celebrities in society can be seen throughout the album. "Bored in Berlin" begins with, "We're more sentimental as we grow older / All my favorite singers, they're either dead or sober."
Some of the album explores a sadder side of love, unrequited or lost. In "Sunburnt in LA," Ross, the other lead vocalist, laments unrequited love in what the band calls a "miserabilist anthem." He crones over an '80s pop beat about "watching you slip away" and how "this jealous man just wants to take care of you, honey".
Arguably the best-written track on the album, "The Wild Roar of Love," is also melancholy, but slower and sadder. "Memories are the kindling / We must burn to warm our hearts," one of the most heart-wrenching line on the entire record, is followed by, "You were gone and I'm not here / You were gone and I'm still here."
Library Voices has made sure "Lovish" lives up to its name. It's not all sad songs about lost love. "Fangs of Love" is a direct critique of the whole idea of relationships and calls attention to partners for messing everything up. Backed by a straight, rock beat and saxophone slides, the song reminds you to "Keep that girl out of your life / She's only [going to] do you wrong," and that "You are calendars / Your days are numbered / You're hanging in the fangs of love."
Essentially, don't let love enslave you.
Though this song is the high point of contradiction between love as a good thing and a terrible mistake, "Lovish" is about a balance between the two. As Library Voices has learned the hard way, life is rocky and uncertain but the precarious nature of existence is what makes it fun. As Ross says again and again in "Oh Donna," "That's just the way it goes."