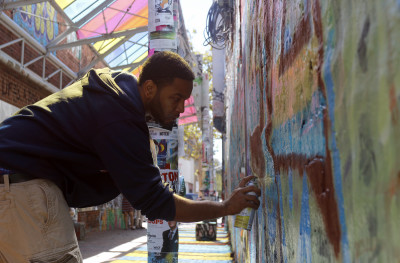 One morning in April 2013, David Taylor, known as DS7, stopped by The Chelsea, a gallery that was hosting a solo show of his, to find nine of his paintings missing. Five of the paintings, which had been appraised at $4,000 each, were never seen again.
Taylor eventually made reproductions of the stolen paintings, and displayed them and some of his other works in an art show Saturday at Warehouse XI in Somerville. Therapist and painter Charles Win, known as Shred15, also had art displayed at the show. His paintings, which look like screen-prints and are reminiscent of Andy Warhol's pop art, portray famous media activists Julian Assange, Edward Snowden and Aaron Swartz.
The show was called "JACKED" in honor of DS7's stolen paintings and the information the activists "hijacked."
DS7 started as a graffiti artist in the 1980s. Although he has since transitioned from painting public spaces to painting canvases, his current art is still strongly influenced by the street art. In fact, the main medium DS7 uses is aerosol paint.
"Everything goes in full circle," DS7 said. "You go back to the things you used to do and reinvent it."
Win said he is inspired by graffiti's "flat images" and graffiti's use of screens to paint through. He says graffiti should be considered art because it is an important part of American culture, although he understands efforts to stop it in public areas.
"To have people say, 'I don't want graffiti on my building,' that's fair," Win said. "I wouldn't want my building to be all graffitied. That's completely off the mark. I don't appreciate that and I don't pretend to support that in any way."
Instead of trying to put a stop to graffiti altogether, DS7 said that authorities should try to help young people who do graffiti by putting them through programs similar to the ones he went through after he was arrested in the 1980s.
"Kids are going to do what they want to do, tagging here and there on the street," DS7 said. "It's never going to stop, but you can give kids areas where they can work and paint. If you do that a little more often, then maybe kids won't be all over the streets doing their work."
Win agreed with DS7 that there should be a greater effort to put art back in the school curriculum so that children have a place to practice their art that isn't the streets.
"Where are our children supposed to express themselves?" Win said. "The school system has been decimated as far as music, band, art and photography [are concerned]."
Win cited projects such as The Wall, a public "canvas" at Central Square, as a possible solution to the "problem" of graffiti.
"I think it needs to get back into the school systems if you want kids to take it off the street," he said. "Kids should have the means to express themselves."
Many JACKED attendees also said they believe that street art should be celebrated and embraced most of the time.
"I think street art can be fascinating and I've always enjoyed it," said Lisa Ullman, 54, of Brookline. "There's a place for it if it's not destructive or hate-filled … especially when you see it turned into murals or things like that. It can be surprising and help you think about the world."
Michelle Hirschfeld, 38, of Cambridge, said she believes graffiti can help accomplish the goal of creating streets with "a little beauty and art infused in everyday life."
She added, "There are cities around the world that are really embracing it and Boston should get on board. In general, I think it's a really great movement and there's a great future for it."