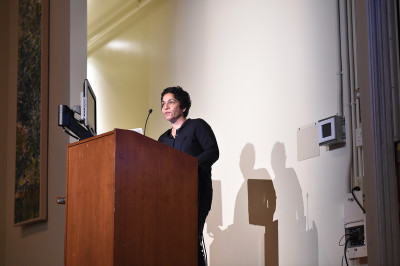 A man whose legs are two-by-fours, a dog whose ears are paper and a picture of a donkey cart carrying an I-beam next to the freeway — all of these works of art were created by Huma Bhabha, a Pakistani artist who visited Boston University Monday to give a lecture about her work.
Bhabha makes a variety of sculptures out of many different media. Most notably, she creates sculptures using a combination of found objects, paint and clay. Bhabha also creates collages on paper and drawings on photographs.
Bhabha said some of her greatest influences include Karachi, Pakistan, where she was born and raised, and New York, where she went to graduate school. She said she has a "connection to a special kind of physical rawness found in Karachi" and is also interested in the "concrete canyons" of New York. Bhabha is especially fascinated by the contrasting scenery in the two locations that played a large role in the formation of her identity as an artist.
"The landscape is a very important part of my work," Bhabha said during the lecture.
Many of the themes Bhabha explores in her work pertain to life in civilization, especially the destructive parts.
"The stories and themes I'm interested in, for example, war and colonialism and displacement and contemporary ruins of war, [do not] lose sight of the comedic and theatrical elements," Bhabha said.
She also said she draws inspiration from the scale and imagery of African art as well as the photographs of Romanian artist Constantin Brancusi, who photographed himself in his studio.
"I see a cinematic element [in Brancusi's photos] which I try to develop in my photos of sculpture inspired by him and other artists," Bhabha said.
Bhabha started making art from a young age growing up in Karachi. Her mother was an artist and helped to build her interest.
"I'm an artist," Bhabha said. "That's what I always wanted to be."
As for her artistic process, Bhabha said she does not have a particular routine or defined process every time she makes a sculpture, drawing or photograph.
"When I begin to make my work, there is no set plan," Bhabha said. "I work to find a balance between practicality and form."
Bhabha's work might be considered unique by many, given the uniqueness of her materials.
"I like how these materials … would complement each other very well," Bhabha said. "It was a combination I had not seen before. Using modeling clay in an expressionistic way was something that I really enjoyed."
Bhabha said she likes using found objects to create her sculptures because it allows her to go into abstraction. She had been interested in assemblage and studied the history of collage in college, which inspired her to use found objects after school.
"Sometimes using found materials is easier," Bhabha said. "When you don't have that much money, you find things that have the same affect."
Some of Bhabha's specific sculptures capture her love of found objects and the fact that they add a sort of mystery to the pieces.
Her sculpture "Sleeper" from 2005 is a life-size standing figure inspired by the kouros sculptures of ancient Greece. The pedestal is a part of the sculpture and itself a found object, and from the side the viewer can see that the sculpture is actually hollow and the figure's legs continue into the pedestal. This idea that the viewer has to walk around the sculpture to get the full affect carries throughout much of Bhabha's work.
"Is it stuck in the white pedestal or is it part of it?" Bhabha said. "This kind of ambiguity is something that I like."
An untitled sculpture of Bhabha's from 2005 has to been seen from not only different angles, but also in different environments in order to be fully understood. The sculpture looks like a lying down, possibly praying figure with the whole body covered in a trash bag and hands made of clay sticking out. Bhabha said she photographed it in the studio, but also in the landscape of Karachi.
"I was noticing how the garbage bag covering the clay to keep it from drying also started to resemble a figure," Bhabha said. "The narrative changes in a different setting."
Bhabha's work served as a source of inspiration to many BU students who attended the lecture, especially to those who hope to follow in her footsteps.
"[Bhabha] is a great example of a contemporary sculptor," said Laura Capozzi, a freshman in the College of Fine Arts. "I'm really happy that BU brought her here because it really shows us how you could take a creative outlet and apply it to the real world. I learned how to incorporate elements into sculpture that I normally wouldn't by using unfamiliar materials."
Capozzi said she appreciates how BU gave all students the opportunity to learn from a successful artist right here on campus.
"A lot of us go into CFA not really knowing what we want to do in the future, but as a sculptor, she really showed us the possibilities of what we could accomplish," Capozzi said.
Jami Rubin, also a freshman in CFA, agreed with Capozzi in saying that going to Bhabha's lecture gave her new ideas about the possibilities of art.
"I really liked her artwork and I thought her process was super interesting," Rubin said. "I had never really thought about drawing on photographs before."
Bhabha credited her creative use of photographs and other materials to her unique artistic perspective.
"I allow myself to go into abstraction," she said "The quest is to make it better and whatever that requires … You can see the idea of using different materials and using them in a way where you can say different things."