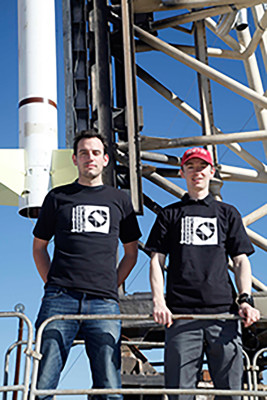 Physicists all across the country would have held their breath in anticipation as an 18-foot rocket was hurled into the atmosphere Monday, if all had gone according to plan and the weather permitted.
Rescheduled to launch this coming Saturday from the U.S. Army's White Sands Missile Range in New Mexico, the rocket — Planet Imaging Coronagraphic Technology Using a Reconfigurable Experimental Base (PICTURE-B) — is the product of 10 years of collaboration and development headed by University of Massachusetts Lowell physics professor Supriya Chakrabarti, and funded by NASA.
PICTURE-B is a two-part missile designed to hold up to 1,200 pounds of equipment capable of blocking direct light from stars surrounding its position, ultimately making it possible to photograph space matter such as planets, asteroids and interplanetary dust.
"The reason these regions are difficult to image is the bright starlight overwhelms everything close to it. What the instrument does is to dim the light from the star — sort of like the Deluminator or put-outer in 'Harry Potter,' which makes it easier for us to look at the region near the star," Chakrabarti said.
Targeting Epsilon Eridani, the third closest star viewable without a telescope, PICTURE-B intends to block the star's light in order to capture data about its unseen surrounding planets.
"If successful, this will be one of the first reflected light images of a dust belt orbiting a Sun-like star at a distance similar to that of our own asteroid belt" said Ewan Douglas, a seventh-year Boston University graduate student and a lead member of the PICTURE-B team.
PICTURE-B is designed to do more than just collect new data. The mission itself was created in part to educate future astrophysicists.
"The project actually started at BU in 2005 and was partnered with the [Jet Propulsion Laboratory,] the [Massachusetts Institute of Technology] and NASA," Douglas said. "It was Professor Charkrabarti who got an amazing opportunity to actually start the astronomy program at UMass Lowell and he brought the program along with him."
In order to make this happen, NASA granted the UMass Lowell physics and astronomy program $1.4 million to further the project.
"PICTURE-B seeks to train and inspire the next generation of scientists and researchers, develop new technologies and techniques for use in space exploration and gather data that will help us better understand the universe," Chakrabarti said. "[We're] providing hands-on experience for graduate and undergraduate students on a cutting-edge research endeavor."
Excited to educate the next generation, the PICTURE-B team does not require an extensive application and vetting process for the undergrads who wish to participate.
"Generally it's [participants] in a physics or astronomy program who has an interest, usually someone with a strong lab experience background, really anyone who's willing to learn, and who is excited about the program," Douglas said.
In addition to leading researchers from UMass Lowell and BU, the project collaborated with AOA Xinetics, which donated a key component to the rocket: a 22-inch silicon carbide mirror.
"Our silicon mirrors are a new generation of high-performance, lightweight mirrors for astrophysics," said Michael Sheedy, a manager at AOA Xinetics.
Chakrabarti added, "This is an extremely exciting project and we are very pleased to have worked with AOA Xinetics to help make this mission a success."
With all of the effort put forth from the PICTURE-B team, the country will be anxiously awaiting the launch Saturday. It has been 10 years in the making and has had one failed launch. However, PICTURE-B promises not to be futile this time around.
"The NASA funded rocket program has around a 90 percent success rate," Douglas said, "and we have one of the most complicated rockets ever launched."