A Hockey East Rookie of the Year nod, a spot on the Hockey East All-Rookie Team and the joint-most goals of all NCAA freshmen.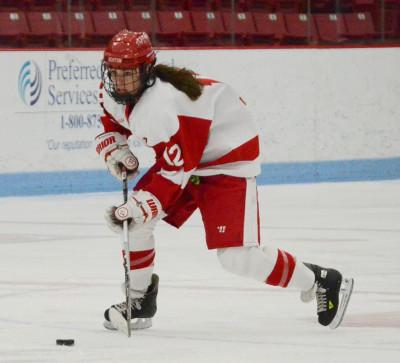 Those are the highlights of now-sophomore forward Victoria Bach's 2014-15 season, but the center's performance this past weekend against Merrimack College revealed the best may be yet to come. She netted four total points for the Boston University women's hockey team in the two games against Merrimack (2-12, 1-7 Hockey East), and BU (10-6, 8-3 Hockey East) coach Brian Durocher said he was not surprised in the slightest.
"Any kid who comes in and gets 20 goals as a freshman, that's a pretty strong mark that they're an elite player," Durocher said. "She distinguished herself not just here, but prior coming to coming to BU she was the top point-getter in the Ontario Hockey League. Without a doubt we knew she was a good player and she's had a real good year-and-a-half almost."
Bach has delivered several highlight-reel moments for the Terriers, the least of which came at the onset of her hat-trick in Friday night's 5-1 victory. With BU on its first power-play opportunity, the 5-foot-4 forward snapped a wrist shot that Merrimack goaltender Kate Kowalchuk had little hope of stopping.
"The first goal of the game was classic Victoria," Durocher said. "She came in, used the D as a screen and really roofed it with a great shot up top. The game hands you something and if that one hits the crossbar or hits the post, we're not talking about it."
Simply, the window of opportunity was small and Bach seized it with skill and instinct.
"It's two inches to the left and it's in the top corner, so that's the small margin of error that comes when you're on a roll," Durocher said.
With momentum on her side, Bach kept on course and proved that her game extends far beyond goal-scoring. Already up 3-0 over Merrimack in BU's eventual 4-2 win on Saturday, Bach exploded down the left wing, split two defenders and fed a cross-ice pass to senior forward Kayla Tutino. Tutino capped off the sequence with a simple wrist shot, but it was Bach's ingenuity that sparked it all.
"It was a nice outlet pass from [senior forward Sarah] Lefort," Bach said. "I took the puck down the ice, slipped it through one girl and I was looking to shoot. … I slipped it over to Kayla and she had a nice one-timer in the net."
As strong as Bach was over the weekend, much credit is owed to her linemates. She's flanked by Tutino and Lefort, the former of whom captains the Terriers and the latter of whom was a top-10 finalist for the Patty Kazmaier Award in her sophomore season.
The veteran duo has transitively raised Bach's all-around game, and she attributes her early-season success to their unheralded presence.
"This is my first year actually getting the chance to play with Lefort and I played with Kayla Tutino a bit last year," Bach said. "The chemistry is just there and I think we're really moving the puck well."
All in all, points may be arriving in bunches for Bach, but she is well aware that the upcoming Hockey East slate gives her little time to rest on her laurels.
"Every game is a new game and I think we have to keep working on the little things as a line and taking it day by day," Bach said. "We still have a lot of games left and there's still a lot of room for improvement and for us to perfect things."