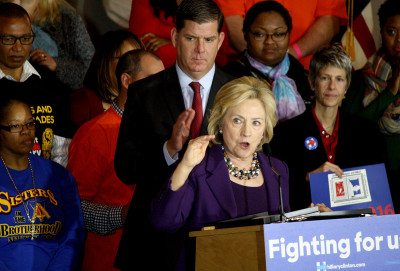 With an endorsement from Boston Mayor Martin Walsh and support from several trade unions, Democratic presidential candidate Hillary Rodham Clinton spoke about plans to bolster the economy and help workers Sunday afternoon at Faneuil Hall.
"There were lots of ladders [to the middle class], and people were often give a boost to get on that first rung. Now there are those who have turned those ladders down and left them in disrepair and are fighting us for putting them back up," Clinton said to the crowd. "Well, I'll tell you one thing. As your president, we're going to have ladders of opportunity available for anyone willing to work hard."
Hard Hats for Hillary is a group of trade unions including the International Union of Painters and Allied Trades, the Laborers' International Union of North America, and the International Association of Bridge, Structural, Ornamental and Reinforcing Iron Workers that are endorsing Clinton for president.
Walsh said he is endorsing Clinton because he believes she is a champion for children, healthcare and human rights, while possessing the drive and experience to serve as president.
"It's never been more clear. We need a champion in the White House for human rights, for working families and for the American working dream," Walsh said to the crowd. " … [We need] a candidate who doesn't just talk the talk, but actually gets the job done. There's only one candidate for president, and she's standing right behind me."
Approximately 1,000 people attended the rally held in the marketplace's Great Hall. Those who did not make it inside the ticketed event watched remarks outside on a video screen.
Local elected officials including U.S. Rep. Katherine Clark of the 5th district of Massachusetts, former Massachusetts Gov. Michael Dukakis and leaders from the state legislature and Boston City Council were also present.
"My job plans starts with investing in infrastructure," Clinton said. "Not just because infrastructure jobs are good paying jobs and not because we desperately need to invest in building our future again, though we do, but because investing in infrastructure makes our economy more productive and competitive across the board."
Noting the rough winter Boston faced and how public transportation struggled, Clinton emphasized how it could be improved with a national infrastructure bank. Approximately $275 billion would go to additional investment in regional and national projects, she said.
Clinton also looks to create a national energy system and expand access to broadband Internet as part of her goals to better connect communities.
Without a strong workforce, Clinton said, the potential for infrastructure cannot be realized. She thanked the trade unions for "investing in their workforce" and "preparing the workforce of tomorrow."
Members from the IUPAT wore black shirts while those from LIUNA wore orange shirts. They joined others from the crowd to hold up signs saying "Fighting for us." The crowd was lively and cheered for many of the key points Clinton made.
"I want us to be ready for the future, but more than that, I want us to shape the future," Clinton said. "I want our cities to be in the forefront of cities anywhere in the world. I want our workers to be the most competitive and productive in the world. I want us want us once again to thing big and look up beyond the horizon for what's possible in America."
In closing, Clinton talked about how although her parents came from difficult backgrounds, they "believed in this country" and how she hopes her granddaughter can grow up in a world where everyone has the same opportunities.
Wes Kennedy, 55, who is visiting from Los Angeles, said he used to work for the Democratic National Convention in Washington and is a longtime supporter of the party.
"She's clearly our nominee and I wanted to hear what she had to say," he said. "It was great. [What she had to say] was very uplifting [and] spot on. She'd make a great president."
Scott Duhamel, assistant to the General President of the IUPAT, said he thought the rally was a success.
"It was a hell of a great way to kick off Hard Hats for Hillary," he said. "She has the support of hard hats unions, nine of them so far out of the 17. We hope to see more jump in."
Daniel Kontoff, an activist protesting outside the Great Hall from Brighton, said Clinton is not the best candidate for the people because of her track record.
"People don't look at her voting record," he said. "They're very ignorant about who she is. She's all about Wall Street … I'm here to educate people and protest their ignorance."
Hannah Shimanski, 19, a campaign volunteer and student at Fisher College, said she enjoyed hearing Clinton talk about issues important to workers unions.
"The fact that she came and spoke in such a historical place and the weight of the endorsement from Walsh is great and possibly means she can come back to Boston more," she said. "Everyone seemed interested and going in Hillary has a lot of support in Boston."