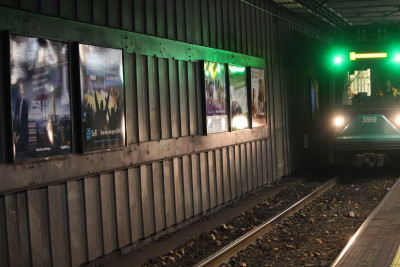 Following the removal of an advertisement created by the Palestine Advocacy Project from the Davis Square station of the Massachusetts Bay Transportation Authority, a ban on all political advertisements in all MBTA stations goes into effect Tuesday.
Jason Johnson, a spokesman for the MBTA, explained there have always had regulations regarding advertisements in stations.
"Those guidelines are designed to maximize advertising revenue and to be strictly neutral with regard to the content of views expressed, while also placing some restrictions on the types and manner of advertising that the MBTA will allow," Johnson wrote in an email.
After the MBTA refused to run an advertisement regarding the Israeli-Palestinian conflict created by the American Freedom Defense Initiative, the organization pursued a lawsuit, The Daily Free Press reported on Nov. 10, 2013.
The regulations have been changed in order to avoid controversy and additional legal expenses, Johnson added.
"The guidelines had allowed advertising on controversial subjects of political or social debate, including advertisements that are critical of the United States government or foreign governments," Johnson said. "The MBTA re-evaluated its guidelines, and amended them so as to refuse any political or issues-based advertising. This action also spares the T costly litigation expenses."
The new regulations, which were outlined following a meeting held on Nov. 23 to discuss the removed advertisement, stipulated that the MBTA has the right to remove advertisements when deemed necessary.
"The MBTA reserves the right, from time to time, to suspend, modify or revoke the application of any or all of these Guidelines as it deems necessary to comply with legal mandates, to accommodate its primary transportation function," the guidelines state.
Jake Chase-Lubitz, president of the Palestine Advocacy Project, explained that the group had originally placed advertisements at MBTA stops in 2014.
"We put up ads in June of 2014 and the MBTA had approved them and we discovered a few days before the end of the contract that they had been taken down," Chase-Lubitz wrote in an email. "They had decided that the ads were demeaning and disparaging to groups or individuals."
Following the project's inquiry into these removed ads, Chase-Lubitz said the MBTA asked the group to resend the advertisements in for approval.
"We ran one of those ads this month in the Davis Square station and there was a response from anti-Palestinian groups saying that they were offended by the ad and some accused us of being anti-Semitic," Chase-Lubitz said.
Political advertisements, Chase-Lubitz said, are simply a part of free speech and it's "a shame" that anti-Palestinian groups have pressured the MBTA to ban political ads.
"Citizens of a democracy should be permitted to utilize public space to express their political views, even if those views make some people uncomfortable," Chase-Lubitz said. "Palestine Advocacy Project never considered petitioning the T when anti-Palestinian organizations ran their advertisements because we firmly believe in freedom of expression."
T. Barton Carter, a professor Boston University specializing in communication law, said the MBTA is trying to avoid legal entanglements with the First Amendment by removing political ads from its stations.
"If they simply avoid all ads in that area, then they're in much better shape," Carter said. "When they started being told that they let one ad in and not the other, they decided the safest option was to remove political ads altogether."
While some residents said groups should be allowed to express their opinions through advertisements, others said MBTA stations are not the proper place to do so.
Candace Wilkes, 27, of South Boston, said all groups should be allowed to have a platform to express their opinions.
"Everyone has a right to an opinion, and everyone has the right to express that opinion," she said. "It's not fair to limit exactly when and where these opinions are acceptable. It's an issue of free speech."
Kevin Briggs, 32, of East Boston, said he does not think train stations are the appropriate place for groups to express their opinions.
"Even though anyone is allowed to have any opinion they so choose, there are better ways to express it than on public transportation," he said. "There are so many other ways to get the conversation about the Israeli-Palestinian conflict started."
Jamie Sorenson, 32, of Fenway, said the MBTA has the right to refuse whichever ads it chooses.
"If the MBTA wants to avoid conflict and wants to avoid legal problems, then they have every right to refuse advertisements," she said. "These groups are allowed to express their opinion, but the trains don't have to do it for them."