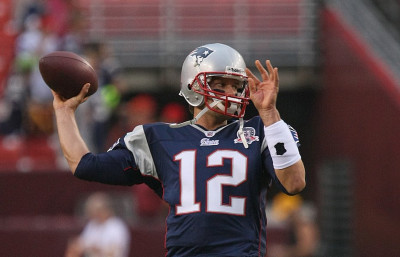 The Denver Broncos narrowly upended the New England Patriots Sunday night, handing them their first loss on the season as they fell to 10-1.
After an offseason laden with Deflategate controversy, Tom Brady came into the 2015-16 campaign with an axe to grind and a point to prove. The defending champions responded by rattling off 10 wins in their first 10 games for just the second time in franchise history. The only other Patriots team to do so? The 2007 squad.
You all remember the '07 Patriots, the ones led by Tom Brady, Randy Moss and Wes Welker, all of whom had record-breaking years, to a perfect 16-0 regular season record. The ones that eviscerated the Jacksonville Jaguars and the San Diego Chargers in the AFC playoffs en route to an 18-0 record entering Super Bowl XLII. The ones that watched perfection evaporate into thin air as Eli Manning, David Tyree and Plaxico Burress led an upstart New York Giants team to victory over the goliaths of football.
But, after witnessing the horror of "18-1," did we Patriots fans really want Bill Belichick and company to go 16-0 again? Of course not. 
Obviously, to be able to say that our beloved Patriots achieved what no other team could would be the greatest feather in our proverbial caps. Only the 1972 Miami Dolphins have completed a perfect season, winning 17 games including Super Bowl VII under Don Shula. Starting out 16-0 would have set the Patriots down the path to eternal glory.
A perfect regular season and postseason would have also sufficed as proper vengeance for this summer's Deflategate fiasco. After being repeatedly accused of equipment tampering and cheating, Brady was subsequently suspended by NFL commissioner Roger Goodell for four games. Four months and an entire lawsuit later, Brady's ban was overturned by U.S. District Judge Richard Berman.
For Patriots' fans and Brady supporters alike, a fifth Super Bowl will be the just retribution for the NFL's attempted defamation of its greatest player. A second go at 16-0 wouldn't have.
The untainted record would have erased the horrible memories of not one, but two Super Bowl losses to the Giants in 2007 and 2011. The images of Tyree improbably sticking the ball to his helmet, Asante Samuel watching a tailor-made interception slip through his uncontested hands and Burress catching a back-shoulder pass over a seemingly helpless Ellis Hobbs haunt Patriots fans with the memories of what could have been.
Another 16-0 season would have set the Patriots up to eradicate that pain and eliminate those mental images by winning the final game, but if they were to have lost another Super Bowl after a second perfect regular season, it would have been unbearable.
Look, 16-0 is a fantastic accomplishment for a team, but haven't we learned our lesson? After watching the Patriots go 16-0 eight years ago only to lose in heartbreaking fashion, do we still care about a perfect regular season? All that matters is the postseason. If you're perfect in the postseason, then who cares what your record was in the regular season?
For years, the ownership at Gillette Stadium had a "16-0" banner hanging up among the rest of New England's championships. Nearly everyone wished they would take it down. No one wanted to be reminded of the gut-wrenching loss in Arizona. A perfect regular season would have only led to more apprehension from the fan base and even greater heartbreak if Brady and company were to do anything less than win it all.
Being the team that lost the perfect season in the Super Bowl is awful. Being the team to do it twice is insufferable. Losing Sunday's game might bring the Patriots down to Earth and make them realize their own football mortality. One of the biggest fallacies of the 2007 team was that they felt that they could never lose. Once they ran into the Giants' buzz saw of a front seven led by Hall of Famer Michael Strahan, they found out the hard way that they were not above defeat.
Maybe dropping this contest against Brock Osweiler and company in a game that does not end their season will refocus the team and make them more determined to win that fifth ring. When a team gets into a groove and begins rattling off repeated wins, contentment festers. That contentment spreads like a poison that infects the minds of the players, birthing a feeling of infallible hubris that inevitably leads to a tragic downfall.
I wanted the Patriots to go 16-0. I wanted them to win it all with zero blemishes on their record. But one loss in the regular season is not the end of the world. In fact, it may be what propels this team to another title.
It will be a tough time for New England after Brady has retired to his mansion in Brookline with his picture-perfect life, but the memory of watching him utterly decimate the entire league en route to an NFL-record fifth Vince Lombardi Trophy as payback for Goodell's lunacy will be more than enough to fill my appetite for football schadenfreude for the rest of my life.
Go for gold, Tom, and never lose sight of the ultimate goal: one for the thumb. A fifth Super Bowl would solidify Brady as the single greatest quarterback of all time. No matter what his regular season record is in 2015, a Super Bowl record of 5-2 would be unparalleled in the history of the game.