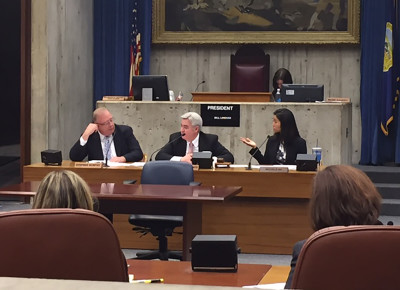 Boston City Councilors at-Large Michelle Wu and Stephen Murphy held a hearing Monday at Boston City Hall to discuss an ordinance regulating the practice of patrons bringing their own alcoholic beverages onto venues' premises.
The ordinance would amend Chapter 17 of the City of Boston Code and create a regulated "Bring Your Own Bottle" system in which Boston restaurant owners could choose to allow visitors to bring their own alcohol, according to a Tuesday release.
Councilor Frank Baker spoke of his own experiences in the restaurant business and related them to BYOB's ability to positively affect the city financially.
"I was the owner of a small 20 seat restaurant, with a beer and a wine license. It was effective to have the beer and wine license … it did get people in the door. Also what it did was to deal with five more purveyors with minimum on beer and wine," Baker said. "I believe this is an opportunity for the City of Boston to promote more restaurant uses."
But not everyone who spoke shared Baker's positivity. Massachusetts Gov. Charlie Baker said it is important to be aware of how Boston's development might hinder the amendment's potential.
"One of the things I think we have to be cognizant of is with the new development going on, we will have a lot of commercial spaces in a year and a half, no new licenses for them," Baker said.
Ayanna Pressley, another at-large councilor member, said that from a city perspective, she doubted whether BYOB would increase "foot traffic."
"What would the process be to adopt these regulations, to implement them or modify them?" Pressley asked. "You know, in some of the conversations I have, a concern is if this would increase foot traffic. How do you turn the table over? That's the first question from the city comparison."
Wu, a proponent of BYOB, said after the hearing ended that a resolution would be reached soon on the ordinance.
"I'm hoping to convince my colleagues this week [in favor of BYOB]," Wu said. "I think that there was great conversation today and many of the points that were brought up would be able to make amendments here."
Those in favor of BYOB argue that cities around the country, such as Chicago, New York and Philadelphia, have successfully implemented BYOB, and the amendment would lead to an increase in restaurants' monetary profits and positively affect the local economy.
Emily Moss, a former summer intern for Wu, studied BYOB's potential and testified in favor of the amendment, as she said she believes it would stimulate economic growth for small businesses.
"Look at how BYOB, Bring Your Own Beverage, could be used as an economic development tool to stimulate small restaurants in under served neighborhoods and as an additional tool to increase foot traffic," Moss said after the hearing concluded.
Supporters of BYOB claim that the amendment would allow restaurant attendees to enjoy their dining experience more and encourage city residents and visitors  "to dine out due to great options and a better consumer experience," according to a statement from City Council.
Members of the public were invited to attend and testify. Eli Feldman, co-founder of Clothbound, a restaurant jobs and recruiting app, spoke about the impact of restaurants on the local economy.
"Restaurants are increasingly important to the neighborhood economies and growing new neighborhoods," Feldman said. "We need to be looking for new ways to unlock entrepreneurship and lower barriers to entry."
Several residents expressed approval for the BYOB ordinance.
Andrew Monk, 35, of South End, said if restaurant owners have the choice to allow the BYOB system in their restaurants then there is no reason it should not be passed.
"If the owners get to choose whether or not customers get to bring in their own alcohol, I see no reason against it," he said. "If restaurants don't want that to happen, then they don't have to do it. They should get the choice though."
Annette Zaroda, 28, of East Boston, said that the BYOB system should be allowed if it will help restaurants succeed.
"Opening a restaurant and owning a business are hard things to do," she said. "If something like this could make it easier for business owners to make money and make it easier for them to do well then I'm all for it."