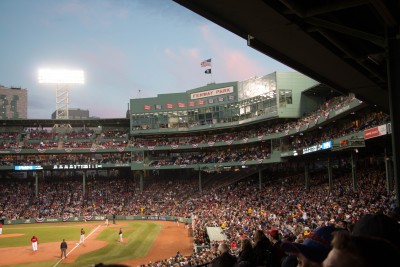 For the past two seasons the Boston Red Sox have found themselves in the cellar of the American League East with records of 71-91 and 78-84, respectively. Then, on Aug. 19, owner John Henry and company decided to make a move in hopes of turning the tide of their sinking organization. They hired a man renowned for turning around the Detroit Tigers and the Florida Marlins. Dave Dombrowski was named president of baseball operations for the Red Sox and went to work quickly.
After yet another promising year for Boston turned disastrous with the implosion of their entire pitching staff as well as the season-long issues with Hanley Ramirez and Pablo Sandoval, Red Sox Nation looked to Dombrowski to bring back their winning ways.
Less than three months after joining the Red Sox, Dombrowski orchestrated a trade for arguably the league's best closer, Craig Kimbrel. The former San Diego Padre was shipped to the East Coast in exchange for four Boston prospects. Infielders Javier Guerra and Carlos Asuaje were sent away, along with outfielder Manuel Margot and left-handed pitcher Logan Allen. While many pundits were upset at the loss of Margot, a center fielder who largely hits for average, the 5-foot-11 Dominican was not projected to make his Fenway Park debut until 2017 in an outfield log-jammed with major league talent.
While the Red Sox invested $18 million on closer Koji Uehara at the end of the 2014 season, the 40-year old is only signed through the 2016 season and can easily be serviceable in the eighth inning in a set-up role. Kimbrel, on the other hand, will cost Boston $24 million, and at 27 years of age, he is the first closer to reach 200 saves in his first six seasons.  
But Dombrowski didn't stop there when it came to fixing a bullpen that finished sixth-worst in the MLB in earned run average. On Monday afternoon, he shipped starting pitcher Wade Miley out to the Seattle Mariners in exchange for two relievers, Roenis Elias and Carson Smith. Elias is a similar to player in Miley as a lefty starter often used at the back of the rotation, though he may not see too many opportunities in Boston's star-studded starting rotation.
The bigger addition for Boston is Smith. The 26-year-old is coming off a campaign in which he broke out as one of the best up-and-coming relievers in the game. A groundball pitcher, Smith posted a 1.91 groundball-to-flyball ratio in 2015. He also struck out 32.4 percent of the batters he faced. A young reliever of Smith's caliber, who is under contract through 2020, adds another layer of depth for the future of the Boston bullpen.
With the additions of Kimbrel and Smith to go along with those already in place, Dombrowski has back-ended the Boston's bullpen in a similar manner to the 2015 world champion Kansas City Royals.
While enriching Boston's reliever corps was one step towards bringing meaningful baseball back to Fenway Park, Dombrowski did not stop there. Instead, he showcased his impact on the 114-year-old organization by bringing in a bona fide ace.
Going into last season, the Red Sox were justly criticized for not having a blue-chip starter in their rotation. After the starting five were lambasted by the Boston media after repeated injuries to Clay Buchholz and poor performances by Rick Porcello, Dombrowski decided to change the narrative. He brought in David Price.
During his time in Detroit, Dombrowski traded for Price from the Tampa Bay Rays at the 2014 trade deadline. One year later, Price was shipped out to Toronto as Detroit was in the midst of clearing house during a subpar season. However, Dombrowski knew of Price's unrelenting competitiveness and fiery demeanor, and the front office consequently pursued the left-hander heavily.
While teams like the St. Louis Cardinals and Chicago Cubs made substantial offers to Price, Boston's seven-year, $217 million contract offer was enough to win the coveted Cy Young winner over.
Price has been scrutinized for poor playoff performance, as his career 3.09 regular season earned run average jumps up to an astonishing 5.12 in October. While Price is four years removed from his best season in 2012, the five-time All-Star is still in his prime as a 30-year old starter who posted a 2.45 ERA last season.
These moves have been largely well received by Red Sox fans throughout the Commonwealth, and if Dombrowski can field a team worthy of a run at a fourth title in 12 years, he will be idolized by the Fenway faithful.