HAMDEN, Connecticut — Robbie Baillargeon admits he probably caught Michael Garteig, goaltender of the No. 2 Quinnipiac University men's hockey team, "a bit off guard" in the second period.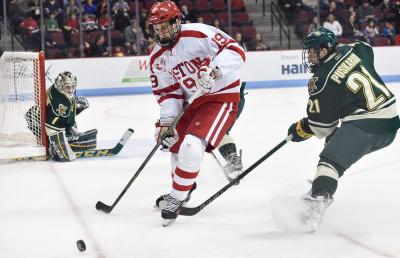 The junior forward had the same opportunity in the first period, where he whizzed down the left side of the ice and beat out Quinnipiac defenders, but his shot got deflected out of play.
Just 2:56 into the second period, though, on another try, Baillargeon flew wide down the left wing and used his space to trick Garteig with a sly backhander that gave No. 12 Boston University the lead for good.
The Terriers (9-6-3, 4-3-2 Hockey East) eventually beat the Bobcats (15-1-2), who entered the game as one of just two undefeated teams left in the nation, by a score of 4-1.
It was Baillargeon's third goal this season, and his first point in his past six appearances.
Baillargeon later got on the score sheet again when he scooped up a rebound and fed it out to the right circle to his linemate, freshman center Bobo Carpenter, who sent in a second-chance opportunity at 7:21 into the third period.
"Nice shot from Bobo there," Baillargeon said with a smile.
In BU's final game of 2015, the assist gave Baillargeon his first multi-point game of the season and his first multi-point game since a two-point postseason effort against Merrimack College on March 13. Three of his six points this season have also come in his home state of Connecticut.
"I think it was good, before break there … [to] kind of get my offense back a little bit," he said. "So I think it definitely helped because now I'm able to carry this into next semester and the second half of the season."
Baillargeon also contributed with a more physical element to his game than usual, testing Bobcat skaters with strong checks and adding a blocked shot on the night.
"Our whole team is trying to be physical, not necessarily running after people and trying to throw the hit of the game every time, but just playing through people," he said. "That's how you cough up turnovers from them. So I just tried to play through people as much as I could."
Baillargeon complimented the play of his line as a whole in the game, noting that his line's forecheck improved throughout the night, allowing them to pick off turnovers from Quinnipiac.
BU head coach David Quinn also appreciated the play of the third line. Though the original line of sophomore forward A.J. Greer on the left wing of Carpenter and Baillargeon became separated when senior forward Ahti Oksanen left the game with injury and Greer had to move up a line, sophomore forward Chase Phelps eased into his role with that line well.
"That line was pretty good," Quinn said. "It's tough losing Ahti when we did. But Phelps did a great job playing with Robbie and Bobo. Bobo had a good night again as well. It's a true team effort."
Because of that team-wide effort, Baillargeon said knocking off one of the best programs in the nation gave confidence to his entire squad.
"We knew coming into this game that we could beat this team. There was no question about it. If we played the right way, and I think that's what we did — we played the right way. Showed a lot of heart, and we came out with the W."