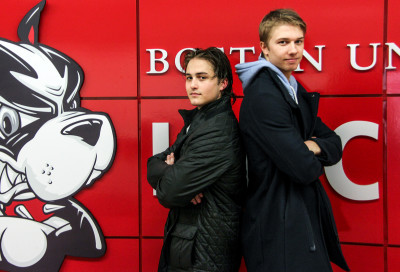 Responses have been edited for brevity and clarity.
The No. 10 Boston University men's hockey team added two new freshman forwards for the second semester during winter break: Oskar Andrén, a Stockholm native, and Erik Udahl, who grew up in East Walpole, Massachusetts. We took some time to get to know the newest Terriers.
1. Why did you come to BU?
Oskar Andrén: Well, they offered me to play here at the hockey program and it's a great program and great school, so it's a great opportunity for me. That's really it.
Erik Udahl: Growing up in Boston, the Hockey East has always been a big deal and the Beanpot and BU is obviously a very respectable program and [two and two] came together and it all worked out, so I'm happy.
2. What is your favorite thing about BU so far?
OA: Well, I mean, I've never been to Boston before. I'm from Stockholm, Sweden, so it's been a pretty big transformation for me, but I like it a lot. It's kind of a European city and so far I really like everything about it — nothing I don't like about it.
EU: Obviously, I love Boston. I haven't seen much of the school really, but I'd say the facility, Agganis [Arena], in general is just very, very nice.
3. Pregame routine or superstitions?
OA: Well, usually I like to get an hour nap or something like that and then get a pasta meal and stuff like that. And then just try and be relaxed all until, like, 30 minutes before the game, then start to really get into the game. So that's my day before the game.
EU: Obviously, you have to eat right, but I like staying loose, watching some TV, then warming up, playing some soccer and just trying to keep a clear mind and focus on the game, really.
4. What is your favorite moment playing hockey so far?
OA: Must have been when I put on the Sweden national jersey, played for them. That was a really cool moment for me, so that's gotta be my favorite moment.
EU: It's all my favorite, I guess. It just keeps getting better and better, so can't really put a highlight on it.
5. Best rink you've played in?
OA: It's gotta be the Globe Arena in Stockholm. It's huge like a big golf ball and it's really cool.
EU: The best rink I've played in is in Penticton, British Columbia. It's a very nice facility. I think it sits around 10,000 or something like that — it's just state of the art.
6. Who, if anyone, do you model your game after?
OA: It's hard. I try to look at a lot of players, but then also a lot of guys in my own age that I can take after. So there's one guy named Tobias Lindberg who is my age, and he plays pro right now for Ottawa's farm team. We're very close, so I just try and look where he is and try to be as close to him as possible and see what he does so I can get after him.
EU: I'd say growing up, Martin St. Louis, but more recently Johnny Gaudreau and Brad Marchand, I'd say.
7. Jersey tucked or untucked and why?
OA: I try to wear it untucked but it always just comes in … because I have a — I don't know — a weird playing style, I guess, or striding style so it always comes in so it [has] to be in tucked.
EU: Untucked, I'd say. It just looks better. Better style, I guess.
OA: I want it to be that way too, but I can't.
8. Do you have any secret talents?
OA: I'm really good at FIFA, the PlayStation game. I've been ranked No. 17 in the world when I was 15 years old, so that's my thing.
EU: I used to play the xylophone a lot. I was in the school play, playing the xylophone. That's probably the oddest talent I guess.
9. What is something you're really, really bad at that you wish you were really, really good at?
OA: I would probably golf, just because that's —
EU: You stole my answer.
OA: Yeah? No, but it's just a common thing for us to do when we have some off-time, you know? Go and play golf. And [it] would have been fun if I was better at that, but unfortunately not.
EU: I was gonna say golf, but I'll go with playing the guitar. That would be pretty cool to do, I guess. Play the guitar, have some fun.
10. What's your biggest fear?
EU: I'd have to say arachnophobia kind of, like kind of scared of spiders, but heights to a certain point. I love thrill rides, but I don't know. My biggest fear is actually sharks. I hate sharks. I saw "Jaws" at a young age and just never went back.
OA: Then I would have to go like, spiders is obviously a big thing for me as well, but … to be in a closed area in a — what's it called, you know in that movie "Kill Bill," when she's underground? You know what I mean?
EU: Claustrophobia?
OA: Yeah, I'm very like that.
11. If you were a dog, what kind of dog would you be and why?
EU: A husky. Just because they're extremely good looking, and —
OA: Wow.
EU: No, I like huskies because they're very calm, relaxed and they're extremely loyal. … You're a golden retriever.
OA: Yeah, golden retriever for sure. They're perfect.
12. If you could go on a road trip with anyone in the world, who would it be?
OA: I would go with David Beckham for sure. He's a cool guy and I would want to learn a lot of things from him. He's one of the coolest guys in the world, according to me.
EU: Obviously you have the artists like Justin Bieber, Floyd Mayweather — the guys who know how to party and have a good time. But I'm not really sure. There's a lot of people that I would love to go see the world with.
OA: Yeah. Logically, you would go with a family member as well, but if I had to pick a celebrity, I would go with him.
13. If you could time travel anywhere, what era would you go to?
EU: The future.
OA: Yeah, same here.
EU: Pretty curious to see what's in hold. Obviously there's been some really good advancements and developments. It's insane, just technology. I'm sure that there's some pretty cool stuff in store for the future.
OA: One hundred years forward. That would be so cool, just to see how everything develops.
14. What's the best show to binge watch on Netflix, or what are you binge watching right now?
EU: I've been watching "Gilmore Girls." It's a good show. I'm a huge Rory fan. But I've seen all those shows — "The Secret Life of the American Teenager," "Gossip Girl." I've literally watched every single show on Netflix. It's unbelievable. But right now, I'm stuck with "One Tree Hill" and "Gilmore Girls."
OA: Last one I saw was "Narcos." Really good series, and hopefully they're going to make a new season. But we'll see. Otherwise, right now I'm watching a show called "Making a Murderer." I just saw the first episode … That's the one I'm watching right now.
15. Do you have any childhood items that you take everywhere with you (like a blanket, stuffed animal, etc.)?
OA: I had a stuffed animal, but it stayed at home when I moved to the States one and a half years ago. I don't know why. I probably should have asked my parents to bring it with me now, because it brings me luck. It's a teddy bear.
EU: I don't really know if it's childhood — I got it when I was like six or seven. But it's a Rubik's Cube. I just like fooling around with that, trying to figure it out. Keep your mind active. It's not sentimental, but I usually bring it with me wherever I go.
16. What is on the perfect pizza?
OA: Pepperoni. That's it for me. That's all it takes.
EU: Perfect pizza? I'd have to say on one side, pepperoni and the other side, just cheese.
17. Favorite place to buy clothes?
EU: My mom does most of my clothes shopping, but Banana Republic, Calvin Klein, Ralph Lauren, Forever 21, maybe?
OA: Levi's for me jeans-wise, and Ralph Lauren. That's probably it.
18. Favorite song right now?
OA: It's got to be some of Justin Bieber probably. Got a bunch, at least for me. "Sorry," all of them, they're really good. I like them.
EU: Favorite song of all time is probably "Suga Suga," but I really like G-Eazy's new album. He's got some really good songs. I don't really have a favorite song, I just listen to that a lot.
19. Most inspirational person in your life?
OA: Probably my older brother, Gustav. He's been teaching me a lot. Not only hockey, but everything, how you're supposed to do and he's helped me a lot all these years and he's been a big inspirational person for me and in my life.
EU: I'd say my grandfather. I spent a lot of time with him when I was younger when my parents would work, and he was my best friend growing up. Just an overall great guy. [He] taught me a lot of stuff, and [I'm] lucky enough to still have him around. Just a great person. I love him to death.
20. What are your hockey goals for the future?
OA: Well, to play here for BU these next coming years and then go pro. That's the only goal I have on my mind right now.
EU: I'd say to use hockey to put myself in the best position possible going forward, whether it's to keep playing hockey or taking advantage of a job opportunity. Something like that — using the resources I have to be the most successful in whatever direction I go in.