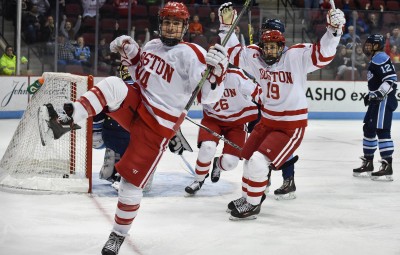 Before he departed for the Quebec Major Junior Hockey League in December, former No. 11 Boston University men's hockey forward A.J. Greer said flatly what he liked about freshman Bobo Carpenter playing the center position.
"He wins draws," Greer said after BU's tie against No. 10 Cornell University.
It was a more than an astute observation from Greer, and since that Red Hot Hockey matchup, Carpenter has continued to excel in the faceoff dot.
Anchoring the third-line center spot, Carpenter leads the Terriers (13-7-4, 7-4-3 Hockey East) with a .593 faceoff percentage. And he bolstered his totals by going 9-for-14 on draws in BU's 6-1 win over University of Maine on Saturday night.
Practice has been helpful, but according to the freshman, a certain family member has been of assistance when it comes to taking the draw.
"My dad was a faceoff man and he taught me a few things," Carpenter said, "and he'll give me a few pointers after every game so I owe it a lot to him."
Bobo's dad, former NHLer Bobby Carpenter, might be notable for his faceoff ability, but he wasn't a bad goal-scorer, totaling 320 career goals. Like his dad, Carpenter's biggest asset might be his ability to control faceoffs, but his scoring acumen has continued to improve.
In the rout of Maine (5-15-6, 2-7-2 Hockey East), Carpenter put that scoring capability on full display with two early goals, which carried BU a long way in the win.
Now with seven goals and 10 total points on the year, Carpenter appears to be coming into his own at the collegiate level. Since BU's win over Bentley University on Nov. 24, Carpenter has notched seven of his 10 points.
What's notable about that game in particular is not the fact that Carpenter went on any sort of scoring parade — he went point-less that night — but it was that head coach David Quinn moved Carpenter from the wing to center — the position he's been accustomed to playing most of his life.
According to Quinn, the change has made all the difference.
"He's in his natural position," Quinn said. "Obviously he started the season off on wing, and just has never played it before. Now that we've got him in the middle, he's certainly a lot more comfortable, and he's producing."
He did look comfortable cutting through the middle of the ice just past the five-minute mark of the first period, on the way to his first goal of the game. After catching a nice feed from junior winger Robbie Baillargeon, Carpenter snuck by two defensemen and beat Maine goaltender Rob McGovern blocker side.
His skating ability and good stickhandling made the goal possible, but Carpenter gave a lot the credit to Baillargeon and freshman forward Oskar Andrén for their grinding effort in the offensive zone.
With Greer gone and Andrén now having been inserted into the lineup, this new-look third line has not had much time to gel, though Carpenter likes the direction its headed.
"We've been getting some chances and finally they've been going in now, so it's been really nice," Carpenter said, "but definitely we just want to keep working hard and making nice plays to each other."
The hard work from Carpenter came to fruition again at the 3:43 mark of the second when he cleaned up a rebound for his second goal of the night. It was far from pretty, but it was effective nonetheless, especially since he was able to sneak into the crease and work behind the defense.
Quinn said if Carpenter continues to get into those types of areas in the offensive zone, more good things will happen.
"He got his seventh goal tonight, which you need your third line to be productive offensively, and when he can do those things, because he goes to the dirty areas, he's got a great shot, he's got a nose for the net," Quinn said. "He wants to score, goal scorers want to score goals, and he's not easily denied."