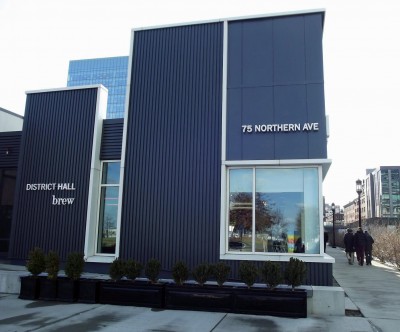 Two worlds collided Saturday and Sunday in a blend of social justice and computer technology for a meaningful cause. In support of Human Trafficking Awareness Month, Boston's District Hall hosted #HackTrafficking4Good, the first gathering of A Social Change Hackathon Series in Boston.
Though hacking is usually associated with undercover operations and "The Matrix"-esque maneuvers, this weekend's hackathon was completely focused on finding solutions to an important social cause — the elimination of sex trafficking. Rather than hacking into programs, participants created programs.
A hackathon is a symposium where members of the technology community get together and develop solutions for real-world problems. With the continuous rise of technology and Internet access, hackathons and computer IT gatherings have become more and more common.
"It lets people get away from their day job, focus on some problems and meet people with different skills," said Brian Ulicny, director of data science at Thomson Reuters Data Lab and one of the project leaders. "It's a really satisfying thing to come up with a working solution in such a short period of time."
Although many were drawn to the hackathon for the social justice aspect, data and information providers played a very large part in the planning.
Thomson Reuters, a large information provider that sells data to professionals, contributed project proposals and served as one of the hackathon sponsors. By delivering that data, companies like Thomson Reuters are able to allow organizations and volunteers to take the next step in social issues, such as eradicating sex trafficking.
"We find new ways to help our customers solve their problems by combining our data in new ways or combining our data with their data and leveraging data technology to help them solve issues," Ulicny said.
Of course, the whole project is a complete team effort. In order to be put to good use, the data of a $13-billion company needs the input of local participants and people who know who to manipulate that information.
Burc Oral, 53, an architect at Staples Velocity Lab in Cambridge and an attendee this weekend, has a background in geophysics and architecture, but participated in a project presented at the hackathon that monitored how business operates in Boston.
"I looked at how the business works in the city and at the data of arrests, communication between shoppers, forums, Google ads and keyword searches," Oral said.
The hackathon hosted multiple keynote speakers, including Audrey Morrissey, a prostitution survivor and associate director of My Life My Choice, a local organization that helps women in the sex trade find other opportunities; Deb Bercovitch, a member of the Massachusetts Attorney General's Office and Valiant Richey, the King County senior prosecuting attorney and CEASE network coordinator for Seattle.
After the speakers, Thomson Reuters, Demand Abolition and CEASE Network representatives presented project options that attendees could choose to work on, all of which would be candidates for prizes and judging at the end of the weekend. Each of these projects was creative and innovative, providing a space to collaborate and communicate effectively.
There was also a conversation simulation, which uses natural language processing to simulate automated text message conversations between law enforcement officials and potential sex buyers.
By creating applications, searches and city profiles, organizations can more easily track down both the buyers and the sellers to end human trafficking through the digital world.
"The Internet has completely revolutionized sex traffic and illegal sex trade. A lot of people are being sold online," said Tripp Underwood, spokesperson Demand Abolition.
As a result, Demand Abolition has been focusing on involving people who are more tech-savvy and can develop programs and applications to track and deter sex buyers, he said. By working to disrupt the digital market and target those who are paying for sex trafficking victims, "you can take care of problems at the root source."
Fortunately, more people are becoming interested in the idea of combining social justice and tech skills. People are realizing the importance of their talents and understand that it is their responsibility to share it with others.
"This is a growing movement within data science … where people try to take all of this data technology and all of the data that's available and apply it to doing good in the world," Ulicny said.