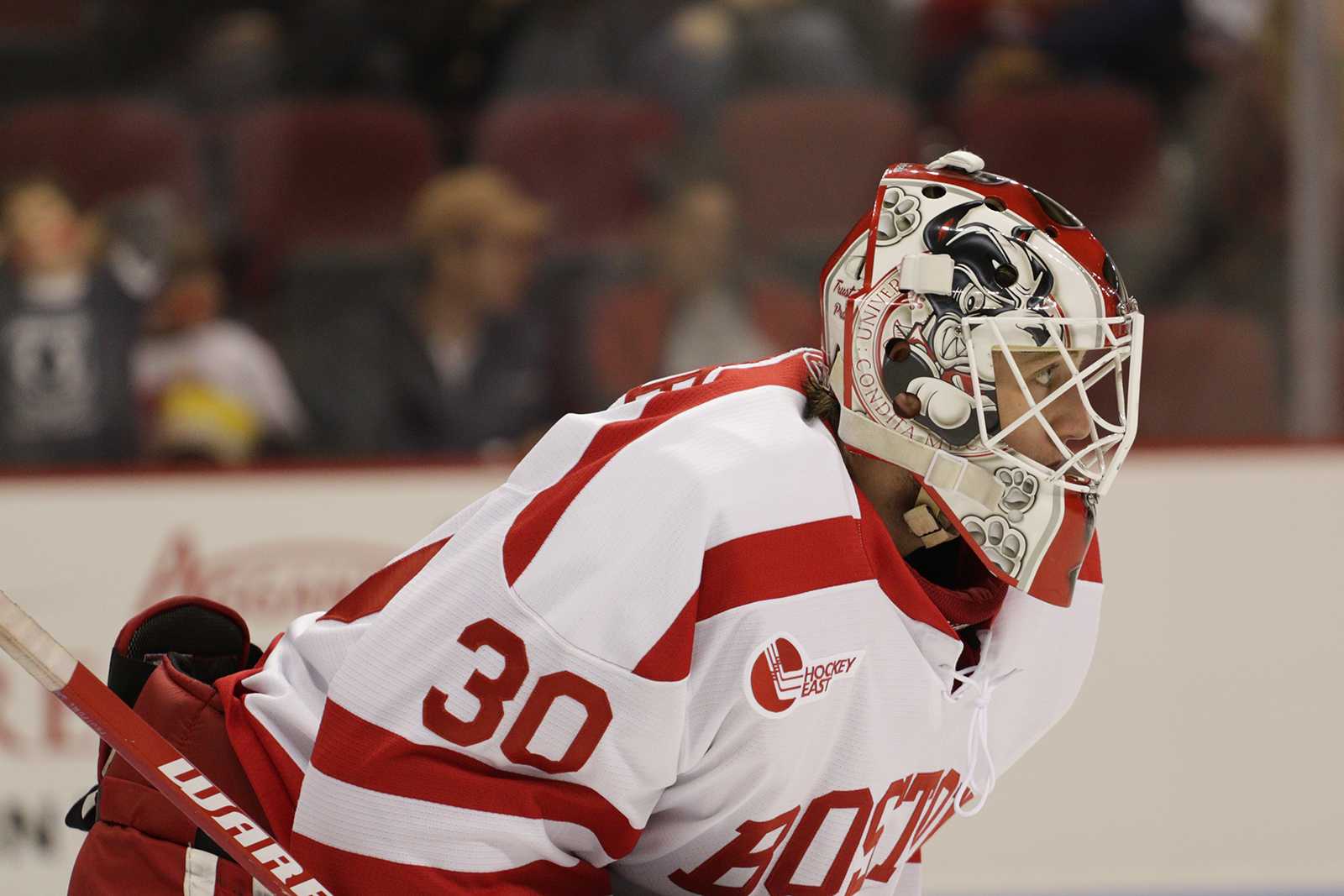 The blade in starting goaltender Sean Maguire's skate had popped out, and in what seemed like a split second, Connor LaCouvee was ready to go. His mask was on, and he stretched, quickly warmed up and took the ice for the next six minutes while Maguire had his skate fixed.
After starting 12 of his team's first 17 games in 2015, LaCouvee hadn't gotten any game time in a month and a half for the No. 9 Boston University men's hockey team when he took the net just 1:17 into BU's matchup with Merrimack College on Jan. 29. But hockey can throw some pretty unexpected things at you, and all you can do is be ready.
"As I've told Connor many, many times, the past is the past, and you can't change it," his father, Francis, said. "But you can learn from the past, and you can develop and be better from those experiences. So my texts on a daily basis to my son, especially around game time, are always just of, be ready, be prepared."
Because BU scored the game-winning goal while he was on the ice, LaCouvee got credited with the win for that game too, despite only recording one save in his appearance. In hockey, and in any sport or life in general, some weird things can happen. Things can change abruptly.
And LaCouvee is putting his trust in the process, and just going with it.
Max Prawdzik, a freshman and one of the team's backup goaltenders, is certainly familiar with the "weird goalie" persona common in hockey folklore. The goaltending position automatically comes with increased focus and pressure, and it feeds independent people and thinkers.
"As a goalie, you need to learn how to be mentally strong and laugh about where you're at sometimes," Prawdzik said. "When you're in a game and you have a group of 100 people trying to yell at you and make you feel bad about yourself, that's kind of funny, that's 100 people trying to make me upset."
According to Prawdzik, the team has come to the conclusion that all of its goaltenders are a different type of weird. Prawdzik is personally described as "weird weird." LaCouvee is "funny weird."
But ask LaCouvee to describe his personality, and the task becomes a bit more complicated.
"Describe my personality?" He repeated the prompt. Then paused.
"Okay," he said. "Well, I think I can be a charismatic individual, with a hint of humor."
He added with increased emphasis, "Hint of humor. That being said, also recognize times when I need to be serious."
Then, with a grin: "Love to have a good time."
To the average BU fan, "funny weird" is probably a fair assessment — LaCouvee can come off as goofy and spirited. After stopping a penalty shot against the University of Michigan Nov. 20, he had a "heat-of-the-moment" instinct to come out of net, kneel down and pump his fist. Thus LaCouvee's infamous "goalie celly" was born. He reenacted the celebration after stopping Cornell University's final attempt in a shootout to give BU the trophy at Red Hot Hockey on Nov. 28.
The Kelley-Harkness Cup is coming back to BU! #Terriers win the shootout! #RHH15 pic.twitter.com/zBDg34kLSQ

— BU Men's Hockey (@TerrierHockey) November 29, 2015
No Goal! LaCouvee with a big stop pic.twitter.com/h6v5mD1Ehs

— Terrier Hockey (@BU_Hockey5) November 21, 2015
And that's not to mention the tuxedo he wore after Red Hot Hockey, or his tweets about making Boston more rollerblade-friendly or his contrived "indie-folk" and "motorcycle gangs" HBO show "Mumford And His Sons Of Anarchy."
LaCouvee is undoubtedly extroverted and full of personality. But is it safe to call him a stereotypical, "weird" goalie?
"Yeah, you know what? I think I'm a weirdo," LaCouvee said. "I think even if I wasn't a goalie, I'd still be a bit of a weirdo. I mean, maybe you definitely get away with it more being a goalie. You can kind of do little weird stuff, and everyone's just like, it's a goalie, get over it … I mean, it's, there's only two or three of you on the team, right? You're kind of the minority there."
But as LaCouvee said, he knows when it's time to be serious. His parents describe him as introspective, intelligent and loyal. He's goal-oriented, and he's determined not to let any roadblocks get in his way. The back of his helmet is decorated with his motto: "Trust the process."
Moreover, LaCouvee is consistently positive. His roommate, sophomore defenseman Brien Diffley, said he frequently might want to nap, but LaCouvee usually has a different idea. He'll suggest going on a bike ride, going for a walk or anything else to get outside.
"I've kind of been getting on that guy's back, because, you know, there's only 24 hours in a day," LaCouvee said. "You've got to make the most of them. When you're up, the sun's shining, I mean, geez, go out, enjoy the day! When I'm up, just make the most of everything, right? Not even in hockey, but in life in general … Just make the most of what you can do. Try and get the most out of it."
The beginning of LaCouvee's junior career in 2012-13 was highlighted by a stint with the Cowichan Valley Capitals of the British Columbia Hockey League — the worst team in the league, he noted, but he earned a lot of playing time. After that team underwent an offseason remodel, the team traded LaCouvee to the Nanaimo Clippers, where he split playing time with another goalie for approximately six weeks before the team traded him in order to fill an age quota. The rules required a certain number of 17- and 18-year-olds, and LaCouvee was too old.
He then got traded to the Grande Prairie Storm of the Alberta Junior Hockey League and hit a crossroads in his hockey career.
"I didn't go up there for two weeks," LaCouvee said. "I just stayed at home and said I was done."
His parents discouraged him from letting the drastic change determine his hockey future, and LaCouvee realized, "I'd be doing myself a disservice if I didn't try and see it through."
So he eventually went, but he didn't play any games for Grande Prairie. He was on the road again, headed back to British Columbia to play for the Merritt Centennials. He played four games for them, starting in the place of an injured goaltender. But upon the goaltender's return, LaCouvee got shifted again to the Alberni Valley Bulldogs. 
"Nothing you really do is going to be a get-rich-quick scheme or get-to-the-major-league-sport-quick scheme," he said. "It's all a process and at the end of the day, you've got to trust the process and trust the journey you're on, even though sometimes it might be a bit bumpy or a bit rocky. It's the only thing that's going to get you to your final destination."
For the Bulldogs, LaCouvee found some stability, finishing out the 2013-14 season and guiding the team in a long playoff run. Then BU came calling, offering him a spot for the following season.
During his freshman season in 2014-15, LaCouvee had eight appearances in BU's 41 games. And after appearing to take control of the starting role in 2015-16, he's taken a backseat to Maguire, who has started the team's past nine games. Nothing has changed in his approach, LaCouvee said. He's still being a positive teammate, practicing hard and ready to take the net at a moment's notice.
It's all part of the process.
"He's not too high, not too low, he's still laughing, he's still making jokes, he's still working hard," Prawdzik said. "Still being a good guy, still being a good friend. I admire that he's been even-keeled throughout the whole thing. I don't expect that to change."
At BU, LaCouvee has made close friends, gained some sense of stability in not fearing he'll be traded. He's having a good time. His mother, Lesley, asked him, "What's different about BU, compared to all his previous years in hockey?
His response?
"I'm having fun."