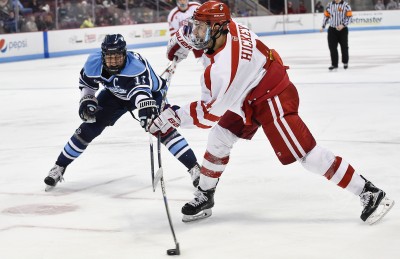 With two first-period goals and one empty-netter later, the No. 9 Boston University men's hockey team defeated Northeastern University in the Beanpot Tournament semifinal, guaranteeing the Terriers a spot in Monday's championship game against No. 4 Boston College.
After a five-game Beanpot losing streak that spanned three different seasons (2012-2014), the Terriers have now won three tournament games in a row, which gives them an opportunity to win another trophy.
That, BU head coach David Quinn said, is much better than the alternative.
"Well, beats being in the consolation game for two years in a row, that's for sure," Quinn said. "Obviously, being able to play for a championship in February, it prepares you for what lies ahead in March … When you get tournaments in February, it teaches you how to be mentally tough and trains you for your playoff run and all the things we want to accomplish moving forward. So for our seniors in particular, when you get the chance to play for the Beanpot championship in your last year at BU, it makes for a special night."
BU (16-7-4, 9-4-3 Hockey East) will seek its second consecutive Beanpot title, and 31st overall in program history, while the Eagles will look for their first since 2014. Either BU or BC (19-4-4, 11-1-4 Hockey East) has won every single Beanpot since 1994. However, the Terriers and Eagles have not met in the final since 2012, when BC took the trophy home in a 3-2 overtime win.
"I don't really think it matters who you play in the Beanpot final, but no matter when you play BC, there's just a little bit of a different feel," Quinn said. "Our guys would be incredibly excited and looking forward to [Monday] night no matter who we're playing, but any time you're playing BC, it just makes it a little bit more special."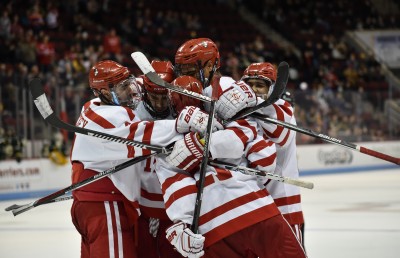 For senior winger Ahti Oksanen, who has four points in seven career Beanpot games, not only is the title game significant in and of itself, but the opportunity to play the team's biggest rival for the championship adds a little extra to the mix.
"It's gonna be an unreal game and I'm really excited, especially playing BC in the Beanpot final," Oksanen said. "It's one of the biggest things in my life, probably, and I'm really excited. Obviously, I mean BU-BC, one of the biggest rivalries in college hockey, and that rivalry in Beanpot final. It's gonna be something special."
Despite two previous meetings this year, BU has not earned a win over BC yet this season, the last time being Nov. 7, 2014. In the first matchup this season on Jan. 15, the Terriers fell 5-3 on late goals from BC defenseman Ian McCoshen. Freshman forward Jakob Forsbacka Karlsson and Oksanen each had two points in the game.
However, BU has not lost any game of its six games since that first loss against the Eagles. The Terriers followed the defeat with a 1-1 tie against BC the next day, with senior goaltender Sean Maguire making 38 saves and playing nearly 58 minutes of shutout hockey. Since the tie, BU has won five games in a row, including the first-round victory over the Huskies (9-13-5, 4-8-4 Hockey East).
Junior forward Robbie Baillargeon, BU's team leader in career Beanpot points with five, said the Terriers are well acquainted the intense atmospheres of bigger venues, already having played games at TD Garden and Madison Square Garden for Red Hot Hockey against Cornell University.
"It definitely helps a lot just playing in front of that many people in kind of a different rink, an NHL rink, where it can hold many people," Baillargeon said, "It's just [that] you kind of know what to expect already when you get out there … It's kind of a comfortable feeling. You get too nervous about what's going to happen next and things like that, so those experiences have helped us out a lot too."
Maguire will start in net for BU on Monday night, and will be pinned against BC starting goaltender Thatcher Demko, who owns the best goals-against average (1.71) and save percentage (.937) in the conference this season.
BC's dynamic offense — with seven players having scored 20 or more points on the season — will pose a threat to BU. The Eagles average a Hockey East-best 4.11 goals per game, though BU has averaged 3.67 goals this season, the second-best mark in the conference.
BU has averaged 4.17 goals per game during its six-game unbeaten streak. However, BC also owns the second-best defense in Hockey East, allowing its opponents to score just 1.85 goals per game this year.
"They're good in the net, they got a great D corps, they're deep up front," Quinn said. "So [there are] not a lot of weaknesses to them, but we feel like we continue to grow and get better, and we're playing probably our best hockey of the year right now."
The talent level that BC offers, when coupled with the fact BU has not beaten the Eagles in a year-and-a-half, has the team anxious for Monday.
"We're waiting to get out there, especially after what happened in the series that we played them when they scored a goal late in the first game to win and then a goal late in the second game to tie," Baillargeon said. "So obviously, I think we've been waiting for this one for a long time. I think once we knew BC won, everyone was getting really excited."
Judy Cohen contributed to the reporting of this article