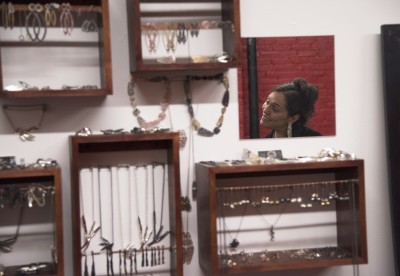 The SoWa Artists Guild sponsored a First Friday event, showcasing a diverse group of artists in Boston's South End, Friday evening. Despite the heavy snow, many artists and viewers made it out to celebrate art from nearly 80 different artists.
Over the past few years, SoWa has increased the number of galleries located in the area, continuing to establish a stronger presence in the Boston art community.
"We're just going to continue to try and figure out ways to educate the public," said Stephen Silver, founder of the SoWa Artists Guild. "This is the place they should come if they're interested in art."
First Friday events attract all kinds of people, from families to college students, from all different parts the world. Tourists and returning locals often frequent the SoWa gallery area during their time in Boston, and given the massive diversity of the art present, there is something for everyone to appreciate.
While First Friday events have drawn as many as 800 people, the Artists Guild is still in the process of gaining greater attention, Silver said.
"We really have to get more exposure to a broader audience of consumers who have disposable income," Silver said.
The Artists Guild, founded nearly 10 years ago, was originally comprised of only 20 studio artists. It now has more than 70 studio artists and continues to grow. Over the course of the decade, SoWa has become a prominent art scene in Boston and a hub for many local artists.
"[The Artists Guild] was basically a vehicle to formalize First Friday events for the studio artists," Silver said.
Any artist can join the Artists Guild so long as their studio is located in the building. As a result, there is a wide range of art represented in the guild.
"We have all kinds of art here — all professional artists," Silver said. "[We have] oil painters, acrylic painters, encaustic artists. We have sculptors, we have photographers, we have jewelers, we have fabric artists, so it's quite a broad range."
Marcia Crumley, a two-year member of the Artists Guild, said she has had nothing but positive experiences with the guild.
"I love it," Crumley said. "It's a great group of people [who are] very active in events."
Crumley's main line of work is in abstract and landscape painting. She said she finds it to be a great environment for artists in the Boston area, specifically in SoWa.
"The community is really supportive," she said. "The people who own the building do a lot of promoting around events."
The building itself provides artists and viewers alike with a charming atmosphere, exhibited by old-fashioned wooden floors, twinkling lights and art pieces hung along the walls. Viewers were able to wander in and out of the studios, where the artists displayed all their pieces for purchase. Many of the artists played music, put out food and conversed with viewers, creating a warm and welcoming ambience.
One member of the Artists Guild, Amy Casher, said she feels extremely fortunate to have a venue to showcase her work in.
"There's nowhere else that I would want to have a studio in the Boston area," Casher said. "It's … such a great community and so accessible to the public."
Casher has been with the Artists Guild for seven years and specializes in making jewelry. She has been making jewelry since she was 15 years old and makes everything by hand.
Casher said she thinks the guild is a great association to be in as an artist.
"I am really inspired by some of the other artists in this building, both in terms of their art and the way that they have been able to raise the profile of artists," she said. "I … find it very inspiring to be around people who have spent decades dedicating themselves to their craft and to really helping to promote the arts in the Boston area, and in particular, in the South End in this building."