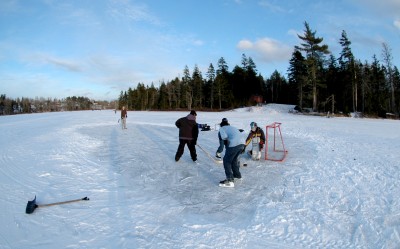 Why do we love the sports we love? What is it about a specific game or activity that captivates us so much? For me, hockey has always been an immovable part of my life. From the first time I put on skates on a frozen rink in nearby Wilmington with my dad pushing a black milk crate, I have always returned to hockey when I needed to find myself again.
For me, hockey began before I could even remember. Boston has given me a love affair with the Bruins and a fandom that has only grown as I have. My father had his office filled to the brim with memorabilia from the Bruins and a number of other NHL teams, sending me into a surreal state of awe every time I walked in.
From then on, hockey became my everything. From ice hockey in the winter to street hockey in the spring, I constantly had a stick in my hand. There was no better feeling than my skates carving up the ice beneath my feet on a bone-chilling winter day. I still feel the innate joy when I hear the crunching of ice beneath me.
As I grew up, the sport brought my father and I closer together. My days as a young toddler would begin with a phone call to my dad at work, where he would read me the box score of the previous night's Bruins game. As I perfected my skills in the driveway, I knew I wanted to be apart of the team when I grew up.
However, irony struck. Going to a Catholic all-boys high school in one of the biggest hockey hotbeds of America, the competition to make my high school team became that much more of a challenge. Never shying away from a tough test, I laced up my skates and was promptly cut from the team on the first day of tryouts. Even worse, the tryouts that ended my organized hockey-playing career had taken place on the rink where I had first learned to skate.
But that never deterred me from loving the game. Instead, I channeled my love for hockey into a passion for watching it. Being at a high school that competed for a state title every year gave me the opportunity to watch and cheer vigorously for my blue-and-white-clad team. I then walked on the Boston University campus four years later, home to one of the historically best college hockey teams in the nation.
I was already familiar with the Terriers, as my dad had graduated from BU in the late 1980s. Growing up, I had seen the scarlet and white compete for the Beanpot Tournament every year on television. In my freshman year, I got my first taste of the college hockey environment. Once again, the sport captivated me — this time, by watching it. The sight of the athletes gliding swiftly down open ice at such high speeds but still being able to stop on a dime and fire off a quick shot was enthralling, as were the bone-crushing hits they doled out.
As I stood in the TD Garden crowd and watched the Terriers march their way toward the coveted trophy, I reveled in being a part of the BU community. Hockey, a sport that had already given me so much, made me feel like a part of my new student body after transitioning to a school so big and unfamiliar to me.
Our passions often do that to us. They continue to give to us long after we have walked away from them. I had made lifelong friends through hockey and developed an innate love for all things surrounding it, and still it continued to give more and more. In trying times, I often return to my passion. Growing up in rural Massachusetts, ponds and lakes are in abundance near my childhood home. In the winter, they turn to ice and become a playground for all who wish to venture out to their canvases.
I have often found myself alone in the middle of a secluded frozen pond shooting pucks at a homemade net, leaving my troubles and worries behind as I focus on only the crunching sound beneath the quarter-inch thick steel on my feet. Even today, when I go home for Christmas break, you can often find me trying to perfect my stick handling skills on a random unnamed pond in the long stretch of woods behind my house on Ohio Street.
No matter what it is we truly love and have a passion for, we always draw happiness and a sense of calm from it. It has always been hockey for me. The sport has given me smiles, tears, the worst nerves I've ever had and a lifetime of memories.