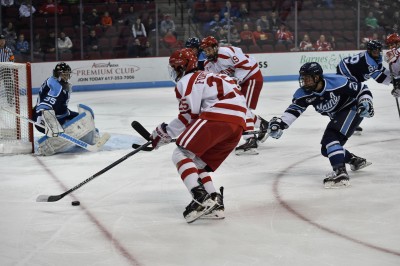 LOWELL — Not since 1996 had a University of Massachusetts Lowell defenseman recorded a hat trick in game for the River Hawks.
But just 23:13 into No. 11 Lowell's 6-3 win over the No. 7 Boston University men's hockey team, junior Dylan Zink ended that streak when he beat senior netminder Sean Maguire from the top of the left circle.
It had been a long time coming for the defenseman, as Zink admitted that he hasn't completed a hat trick at high level or any tier "probably since squirts."
Zink's first-star effort was just one component of BU's (17-9-4, 10-5-3 Hockey East) uncharacteristic poor defensive effort, most notably in the first two periods at the Tsongas Center.
"Just disappointed, disappointed with obviously the outcome, and I actually thought we were ready to play from the get-go," said BU head coach David Quinn. "Then the first goal we just lose coverage in the D-zone and obviously Zink had his way getting the first three goals of the game for them."
The three goals from Zink, two from senior Adam Chapie, and final strike from forward A.J. White culminated in one of BU's poorest defensive efforts in the last two seasons. Five of BU's six starting defensemen also finished with a minus, with freshman Charlie McAvoy the only positive at plus-1.
The Terriers had not allowed at least six goals in one game since Feb. 27, 2015 against Northeastern University, a game in which they also allowed in six goals. Unsurprisingly, the last five times that the Terriers have given up at least six tallies in one contest, they've lost.
Quinn admitted that Lowell (18-7-5, 11-5-4 Hockey East) capitalized on almost everything BU did wrong and the puck almost always "ended up in the back of our net."
Part of the reason the puck found the twine so many times in BU's net was the fact that Maguire wasn't bailing out defensive lapses like he had been over the past few games.
Over an eight-game span, Maguire has allowed more than two goals in a full game only once, and the one time it did happen (at the University of Massachusetts Amherst), two of those goals were while BU was on the penalty kill. Six of those eight games were ones in which Maguire allowed one or fewer.
So, when Maguire was not at his best, or was screened by Lowell's net-front presence, the Terriers could not recover. Zink essentially was allowed to walk in alone to the left circle on his first goal, and on the second, he was wide-open at the point and slapped it off a faceoff win and through a screen.
"It's 1-1, we give up a faceoff goal, completely blown coverage, as simple as coverage you can have in hockey," Quinn said.
But Zink's third goal proved to be the breaking point of sorts for Quinn, who pulled Maguire for sophomore Connor LaCouvee after the tally.
LaCouvee had not played in a game, save for 5:49 against Merrimack College on Jan. 29, since the Terriers' matchup at then-No. 15 Yale University in mid-December. Maguire had been on a good stretch of games, and the sophomore was relegated to mostly bench duty in that time.
But in that moment of this game, the Terriers needed a boost and could ill-afford to give up one goal, even if LaCouvee had any rust to shake off. Yet, in a matter of nine seconds, Lowell scored back-to-back goals, both courtesy of Chapie.
More miscommunication befuddled the BU defense, especially on the latter of Chapie's two. Off of a Lowell faceoff win at center ice, Chapie snuck behind BU's blue liners — sophomores Brandon Fortunato and Brandon Hickey — and finished off the play into an open net, where LaCouvee had little chance to make a stop.
Breaking point turned turning point, and the River Hawks, for all intents and purposes, won the game halfway through the second period.
"Third goal's a horrible goalie-D exchange, fourth goal's a bad turnover, fifth goal we blow coverage on a backcheck," Quinn said, "looked like we got rattled after they made it four, we just completely abandoned our responsibilities on their fifth goal."
Misplays hurt BU this night, but Quinn said after the game that he and his staff are not too troubled by the outing, considering that his team hasn't allowed five goals in a game since Jan. 15 and appears to be trending down the right path.
"We hadn't given up a lot of goals lately so like I said it just, every chance they had seemed to end up in the back of the net and we've been playing some pretty good D zone," Quinn said.
"We did a good job last night so I mean if this happens again I'll be concerned but we've done a pretty good job of moving past performances like this, so we'll get back to work on Monday and anxious to play again on Friday."