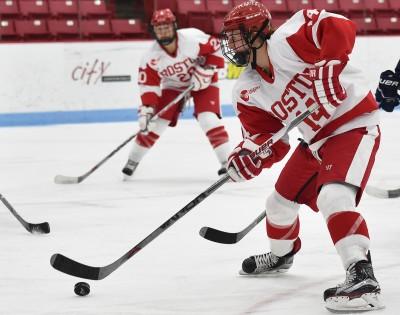 The Boston University women's hockey team has not had a problem scoring goals this season, thanks in large part to the efforts of junior forward Maddie Elia.
Over the weekend, the Terriers (19-11-2, 16-4-2 Hockey East) scored 12 goals in a two-game sweep of the University of New Hampshire. Elia, who is currently fourth on the team in goals with 14, collected two points in each of BU's victories against the Wildcats (10-21-1, 7-15 Hockey East).
She was named Hockey East Player of the Week Monday thanks to her efforts against UNH and a three-point night last Tuesday against Harvard University. The seven-point week for Elia tied her for the NCAA best during that span.
"Obviously she's one of the people that is counted on offensively," BU head coach Brian Durocher said. "She plays in one of the power plays and certainly has had a really good year with her line. The two Rebeccas — [sophomore forward Rebecca] Leslie and [senior forward Rebecca] Russo — have played extremely well."
As Durocher mentioned, Elia's linemates have also had successful seasons. In Leslie's case, it is all about setting her teammates up, as she leads the team with 32 assists on the year. Meanwhile, Russo has been consistent with 15 goals and 20 assists.
When Elia is on a roll, team success nearly always follows, but Durocher said he is most pleased with how she has rounded out her defensive game.
"The thing that's probably impressed me the most this year is she's really become a committed defensive player as well," Durocher said. "She's played both ends of the ice extremely well and is one of those kids that's easy to notice because she's got great hands and the reach. We need her to play well in the big games down the stretch here and into the playoffs, and I'm counting on that."
Goaltending situation sorting itself out
For much of the season, Durocher has preached that he and his staff are waiting for that "breakout game" or "solid stretch" to make a definitive statement in regard to the starting goaltender.
And for much of the season, neither goalie has really solidified herself in that discussion. Recently, sophomore Erin O'Neil has taken charge, winning four of her last five games.
While he still has some hesitation, Durocher said it's important to put confidence in one goaltender and ride them throughout the postseason. For the foreseeable future, O'Neil seems to be that player.
"I'm leaning in that direction," Durocher said of choosing O'Neil. "But at the same time, I want to make sure [junior goaltender] Victoria [Hanson]'s practicing hard and working hard and certainly mentally ready to go."
Durocher noted that O'Neil's performances are arguably better, but only by a small margin.
"For a bunch of different reasons, Erin has accumulated maybe a little bit better work statistically, just has kind of inched her way in front," Durocher said, "and I think at this time, whether you're right or wrong, you have to sort of make a decision to make sure somebody feels like they're the one."
Terriers banking on experience, recent success in postseason
With postseason play just around the corner, the Terriers are looking to position themselves for another strong run.
Durocher's team has two final regular season games against No. 6 Northeastern University, which is one spot ahead of BU in the standings before beginning postseason play.
This is an experienced group, and many of them know what it takes to win at this time of the year. The Terriers have won four straight Hockey East championships and advanced to six straight NCAA Championships.
That being said, the road will not be easy with perennial powerhouses No. 1 Boston College and Northeastern (25-6-1, 19-3 Hockey East) boasting talented rosters as well.
"I think the experience is really good for our team," Durocher said. "But then again, Northeastern's been there each year. BC has been there a bunch of years, so you've got at least three teams that have pretty good experience. But what we've got is that sort of innate confidence that goes with having the success we've had at the end."
Boston College (32-0, 22-0 Hockey East) and Northeastern may also have the league's top two scorers in seniors Alex Carpenter and Kendall Coyne, but BU possesses intangibles that are often hard to measure.
"This team maybe isn't as outwardly talented as a couple of the last ones we've had," Durocher said, "but I really like the character and the personality and the way we've played."