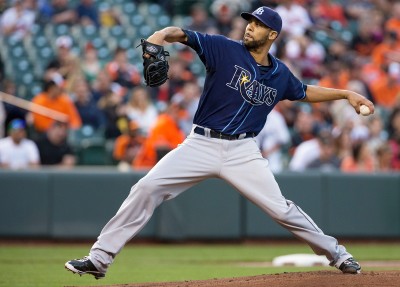 With pitchers and catchers reporting to warm-weather states all across the United States for the beginning of spring training, baseball is officially starting up again. Last season, the Kansas City Royals finally went the distance and won their first World Series title since 1985. That squad featured the likes of big-name players such as Eric Hosmer and Alex Gordon. However, those whose names may not be as common in households across the United States — Alcides Escobar, for example — played a vital role in the team's success. In 2016, with a number of big-name players switching teams and a myriad of rising stars entering the prime of their careers, Major League Baseball is poised for another exciting season.
Expected Stars
1.) David Price
The newly minted Boston Red Sox ace has a history of performing well in the American League East. During his time with the Tampa Bay Rays, Price never recorded less than double-digit wins and won the Cy Young Award for the league's best pitcher in 2012. When he was traded last year to the Toronto Blue Jays after a brief stint with the Detroit Tigers, Price went an astounding 9-1 with a 2.30 ERA. In Boston, Price will have an even more potent offense to bail him out if he gets in a jam, which doesn't happen often. The Red Sox finished with the fourth-highest scoring offense in 2015, trailing Toronto and rival New York Yankees. With an offense that can knock the seams off the ball giving him run support, expect Price to contend for the Cy Young yet again.
2.) Starlin Castro
The Red Sox were not the only team in the AL East to make noise this offseason, as the New York Yankees acquired shortstop-turned-second baseman Starlin Castro from the Chicago Cubs. In his six seasons with Chicago, Castro had his ups and downs, but he nonetheless was a dependable infielder. While his average has dropped since his career high of .307 five years ago, Castro has shown that he can still find a way to get on base, as his strikeout numbers have dropped the past two years. Castro will bolster New York's defense, and expect him to improve at the plate playing 81 games in hitter-friendly Yankee Stadium.
3.) Zack Greinke
The former Kansas City Royal had to sit on his couch in late October when his former team won a World Series, a trophy that has eluded the 32-year-old righty throughout his 12 years in professional baseball. However, it was not all bad for Greinke this offseason. The Florida native came in second in Cy Young voting and won a Gold Glove. Greinke also signed an illustrious six-year, $206.5 million contract with the Arizona Diamondbacks. For those wondering if Greinke is worth the money, the answer is absolutely yes. While he did not bring the Dodgers any closer to winning a World Series, the former first-round pick was lights out during the regular season. Last year, at the age of 31, Greinke mowed down 200 batters and led the league with a career best 1.66 ERA. The All-Star's .864 winning percentage, due to his 19-3 record, also led the National League. Though Arizona finished third in the NL West in 2015, Greinke makes the team a contender for the Wild Card, if not the divisional crown.
Unexpected Stars
1.) Yordano Ventura
Those watching Game 3 of last year's World Series got a glimpse of Ventura in the biggest game of his career. He did not pitch well, allowing five runs in just over three innings, and the Mets beat the Royals 9-3. Some speculated that the bright lights may have been too much for Ventura. However, a quick look into the past two years will tell the truth. In 2015, Ventura went 13-8 with a respectable 4.08 ERA. His strikeout numbers have hovered around 160 in his two years as a member of the Royals' staff. Kansas City has been notorious the past few seasons for back-ending its pitching and relying heavily on its bullpen for success. While that model has won the team a World Series, it may have struck gold with a bona fide starter in Ventura.
2.) Bryce Harper
Bryce Harper entered the league with expectations that seemed almost unreachable. After a few above-average seasons, Harper shattered all expectations last year en route to being named the youngest unanimous MVP in MLB history last year. An All-Star in three of his four Major League seasons, Harper has been a consistent point of offense for the Washington Nationals. Last year, Harper appeared in a career-high 153 games, in which he launched a league-leading 42 home runs, 20 more than his previous career best. At only 23 years old, watch out for Harper to repeat his MVP performance with Ryan Zimmerman and Jayson Werth helping lead Washington's offense.
3.) Joc Pederson
You may remember Pederson as the upstart Dodgers' outfielder who narrowly lost to Todd Frazier in the 2015 Home Run Derby. Although he cooled off in the second half of 2015, Pederson had a solid year at the plate, hitting 26 home runs in his first full season in the blue and white. He has a knack for getting on base, as he was walked 92 times last season. While Pederson's batting average is a subpar .210, most of his value comes from his glove. In the outfield, Pederson was named an All-Star and was the club's long-term solution to the loss of Matt Kemp. While Pederson may not lead the league in any particular category this season, expect the Palo Alto, California native to light the league up in a few short years.