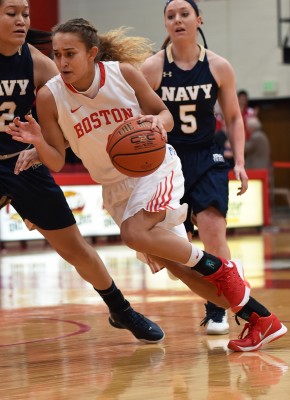 The Boston University women's basketball team will travel to Hamilton, New York to face Colgate University Wednesday evening.
Both the Terriers (2-22, 2-11 Patriot League) and the Raiders (4-19, 2-11 Patriot League) have had their struggles this season, as they're tied for last place in the Patriot League standings.
The two teams last met Jan. 20, with BU losing 72-63 to Colgate at Case Gym. The Terriers dominated the boards, grabbing 49 rebounds, including 22 offensive ones, but faltered in another regard. They struggled from both the free throw line and from the field, shooting 52.6 percent and 33.3 percent, respectively.
In an attempt to correct what went wrong last time against Colgate, the Terriers will look to hit easy shots. Graduate student guard Troi Melton, who finished with 17 points in her last game against Loyola University Maryland, will try and be more heavily involved. Specifically, head coach Katy Steding said she'll try and get Melton into the mix more on both sides of the ball.
"Troi is very versatile," Steding said. "We have often used her in different positions. We're going to try and find the right spot for her."
Sophomore forward Kara Sheftic, who had 13 boards the last time out against the Raiders and drained 12 points from the line and field, will also look to make a big impact.
The Terriers will look to replicate their rebounding performance from the last time they faced the Raiders, and Steding said whoever wins that battle will likely win the game.
"I think rebounding is a huge factor for all of our games," Steding said. "Everyone could be saying 'duh' to that, but really, it is a priority. Last time, we had 22 offensive boards, but that probably means you're missing a lot of shots. We'd like to see that number at around 15, because recently it's been at 10. It definitely will be a priority against the Raiders."
While Colgate has not had much to celebrate this season, the team does have one of the nation's best shot blockers in forward Josie Stockhill. She averages 3.8 blocks per game and is an incredible defensive presence that will be on BU's radar throughout all four quarters.
"She has excellent timing," Steding said. "We've been talking about using fakes and being relentless around the basket. We've emphasized being effective in the post and pulling up in space with our guard place. She's going to get a couple of blocks. It's something you try and mitigate. It's like trying to guard a really excellent scorer — they're going to get their points, and she is going to get her blocks."
Though they face a tough interior defense, the Terriers will look to execute their game plan, create space and win the rebounding battle against the Raiders Wednesday night. There are only five games left in the year, so the time is now for BU to make a run up the Patriot League standings.