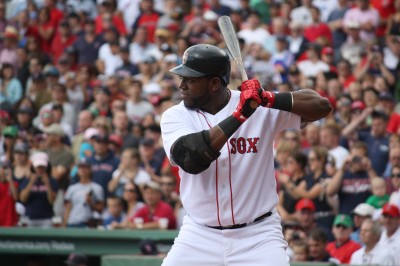 As the 2016 MLB season gradually nears, the sports world and Boston Red Sox faithfuls will soon have to say goodbye to David Ortiz, a living baseball legend. Big Papi joined the team in 2003 when owner John Henry signed him after he was released from the Minnesota Twins. Since, Ortiz has been one of the most important and influential players ever to call Fenway Park home.
The Dominican Republic native has complied 503 home runs, driven in 1,641 runs and been named an All-Star nine times throughout his career. He's also brought home six Silver Slugger Awards, was second in American League MVP voting in 2005 and has won three World Series titles. This past offseason, Ortiz made it clear that the 2016 season would be his last in professional baseball, creating a circus-like goodbye trail similar to those we've seen time and time again.
Retirements are a part of any sport, though. They can be tearful like Dennis Eckersley's, serious like Bobby Orr's, quiet like Jerod Mayo's or even full of public speeches like Carl Yastrzemski's. A very personal decision often leads to fans, coaches, analysts and administrators showering the departed player with praise and respect, as they should.
However, this recent trend of great players in sports going on a seemingly year-long retirement tour distracts from the current state of the sport and can even detract from a player's legacy.
In the NBA, shooting guard Kobe Bryant is in the midst of his last hoorah. During his time as a Los Angeles Laker, the Black Mamba has played his way into conversations of legendary proportions.
However, his season-long goodbye has become dull, and it's almost unbearable to see teams throw themselves at the feet of Bryant like he's the second coming of Jesus Christ. While he should be celebrated, the pregame ceremonies presenting Kobe with lavish gifts and mushy compliments have become nauseating, to say the least.
Baseball fans have been the so-called "beneficiaries" of several retirement tours the past few seasons, mainly those by two Yankee greats. Mariano Rivera is widely considered one of, if not the top, greatest closers in the history of baseball. His domination in the ninth inning was matched only by his class and respect for the game of baseball.
Paired with him in Yankees lore will be Derek Jeter, another all-time great. The team's captain was the face of New York sports since the moment he burst on the scene in 1996. While many in the New England region were not fans of Jeter, no one can deny his lasting impact on the game and the large amount of respect he deserves.
When they played their respective last games, the entire sports world was suffocated with repeated images of teams presenting them with tokens of gratitude. Now, do not misunderstand me. Players deserve to be congratulated for their accolades, especially when they're as high-achieving as those of Jeter and Rivera's caliber. However, teams that had little confrontation or affiliation with either player are just buying into the absurdity and hype of a great player retiring.
For example, Jeter had only nine hits in his illustrious career against the Chicago Cubs, tied for second lowest against any team. Still, the Cubs honored him with a pregame ceremony and a No. 2 placard from their historic scoreboard. While it was a nice gesture at Wrigley Field, the gift was unnecessary. Jeter had minimal interaction with the Cubs, and in the games when he did, he was far from an unconquerable adversary.
Teams with a history against a specific player can and should honor the great ones during their last times competing against one another. Players like Jeter and Rivera should have been congratulated by teams in their division and local rivals such as the New York Mets.
Kobe Bryant, comparably, should not be bowed to like the greatest thing in the basketball world from a team like the New Orleans Pelicans. They weren't even in existence when Bryant began playing.
Similarly, I desperately hope this season will not be a parade of goodbyes to David Ortiz from teams such as the Arizona Diamondbacks and the Miami Marlins. Ortiz, like his predecessors, deserves praise for all he has accomplished over nearly the past two decades.
He has often been a worthy opponent to numerous teams and should be honored by pertinent teams if they so choose. But I will watch in repulsion if I have to see the Washington Nationals trot out their 4,000 mascots to give David Ortiz a brick from the Lincoln Memorial.
Honor your greats, celebrate their achievements and how they changed your franchise and the game. But please, spare me the dog and pony show of teams that are irrelevant to certain athletes heralding them as if the two fought for the World Series every season.
David Ortiz, you have been a hero in Boston since 2003. I ask you — no, beg you — to please learn from the mistakes of those who have gone before you. Please play this season with the goal of winning one last title and not being the pompous toast of every town across the United States.