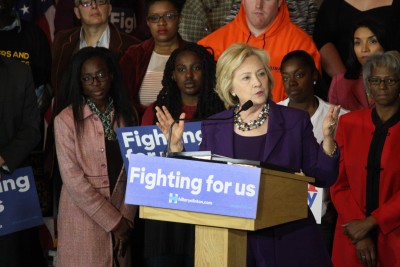 Hillary for Massachusetts, the 2016 presidential campaign for former Secretary of State Hillary Clinton, opened six organizing offices throughout the commonwealth Saturday.
According to a Feb. 17 press release, Clinton's campaign volunteers and supporters will utilize the new offices to talk to local voters before the March 1 Democratic primary.
Hillary for Massachusetts' offices opened offices in Boston, Springfield, Holyoke, Pittsfield, New Bedford and Worcester, the release stated. At each office opening, volunteers and supporters were encouraged to sign a "Commit to Vote" card to pledge their support for Clinton in the upcoming Massachusetts primary.
Boston Mayor Martin Walsh, who endorsed Clinton in 2015, said in a statement that he is honored to support Clinton because she is receptive and compassionate of individuals' diverse backgrounds.
"I am proud to support Hillary Clinton for President of the United States," Walsh said in the statement. "Hillary understands how to work with people from all backgrounds to advocate and support the most vulnerable; it has been her life's work and her leadership is needed now more than ever."
Walsh said in the statement that he believes Clinton will help encourage equality among the American people through her enthusiastic work ethic.
"Hillary has spent her life fighting and advocating for those in need and I know she will bring her experience and passion to the White House to ensure that every American has an equal opportunity," Walsh said in the statement. "Being the Mayor of one of the largest cities in America, I understand how important it is to have someone in the White House who knows how to get things done."
Clinton will face Vermont Sen. Bernie Sanders in the Massachusetts primary on March 1. Sanders said in a Monday press release that Clinton's association with super PACs should be questioned, and said his campaign, funded by individual donations, relates to Americans more than super PACs do.
"Now I know that every candidate who has ever received special-interest money always says that the millions of dollars they receive will never influence them," Sanders said in the release. "If these contributions from powerful special interests have no influence over the candidates, why are they making huge campaign contributions?"
Douglas Kriner, a professor of U.S. politics in Boston University's College of Arts and Sciences, said Clinton's decision to open six new offices in Massachusetts was a strategic move, as she is in a tight race against Sanders for the commonwealth.
"Massachusetts is one of the few states that looks like a real battleground [for Clinton]," Kriner said. "She won the state in 2008 against Sen. Obama. She looks to be behind Sen. Sanders. I'd imagine she'd just like to keep it close and keep the story about her [projected] big wins in the southern states."
Kriner said while Clinton's tight race against Sanders was not predicted months ago, it reflects what ideas are resonating with the American people.
"There's a lot of anti-establishment anger," Kriner said. "I think if you were to ask Jeb Bush if he thought he were to have raised over $100 million between his campaign and his super PAC and he'd be at home in Florida right now, he'd also be very surprised. That said, I think the Clinton campaign is certainly in a better position then most of the folks in the establishment side of the aisle in the Republican side."
Kriner said the biggest threat to both Clinton and Sanders in the upcoming election is the fact that there is currently a Democratic president.
"It's a tough year to be a Democrat," Kriner said. "You know, Obama has an approval rating hovering slightly below 50 percent. That's not the territory you want to be in, and it's very tough to win the White House three consecutive elections for the same party. Some candidates might be better foils for Secretary Clinton or Sen. Sanders than others, but we'll see."
Several residents expressed concerns about voting for either Sanders or Clinton.
Yusuf Roohani, 24, of Allston, said he supports Hillary because he has concerns about Sanders' adaptability.
"If I could vote, I would probably vote for her, because she is the most qualified person for the position," he said. "I like what Bernie Sanders talks about, but I don't know how far that's going to get through Congress."
Cory Marcotte, 20, of the North End, expressed concerns about Clinton's consistency.
"She's a little inconsistent and that's concerning for a lot of people our age," he said.
Daniel Shea, 25, of Jamaica Plain, said both candidates have had problems holding onto their voter base.
"Bernie has the better policies, to be honest, but I think his supporters have done a lot to turn people off from him," he said. "I think at the same time, Hillary has done a poor job at explaining why to choose her over him, why the second Obama basically isn't just going to win again."