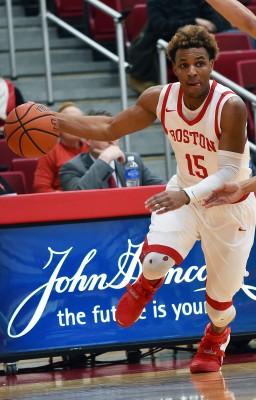 With a first round bye in the Patriot League Tournament already clinched, the Boston University men's basketball team will welcome the College of the Holy Cross Saturday for its last regular season game.
After a disheartening 80-71 loss to the United States Military Academy in the Terriers' (17-13, 10-7 Patriot League) last contest, the team will try to enter the league tournament on a high note.
"We're fine," said BU head coach Joe Jones. "It's a course of a season, so you're going to have ups and downs, but our guys have shown they bounce back pretty good."
The Terriers will be facing the Crusaders (10-18, 5-12 Patriot League), a team that has not fared particularly well away from Hart Recreation Center, posting a 2-12 record in away games.
The Crusaders do not possess a dominant scorer, as just 2.3 points per game separate their first and fourth point-getters. Guard Robert Champion leads the way with 11.8 points per game, and third-leading scorer forward Malachi Alexander is first on the team in both rebounds and assists per game.
The Terriers will look to exploit the Crusaders' inability to protect the 3-point line, as they allow opponents to shoot 37.7 percent on shots outside the arc. Meanwhile, BU converts 36.5 percent of its opportunities from distance, putting them fourth in the conference in the category.
This task will have to be done without freshman point guard Kyle Foreman, as he suffered an ankle injury against Army (18-11, 9-8 Patriot League). Foreman was contributing 9.5 points per game and also led the team with 110 assists on the year. The next closest Terrier in that statistic is senior guard John Papale, who has 65.
"Hopefully [sophomore guard] Eric Johnson and [sophomore guard] Cheddi [Mosely] and [freshman guard] Kamali Chambers can fill that position if he can't go," Jones said.
Jones added that he has "no idea" what the odds are that Foreman can participate Saturday. BU's injury woes have been well documented throughout the year, but without Foreman and senior forward Nathan Dieudonne, who is still suffering from an ankle injury of his own, the team is missing two out of its five regular starters.
The Foreman void will have to be filled mostly by Johnson, who just had his first game back from injury against the Black Knights. Johnson went a perfect 4-for-4 from 3-point range in 21 minutes of action.
A win Saturday would be crucial for the Terriers, as they're currently the three seed and could fall to either fourth or fifth place dependent on other results. Colgate University and Army currently occupy those two seeds and will jockey for position this weekend.
Outside of the Raiders (13-15, 9-8 Patriot League), Bucknell University and Lehigh University have locked down the top two seeds. Regardless of how the conference tournament's top seeds shake up, BU is focused on the task ahead, confident the rest will take care of itself.
"I don't know if you can start thinking about the tournament when you got a game on Saturday," Jones said. "We have to play the game and then you can worry about that."
The Terriers and Crusaders first encountered each other Dec. 30, with the latter emerging with an 80-64 victory. Jones said that game shouldn't factor in too much, as both teams are drastically different now.
"That was so long ago, I haven't even watched [the tape] yet," Jones said. "Those games that are played in the end of December and those games that are played in March, I don't really put a price tag on that. I will watch just to see if there's anything we can improve on, but both teams are very different from that night."