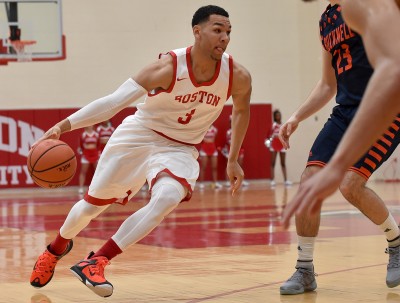 A 83-68 victory over the College of the Holy Cross Saturday ensured that the Boston University men's basketball team's seniors would play another game in Case Gym this season.
The win solidified the Terriers (18-13, 11-7 Patriot League) as the No. 3 seed in the upcoming Patriot League Tournament, ensuring they'll take on a sixth-seeded American University side in Thursday's quarterfinal round.
"We're going to need [the break] because of our injuries," said BU head coach Joe Jones. "We're going to figure out who can do what and how much certain guys can play. I'm hoping that we'll get some of the guys back. It'd be nice to see if [senior forward Nathan Dieudonne] could … come back. I don't know. People have already said that he's playing, but we don't know. He hasn't practiced, jumped or run, so we really don't know."
Dieudonne has been out of action since Feb. 10, a game in which BU coincidentally defeated American (11-18, 9-9 Patriot League).
In Saturday's game, the Terriers looked to exploit the Crusaders' (10-19, 5-13 Patriot League) lack of size by crashing the boards. Junior guard Eric Fanning continued his hot streak by scoring 25 points and grabbing 16 rebounds, the third double-double of his career.
Fanning sits in a tie for fifth in the Patriot League with an average of 15.2 points per game, and he said he feels the Terriers are ready for the rigors of the conference tournament.
"We're in a great position," Fanning said. "No matter who's out, we have a lot of weapons. It's one game and if somebody doesn't come in and play their best, we can go in and steal wins, anybody can steal wins. Morale is high, and even though we know we lost all these people, nobody's going to complain because now other people get to play. We're going to go in and try and shock some people."
John Papale takes it inside for @BostonUMBB to put them up 40-32 @dfpsports pic.twitter.com/hQdiWxR2OB

— Jackie Bamberger (@jackie_bam) February 27, 2016
Not to be outdone on his Senior Day, senior guard John Papale finished second on the team with 16 points and was removed from the game with 45 seconds left to soak in the applause from fans and teammates.
Papale is not finished just yet, though, as he knows as well as anyone how the Patriot League Tournament can change on a dime. He played a part in the 2013-14 Patriot League title match against American, and BU demoralizingly lost 55-36.
Fanning also knows how the tournament can shift, as last year's team lost 89-64 on the road in a first-round matchup against Lafayette College.
"Last year, we were in the same position going into the last game," Fanning said. "We had a game against Holy Cross again and a lot of guys didn't show up, myself included. I think I had a really bad game, and it cost us. This year, we just said we weren't going to settle."
After starting 0-for-4 from deep, Mosely nails his first trey of the night. BU up by double-digits @DFPsports pic.twitter.com/67EFHXBVWl

— Jackie Bamberger (@jackie_bam) February 27, 2016
In this year's regular season finale, Fanning and Papale were helped by junior center Blaise Mbargorba. Mbargorba finished with 15 points and five rebounds, but sophomore forward Nick Havener had a limited impact due to an inflamed Achilles tendon.
While Havener will use the break to heal for Thursday's game, Jones gushed about his team's ability to win without several key players.
"Just a gutsy performance by our guys," Jones said. "I was so proud of them, as proud as I have been all year. To play this game with basically six scholarship players, and to play the way these guys did, is remarkable. The focus, the attitude, the unselfishness. I was just really overwhelmed. John and Nate really deserve to go out winners. It was as nice of a send-off as you could have, with their teammates stepping up and giving them a win today."