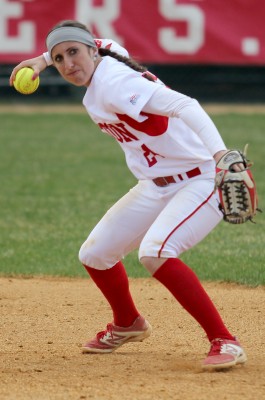 After opening its season in South Carolina, the Boston University softball team went down to the Sunshine State to partake in the Florida Atlantic University Invitational, earning mixed results along the way.
With five contests occurring from Friday morning to Sunday afternoon, the Terriers (3-6) won two contests and dropped three, with all but one game being decided by more than one run. Victories over Columbia University and Stony Brook University served as highlights, while narrow losses at the hands of the University of Maryland, Michigan State University and Florida Atlantic (13-1) left a damper on the weekend.
BU head coach Ashley Waters, who took note of the diverse schedule, said she felt her team grew a lot, especially after finishing 1-3 at the season-opening Charleston Southern Tournament.
"I really think last weekend versus this weekend showed we got better by leaps and bounds," the first-year coach said. "It really was night and day watching us compete, watching us up on the mound and just approaching each game with a different mindset."
The proceedings began with a 5-1 win over Columbia (2-3), and the veteran combination of pitcher Lauren Hynes and shortstop Brittany Younan led the way. The senior pitched nearly seven shutout innings, while the junior connected all three times she stepped up to the plate.
Come Friday's second game against Maryland (5-10), a diverse pitching effort and seventh-inning surge from was not enough, as BU fell 3-2 to its Big Ten foe. Two sophomores stepped up, as center fielder Jilee Schanda and third baseman Kaitlin Sahlinger both scored runs, yet fell one score short of a comeback.
A similar pattern unfolded Saturday, as BU knocked off Stony Brook (4-6) 4-0 to start off the day and then fell 4-3 to Michigan State (9-6) later in the afternoon. Hynes pitched seven shutout innings and five strikeouts against the Seawolves, while senior pitcher Melanie Russell suffered three earned runs against the Spartans.
Last but not least, an extra-innings encounter against Florida Atlantic saw BU drop a 4-3 heartbreaker Sunday afternoon. With a wide spectrum of results in tow, Waters noted that her team's compete level was high, never giving up hope and exerting their own might when necessary.
"The one thing about this team is [that] we were in every single game," Waters said. "We feel like we could have gotten the last one against FAU, but it's important to realize they were 9-0 or something like that before this weekend. We played some really strong teams and were right in every game, and that's something I'm proud of."
While many different Terriers stepped up across the five contests, Waters took particular note of how Younan, Hynes and freshman catcher Alex Heinen shone brightest. As things stand, Younan leads BU with 12 hits, Hynes has an impressive earned runs average of 1.69 and Heinen leads the team with six runs batted in.
Looking down the road, BU returns to Boston for an abbreviated week of practice and will head out to California for a busy stretch of games when the rest of the student body departs for spring break. Waters' team will compete in 11 games over nine days, starting off with the San Diego Classic and wrapping up with the Mizuno Invitational.
That stretch will constitute nearly one-fifth of BU's season, and a great deal will be on the line. However, mindful of her team's improvements and areas that still need some work, Waters expressed anxious excitement over what lies ahead.
"Over break, it'll be a really busy stretch out in California with the different games," she said. "I think we're playing something like 11 times in the course of a week or so, and that's a big chunk of our season when you look at the bigger picture. It'll define our year in a lot of ways, and we're excited to see it all unfold."