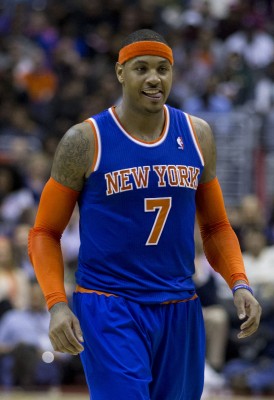 Sunday's Academy Awards were highlighted by Leonardo DiCaprio's long-awaited Oscar win for his performance in "The Revenant." DiCaprio's recognition has been a long time coming, and the sports world has numerous greats who also never truly got the recognition they deserve. Whether it's an inability to capture a championship or a league's failure to recognize one's accomplishments, the following are some of the biggest snubs in sports history.
Basketball – Carmelo Anthony
In Anthony's 13 seasons in the NBA, Melo has been the focal point of both the New York Knicks and Denver Nuggets, accruing more than 22,000 points along the way. As the third overall pick out of Syracuse in 2003, Anthony has lived up to his hype offensively. While he has flown under the radar in a time when players such LeBron James, Kobe Bryant and Tim Duncan dominate headlines, Carmelo has consistently been one of the league's best players. However, Anthony has failed to win the ultimate goal of any player — a championship.
Though his 2008-09 Nuggets nearly made the NBA Finals, it would be the farthest any of Anthony's squads would go in the playoffs. When he joined the Knicks in the 2010-11 season, things were looking up for the small forward. With teammates such as Amar'e Stoudemire, Chauncey Billups and Jeremy Lin, many pundits around the league thought that Anthony's time had come. But with Lebron joining Dwayne Wade and Chris Bosh in Miami, Anthony's dreams of a title were once again put on hold.
Football – Carson Palmer
Now before everyone proclaims me the conductor of this hot-take train, just stop to think about it. Palmer is coming off two stellar seasons with the Arizona Cardinals. Leading the league in a number of categories including quarterback rating, yards per catch and game-winning drives, Palmer would have been the runaway choice for league MVP had Cam Newton not had a historical year. However, Palmer was named to the Pro Bowl for the first time since 2006, and that's nothing too great to boast about.
He also led the league in touchdowns with 32 in 2005, back when the NFL was still transitioning from a running back-driven league to a quarterback-driven one. Unfortunately for the talented QB, he's never reached a Super Bowl and never received the proper recognition from those in and around the league. However, with Bruce Arians at the helm and Arizona's defense being one of the best in football, watch out for the aging Palmer to make some noise in the twilight of his career.
Hockey – Tyler Seguin
Seguin came into the league as the second overall pick for the Boston Bruins in the 2010 NHL Entry Draft. He was heralded as the next big thing in hockey but never quite got off the ground in Beantown. More of a finesse player with the ability to snipe the corners on goaltenders, Seguin's style of play was not conducive to Claude Julien's defense-first approach. However, ever since he was shipped off to Dallas, Seguin has been the toast of the Texas city. Coupled with lethal scoring threats such as Jaime Benn, Ales Hemsky and Patrick Sharp, Seguin has flourished. In Boston, Seguin managed only 56 goals in three seasons, though one of those seasons was shortened due to the NHL lockout. In his three years with Dallas, Seguin has almost doubled his goal total, racking up 106.
While he has been named to three All-Star teams since moving to the Lone Star State, Seguin really has not been the benefactor of league-wide recognition. His career is by no means near its end, as "91" is long overdue for some hardware. With the Stars trending upward, especially with the offseason additions of Sharp and defenseman Johnny Oduya, look for Seguin to try and lead Dallas to his second Stanley Cup title at the ripe age of 24.
Baseball – Pete Rose
Now I know this may be considered cheating as Rose is no longer in the league, but the former Cincinnati Reds infielder has to be the biggest snub in the history of sports. As any true baseball fan knows, Rose was banned for life from the MLB and is barred from the Baseball Hall of Fame due to allegations of him betting on the Reds as a player and manager. Former commissioner Bud Selig was adamant in keeping Rose out of Cooperstown, a position that current commissioner Rob Manfred appears to hold as well. But betting scandal aside, let's take a look at the numbers.
https://www.youtube.com/watch?v=KhcekmKY9xo
In his 24-year career, Rose compiled an MLB record 4,256 hits and also holds the record for at-bats, plate appearances and games played. He appeared in 17 All-Star Games, won two Gold Gloves and won Rookie of the Year in 1963. Rose has compiled arguably the greatest resume by a single player in baseball history. In a time period dominated by the New York Yankees, Rose and the "Big Red Machine" won two titles in 1975 and 1976. He also won a title with the Philadelphia Phillies in 1980.
However you feel about Rose's indiscretions, he deserves to be in the Hall of Fame. His absence from the baseball's greatest is an even bigger snub than DiCaprio not winning an Oscar for "The Departed," "Titanic," "Inception," "Shutter Island," "Catch Me if You Can" and "Blood Diamond" combined.