With the No. 9 Boston University men's hockey team coming off a 2-1 overtime win versus the University of Massachusetts Amherst in its first game of the Hockey East first round, it was apparent that the Terriers needed a boost.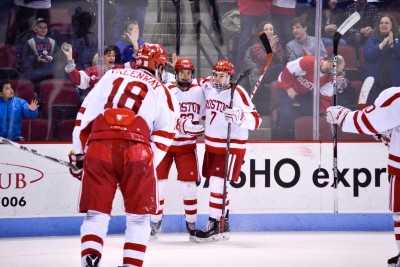 In its second game in a three-game series with the Minutemen (8-24-4), BU (21-10-5) once again struggled to put away the lowest-ranked team in the conference. Senior forward Ahti Oksanen, second on the team in points, totaled zero points for the second time in three games. Fellow classmate Matt Lane, who ranks right behind Oksanen in points, notched only one shot against UMass.
Luckily for the Terriers, freshman forward Jakob Forsbacka Karlsson shined in a much-needed victory for BU, scoring both the opening goal of the game and the eventual game-winner in a 5-4 Terrier win.
"I thought he played very well tonight," said BU head coach David Quinn. "He was hard on the puck, he really was elusive, did a lot of good things, made some good passes, I thought he had a really good night."
The two-point performance could not have come at a better time for the Stockholm native. Despite having a first line role on a top team in the nation, Forsbacka Karlsson has struggled offensively in the second half of the year, going 12 games without a goal before last night's contest. He only recorded five points in that span, all coming on assists.
"He's playing on a good line, and they've had chances," Quinn said regarding Forsbacka Karlsson's recent play. "I think he's been more snakebitten than anything. As we all know, scoring can be streaky, and he unfortunately has been through a little bit of a slump where he hasn't been rewarded on the score sheet when he's played well. It's good to see him get a goal, it's good to see him get back on the scoreboard."
Forsbacka Karlsson said he agreed that the recent stretch of games has been tough for him, so he was happy to be able to score and contribute to the win.
"[The] past couple weeks have been a little bit frustrating," Forsbacka Karlsson said. "I've had a couple ups, but a couple downs, too, so I think it's nice, hopefully this was a little bit of a release here and we can carry this on to the playoffs."
With the Terriers battling evenly with the Minutemen late in the first period, it was Forsbacka Karlsson who finally got BU on the board. With 5:40 left in the period, senior assistant captain Danny O'Regan took a shot that bounced off UMass goalie Nic Renyard, and Forsbacka Karlsson was able to tap the puck in out of midair to give BU the 1-0 lead. It was his first goal since a 5-2 victory at the University of Maine on Jan. 22.
The game would be a back-and-forth affair, however, as the Minutemen would never allow the Terriers a two-goal lead. Eventually, UMass forward Austin Plevy tallied a goal to tie the game 4-4 with 16:09 remaining in the game. The possibility of a third quarterfinal game on Sunday began to loom large, until Forsbacka Karlsson struck yet again. This time, the 6-foot-1 playmaker got ahold of the puck in front of the crease and easily got past Renyard with only 9:09 left in the game.
"I think either [freshman forward Jordan] Greenway or Danny had the puck there down low and did a great job," Forsbacka Karlsson said. "Somehow it bounced out outside the net and I managed to get it and I had a pretty clear shot there, so it was a lot of [the] teammates' work down there."
Once the game came to an end, Forsbacka Karlsson had six shots, tied with O'Regan for the most for BU. His aggressiveness on the offensive zone paid off, as the Terriers advanced to face the No. 11 University of Massachusetts Lowell in the semifinal round of the conference tournament.
"Well, I think you've just gotta keep going," Forsbacka Karlsson said of playing through a slump. "I don't think it's that difficult to just play your style, you just have to keep going every game and hopefully it'll turn."
O'Regan, who also had two goals on the night, assisted on both of Forsbacka Karlsson's goals. He had plenty of good things to say about his teammate after he helped push the Terriers to the next round.
"He's a really talented player," O'Regan said of his linemate. "He's a great two-way center, he does so many things so well, he's a really unselfish guy and a great guy to play with who works hard every shift. He creates a lot of space and gets on guys. I could talk about him for a while, so it's just been nice playing with him for the whole year."