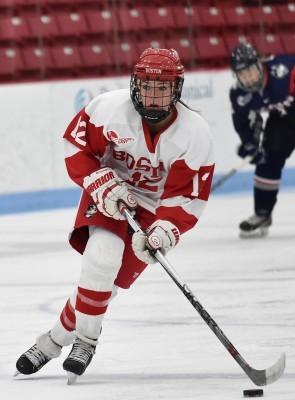 The Boston University women's hockey team and Hockey East championship trophies have become synonymous over the years, but 2016's version wasn't meant to be.
Slated against No. 1 Boston College (38-0, 24-0 Hockey East) Sunday afternoon at Merrimack College's Lawler Rink, the Terriers (23-14-2, 17-5-2 Hockey East) fell 5-0, coming three periods away from furthering their name in the annals of college hockey. To get to that point, BU recorded a 4-3 win over No. 6 Northeastern University Saturday, setting the stage for a clash amongst rivals.
The Eagles, however, stalled any and all efforts for a fifth straight Hockey East title and seventh straight NCAA Tournament appearance, leaving a somewhat bittersweet end to a season riddled with ups, downs and everything in between.
"Anytime you get a 23-win season, it's a good place to start," Durocher said. "It means you had plenty of victories, kids had outstanding years and the whole season gets an uptick if you win the championship, but Boston College truly brought their A-game. Our team was determined and played hard and defended well the whole game, but … if [BC] brings it, it's tough to matchup."
Sunday's encounter saw BC's high-profile players on full display, as seniors Alex Carpenter and Haley Skarupa, both shortlisted for the Patty Kazmaier Award, made life difficult from the get go. Each forward scored a goal in the first period, while the former finished with three points and the latter finished with four.
Meanwhile, sophomore Kenzie Kent tallied a goal and two assists of her own, and goaltender Katie Burt stopped all 25 shots that came her way. BC scored all five of its goals before five minutes expired in the third period, emphatically vindicating last year's 4-1 loss to the Terriers in the Hockey East title game.
"There was a little more determination, a little bit better focus and a high, high percentage of the kids are all back and a year older, which certainly helps," Durocher said, reflecting upon BC teams of years past. "Give their group credit, give their coaches credit, give Carpenter in particular a lot of credit. They erased last year out of their memory and will probably have a good run at it in the NCAA Tournament."
Despite the outcome of the game against BC, the Terriers did amass a strong showing against senior Kendall Coyne and the Huskies (28-8-1, 20-4 Hockey East) Saturday afternoon. The Patty Kazmaier Award finalist could only muster an assist, largely because of the spectacular showing goaltender Erin O'Neil put forth.
The sophomore stopped a career-high 54 shots, giving Durocher's team a fighting chance to earn one more game.
"We knew it was going to take every person to get by Northeastern, and Erin certainly stepped up when we needed her the most," Durocher said. "Her showing not too long ago at home comes to mind, but she had probably 10 to 12 saves of the spectacular variety that kept us right in it. A few were right on the doorstep and really were as good as they get."
Highlighting Saturday's encounter was also BU's diverse range of goal-scorers. Sophomore forward Rebecca Leslie went blocker side on goaltender Brittany Bugalski in the first period, sophomore forward Victoria Bach dangled and sniped in the second frame, senior forward Kayla Tutino added another and junior defenseman Alexis Crossley lifted a backhander in the third period to seal the victory.
With the bigger picture in mind, the Terriers will now say goodbye to an eight-member senior class whose impact cannot be understated. They've won 100 games, earned a trip to the 2013 NCAA title game, won one regular-season title and earned many more plaudits.
While there's much time ahead to reflect on the ways they shaped BU's program, Durocher still offered up some kind words.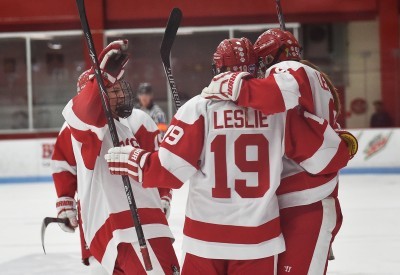 "Their impact is multifaceted, as we've had a bunch of really good student-athletes in this group," Durocher said. "People have been supportive of the community and program. We've taken home some Hockey East championships and a runner-up trophy too."
Durocher said defeating the Eagles was always going to be a tall task, and the Terriers gave it their all this past weekend.
"Even as the season came to an end, we had to get by some do-or-die games, and a real champion in Boston College finally put us away," Durocher said. "They brought their A-game, and I think our team played real solid and real competitive and showed class even in defeat."