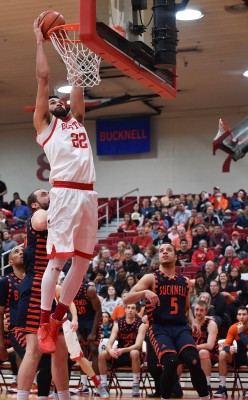 The second round of the CollegeInsider.com Postseason Tournament awaits the Boston University men's basketball team, and the team will look for redemption Monday night at the New Jersey Institute of Technology.
The Terriers (19-14, 11-7 Patriot League) will look to keep their season going after a 69-66 victory over Fordham University in the first round. Senior guard John Papale and junior guard Eric Fanning accounted for more than 60 percent of the teams points with 22 and 21, respectively.
"The level of intensity that we played with at Fordham is going to be important," said BU head coach Joe Jones. "We need to have that same mentality going into this game."
The sides last met Nov. 19, but Fanning was still serving a Jones-imposed suspension and the team consequently fell 90-76. That game ultimately served as the second-most points the Terriers have let up all season. The Highlanders (18-14) got 82 of their 90 points from their starters in that contest.
"When you play a team twice, you're going to have a little more familiarity, but it's going to help them too," Jones said. "We're on the road again, so you have a little better idea of the gym. Last time we played them, it was their first home game and it was packed. They were letting down their banner for the year before when they got to the semifinals of the CIT. They were really energized and ready to go, and it was one of those deals where we didn't play well, and they had a lot to do with that."
All five of those Highlander starters are still active, with the exception of guard Winfield Willis who only played nine games this year. They also boast a dynamic trio on offense, as guards Damon Lynn, Tim Coleman and Ky Howard combine to average 44.6 points per game. They also leave a mark on the glass, as their efforts lead to an average of 15 rebounds per game.
The Highlanders are also fresh off a 79-65 victory over a team BU is quite familiar with, the United States Military Academy. In that matchup, the Black Knights (19-14) were no match for the Highlanders' staunch offense and, they made only 39.1 percent of their shots.
The Terriers' game plan will largely be dependent on the availability of certain players. Senior forward Nathan Dieudonne played through an ankle injury against Fordham, playing 32 minutes and collecting 11 rebounds, but went 0-for-6 from the field. While Dieudonne could soldier on, it was more difficult for sophomore forward Nick Havener, who could only go for nine minutes due to a lingering Achilles injury.
Freshman guard Kyle Foreman was completely inactive for the game with an ankle injury. Foreman is BU's assist leader on the season, but his fate is still up in the air for this game, according to Jones.
"We'll see," Jones said. "The only one who didn't play was Kyle, and he hasn't done much. Nate played a lot last game, but Kyle and [sophomore guard] Will Goff are the two guys that are up in the air."
Winning would put the Terriers in the quarterfinals of the CIT and give their seniors, Papale and Dieudonne, at least one more chance to represent the scarlet and white.
"They're excited because of how hard they played collectively," Jones said. "I think that left a really good feeling for them, and that's a real good thing."