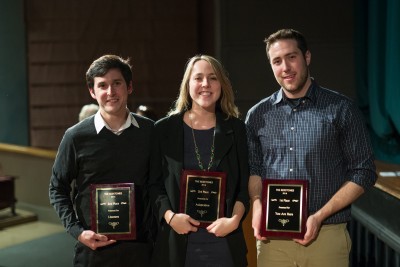 The 36th Redstone Film Festival showcased this year's best films from Boston University's Department of Film and Television on Friday. Sponsored each spring by Sumner Redstone, chairman of VIACOM, the festival celebrates the best that BU's graduate and undergraduate program has to offer.
Great screenwriters, directors, producers and filmmakers of all kinds have been through Boston University's College of Communication. The likes of Richard Gladstein, co-executive producer for "Pulp Fiction" and producer of "The Hateful Eight," and Scott Rosenberg, screenwriter of "Kangaroo Jack" and "Gone in Sixty Seconds," were honored during their time at BU with Redstone awards.
This year's six film finalists were promising, showcasing BU students' promise and their potential to one day be in the ranks with Gladstein and Rosenberg.
"You Are Here"
Directed by Wes Palmer, a senior in COM
Taking the first place for Best Film and awarded both Best Screenplay and Best Editing, this heartfelt story tracks a young man's promise to his late mother to see the Grand Canyon. An underhanded mall cop on the protagonist's tail (the young man is a vagrant living in a display RV inside a mall) adds tension to the narrative with satisfying idiosyncrasies and rhythm. The film is sincere in its nostalgia for childhood but may taper toward the maudlin for some.
"Listeners"
Directed by Sara Robin, a graduate student in COM
The second-place winner for Best Film and the winner for Best Sound Design, "Listeners" is an impressive sci-fi caper beaming in on an Orwellian dystopia. A mix of Wachowski film grammar and narrative elements from the "Divergent" series, three renegades subvert a surveillance system predicated on mind-reading technology. An ethical dilemma pins the film's main protagonist into using the very mind-reading technology on her desperado partner. High marks go to the filmmaking for its resourcefulness and skill, making a student production feel like a professional grade product.
"Adaptation"
Directed by Emily Sheehan, a graduate student in COM
Earning third place for Best Film, this documentary is an artful dedication to the gossamer of China's ancient textile tradition. Linens whisper on drying racks, and light, floral dyes lend themselves to analogize the fading of a meticulous, delicate and ancient way of life in China's Jiangxi province. The treatment of the story is deft, and the visuals are beautiful.
"Postal"
Directed by Anneliese Scheck, a 2015 COM graduate
A likeable postman saunters along a mail route littered with the quirky neighbors of Anytown, U.S.A. — in this case, Walpole — in "Postal." Quickly, the film turns into a buddy comedy in which the mail-delivering protagonist starts to kindle a relationship with the mysterious, beautiful neighbor who had lost her mind. He draws friendly cartoons and delivers them through the mailbox in the center of her front door, out of which she sticks her arm, the only visual of her until the end. All smiles for this light, friendly story about how "Ozian" love can sometimes be.
"Jump"
Directed by Dan Behar, a senior in COM
A story about a single father, a daughter, a teacher wedged between them and a jump roping competition, "Jump" skillfully uses cinéma vérité to draw all the sharpness and slapstick from its actors. A daughter's deadpan may be the perfect comedic foil to a single father's gusto. Under the film's smart, blackly humorous quips lies a big heart.
"More"
Directed by Tara Kavanaugh, a senior in COM
Exploring the murky sexual ethics between two roommates, "More" has a lot to say and leaves the audience with an artful, challenging and open end. A young woman navigates through an unclear sexual landscape, dazed between brushes with her roommate and a rendezvous with a young man whom she need only text to summon. By accompanying the haze of sexual boundaries and pleasure with moody cinematography, the film prompts somber reflection. By leaving the ending's sexual encounter between the roommates to be interpreted, the filmmaker obviates becoming moralistic or preachy.