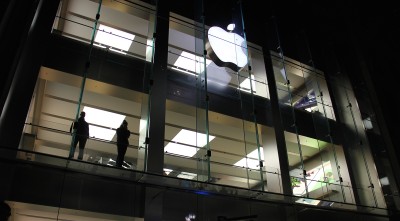 Court documents unsealed Friday revealed a federal court order to Apple Inc. to assist the FBI in unlocking the phone of alleged gang member Desmond Crawford. In a letter from Apple's lawyer Marc Zwillinger, the company refused to comply with the actions ordered by the U.S. District Court.
An affidavit of FBI Special Agent Matthew Knight described phone calls between Crawford and other members of a gang called the Columbia Point Dawgs. The calls were intercepted by the FBI.
"During our investigation of the CPD, we intercepted calls between CPD members/associates in which they discussed the use of violence to further the gang's goals," the affidavit stated.
The FBI intercepted "several calls" that revealed that Crawford was involved in several drug deals as well as the shooting of one unidentified "John Doe," according to the affidavit. For these reasons, Knight applied for a court order to be granted access to the full digital content of Crawford's iPhone, which was approved Feb 1.
The American Civil Liberties Union urged the U.S. Department of Justice to unseal all court documents relating to the case, which resulted in the documents' release Friday. The ACLU disapproved of the court order to unlock the phone, according to Technology for Liberty Program Director Kade Crockford.
"Our involvement was simply to unseal the docket in that case so that the public could see what was going on in terms of what we expected, which was the government's application for an artifact order to force Apple to help them get inside an iPhone connected to that case," Crockford said. "When the document was unsealed, that's exactly what we found."
The court order was based on the All Writs Act, which allows courts to order corporations to disclose information. Because the All Writs Act was applied in the 1977 case United States v. New York Telephone Co., the court order aimed to apply it to Crawford's case as well.
"We disagree with that interpretation," Crockford said. "The New York Telephone case does not apply to an iPhone encryption, and that's for one basic reason, which is that Apple does not actually possess any of the information that the government is seeking in these cases."
Crockford explained that while the New York Telephone Co. owned the information released to the government, as it was billing information, Apple does not own the information on Crawford's phone or any other.
"If you have an iPhone and you put your pictures on it, those pictures do not belong to Apple and are not in Apple's possession — they're yours," Crockford said. "It's totally inappropriate to force a technology company to write new software code by signing that code with its cryptographic key to a telephone that is not in its possession to obtain information that the company does not possess."
Crockford said the U.S. Supreme Court has ordered access to more than 60 phones, few of which were involved in terrorism cases. The most famous case has been one involving the Dec. 2 shooting in San Bernardino.
"Apple didn't want to do what the government was asking it to do because it knew that if the government got precedent through a court to be able to force Apple to do this in the San Bernardino case, it would be able to get precedent to force Apple to do this in every criminal case," Crockford said.
Access to the encrypted information on iPhones, Crockford explained, would be "fundamentally dangerous," as that information could be accessed by others attempting to hack the encryption.
"What that will really do is mean that there's no such thing as secure encryption, that there's no such thing as secure technology," Crockford said. "It's not just the FBI, not just the local police pursuing unlawful court orders, but also foreign governments, industrial spies, criminal hackers will have a much easier time stealing people's information when it's stored or transmitted digitally."
The letter from Zwillinger was written in response to the order from the U.S. Attorney's Office for the Central District of California, and highlighted several instances wherein Apple objected the court orders.
"Apple responds that following its objection or other response to each request there as not been any final disposition thereof to Apple's knowledge, and Apple has not agreed to perform any services on the devices to which those requests are directed," Zwillinger wrote in the letter.
Several Boston residents shared mixed opinions regarding Apple's decision. Many said they disapproved of Apple's objection.
Mike Hachey, 28, of Dorchester, said he does not value rights to privacy, and Apple should comply to all court orders.
"If FBI has a warrant, Apple should comply," he said. "There's no absolute right to privacy, there never has been, and there shouldn't be."
Michael Gill, 62, of Brighton, agreed that Apple should comply with the order if there is probable cause.
"I have nothing to hide if somebody wants to listen to my cellphone conversations," he said. "You can't just do it because you feel like it. You need to have some probable cause."
Kedijah Cook, 35, of Roxbury, supported Apple in its objection.
"Apple shouldn't have to unlock the phone," she said. "It's wrong to do that to someone's private property."
Dave Sebastian contributed to the reporting of this article.