One of the most accomplished players to ever suit up for the Boston University men's basketball team will soon come back to the city that defined the beginning of his professional career.
John Holland, a Terrier forward from 2007 to 2011, signed Monday with the playoff-bound Boston Celtics, closing the book on what's been a roundabout journey to the NBA. The 27-year-old Bronx, New York native has previously enjoyed stints in France, Spain and Turkey, and most recently competed with the D-League's Canton Charge.
Before that, Holland took the America East conference by storm. As a senior he took home America East Player of the Year and Associated Press All-America Honorable Mention honors, and finished his BU career with 2,212 career points, the seventh-most all-time in America East.
The Daily Free Press caught up with the newest Celtic to shed light on what got him to this point and what the future has in store.
---
The Daily Free Press: It's been quite a while since you geared up for Boston University. Looking back upon it, how was that experience on and off the court?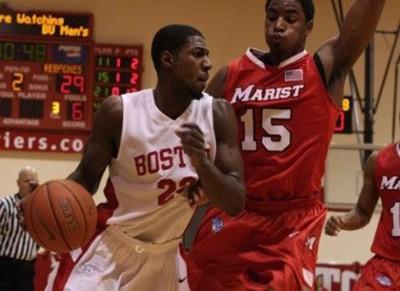 John Holland: BU was great, I really had a great time. It was special. I had two different coaches during my time there. One was Dennis Wolff my first two years and Patrick Chambers for the last two years, and it was a dream, honestly. I came into a great situation where I was able to win Rookie of the Year my first year, then junior year we made it the championship and lost and senior year we finally won it.
But during all four years it was great, I loved it. I'm still in contact with all my teammates, all the games from there, so everything was good. It's in the middle of the city with so much to do and as far as a college, it was one of the best schools in the country as far atmosphere goes. There's no place better than Boston to go to school, so I had a great time.
FreeP: What is your favorite moment from your time at BU? Is there any game or relationship that stands out above the rest?
JH: Probably that [2011 America East Tournament] championship against Stony Brook [University] when we won to go to the NCAA Tournament. That's probably the moment I remember most and will always remember. But there are other games that I really remember. One that comes to mind was in my junior year when we played Morehead State [University] in [the College Basketball Invitational Tournament]. We were able to beat them.
There's a few games, heartbreaking games. The [America East Tournament] championship game at [the University of] Vermont my junior year was probably one of the worst feelings I've ever had as a player.
FreeP: What's it like to be back in Boston? Although you're not from here originally, you're back in a city that gave so much to you.
I feel like I'm coming back, I don't want to say home because it's not my home, but it's a place that I called home for four years. I feel like I'm coming back in a sense that I'm comfortable here, I know people here and it's been a surreal experience being able to come back to Boston where it all really started.
FreeP: What have you taken from all the different teams you've been on? There have been different coaches, different teammates and different schemes in a journey that hopefully won't end anytime soon.
JH: It's been a journey, man. It's a lot of ups and downs, it's a lot of different basketball and I've leaned something every step of the way from every situation that I've been in, whether it be overseas or in the D-League. Every team is different, every coach has a different style and different philosophies and I really try to take all I can from every coach that I've had.
Whether it be playing under a coach in France, or a coach in Spain, or in the summer I was fortunate enough to play under Rick Pitino [as part of the Puerto Rican National Team] or when I was with the [San Antonio] Spurs I played under Gregg Popovich for a little bit. No matter what, the different things have helped me prepare for this moment, and to be ready for whatever I can bring to the Celtics and help them win a championship.
That's really my only goal right now, just help in whatever way I can in supporting the guys or whatever capacity it may be. I just want to be able to add whatever I can to the team. 
FreeP: Your career has gone down its own distinct avenues and undergone plenty of bends and turns. Now you're playing under Brad Stevens' Celtics team and gearing up for playoffs, what's the general feeling or level of excitement in the locker room?
 JH: It's definitely an exciting time, and that game [Wednesday against the Miami Heat], you can see it was a playoff-like game with the intensity at a high pitch. Honestly, the atmosphere [at TD Garden] was amazing and it's only going to get better in the playoffs. I think it's something this team is ready for and I think we can make a deep run in the playoffs if we focus in and lock in on all the little things we have to do as a team. If we do that, there's really no limit to the success we can have.