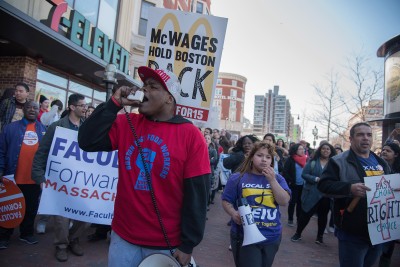 Approximately 400 Boston-area residents gathered Thursday afternoon at the Massachusetts State House to rally to increase the minimum wage to $15 per hour.
The rally, organized by nonprofit group #WageAction, urged legislators to provide better working conditions and union rights in addition to the wage hike. This was one of many April 14 rallies that took place across the United States.
Participants used megaphones to lead the crowd in several rounds of chanting. Residents presented signs advocating for a $15 minimum wage, carried balloons that read "Child Care, Fight for $15" and wore apparel with the slogan "Fight for $15."
Eight advocates spoke throughout the duration of the rally, ranging from senators to food industry employees. One speaker mentioned Jeffrey Pendleton, a New Hampshire Burger King employee whose death stirred controversy. Advocates for Pendleton attribute his death to low wages.
Robert Mercier, a manager at Burger King who had worked with Pendleton, commented on Pendleton's experiences with the company.
"I had the privilege of working with Jeffrey from the amount of time he was there," Mercier said. "When we found out that Jeffery was dead, everybody at work was really heartbroken over it."
Mercier discussed the hardships other employees like Pendleton still face.
"Each of us has our own struggle, and it's hard because a lot of us are working our butts off to support our families," Mercier said.
After the rally, participants marched by McCormick and Schmick's and ended at McDonald's. These two locations are "two of the area's worst purveyors of poverty wages and poor working conditions," according to the #WageAction website.
Tyrek Lee, the executive vice president for 1199 Service Employees International Union, said he was satisfied with the rally's turnout.
"This is our third rally here in the commonwealth, and I think it's going great," Lee said. "We've done many rallies, many educational forums, and a lot of outreach to make sure that folks in the commonwealth know what this fight is about."
The SEIU has organized rallies throughout the country, and Massachusetts-based rallies in particular have been successful in enacting change, Lee said.
"We have several employers in Massachusetts, such as the Boston Medical Center, whose start rates are $15," he said. "Our homecare workers were able to negotiate a pathway to $15 last year, and the mayor has announced his support in the creation of a $15 wage board to really look at ways to bring the minimum wage up in the City of Boston."
Lee said that in the future, his union will "continue the outreach, the education and make sure folks know that this is bigger than any union, bigger than my union."
Several attendees at the rally expressed support for a $15 minimum wage.
Becky Pierce, 72, of Dorchester, said workers simply deserve to be paid decent wages.
"It's important that people get paid a living wage," she said. "Corporations can't get away with paying poverty wages such that the city and the state have to pay for people's health care and food stamps."
Tim Dean, 67, of Jamaica Plain, discussed the nation's increasing wage gap.
"In my lifetime, I have never seen wealth transferred so quickly to the top," he said. "When I was a kid, we had steel workers in the neighborhood who bought homes and raised their families on union wages. Things are getting more expensive, and the wages just aren't keeping up."
Keely Mullin, 21, of Fenway, said the rally serves as an important message of solidarity for Boston workers.
"We're seeing a pretty awesome fight back right now being launched by workers all across Boston," she said. "There's the Verizon picket that's going on and so I think it's important for anyone who lives in the area, anyone that also struggling for a more just society, to stand in solidarity with low wage workers."