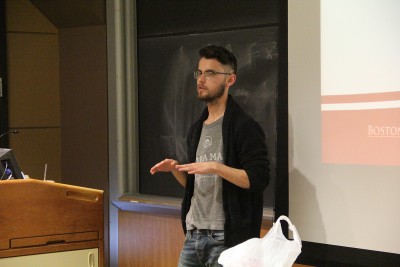 The Boston University Student Government Senate debated for three hours Monday evening, eventually voting to reject president-elect Jake Brewer's proposed amendment to the SG Constitution.
Brewer's proposal was for a bicameral legislature, separating senators and the rest of the student body into an Upper House and Lower House, The Daily Free Press reported on April 12.
The amendment proposal failed to garner two-thirds support, with 16 senators voting for the proposal, 10 against it and one abstaining.
Brewer, a junior in the College of Arts and Sciences, said in the meeting that he hoped to transform the Senate into a group that works with the student body to address real issues students are facing.
"People don't care about [Senate] as much as they should," Brewer said. "The effort is to make it into something that is capable of addressing issues, so people will care about this body. What is imminent in students' lives is tuition is raising and money is being spent where students don't know where it is being spent."
Andrew Cho, SG's current president, said the meeting was long but "healthy and productive," and he was disappointed that Brewer's proposed amendment did not pass.
"I honestly wish it was tabled, because so many senators left during the meeting and that would have changed the vote outcome that was obviously so slim," said Cho, a senior in CAS.
Senate also elected Dan Collins, the current Senate vice chair, as next year's Senate chair. Collins was competing with Warren Towers Residence Hall Association Senator Claire Tran.
Collins, a sophomore in CAS, said he plans on having intensive training for senators at the very first meeting of the year.
"All the senators will become more efficient, which will make [the student body] more willing to come to us," Collins said after the meeting. "I'd like to bring back more of an amicable environment to Senate, and that starts with the mindset I instill into them during them during training."
Senate Chair Courtney Bold said after the meeting that both candidates were well qualified, and she's excited to see how Collins does as Senate chair next year.
"I've worked with [Collins] a lot the past year, as he was my vice chair," said Bold, a senior in the Questrom School of Business. "I'm excited to see what Senate will be like under his leadership."
Several other amendments and by-laws were presented to Senate, but they will be voted on next week.
Several senators said they were disappointed with the outcome of the meeting because they hoped Brewer's proposed amendment would have passed. Other said Brewer's amendment lacked judgement.
Anushka Pinto, a CAS senator, said she was shocked that Brewer's proposal did not pass, especially after Brewer made compromises based on other suggestions.
"[Senate] needs this Lower House, and that is where some [senators] disagreed with [Brewer's proposed amendment]," said Pinto, a junior in CAS. "People felt we silenced their voices [last semester], and this Lower House would give us a chance to get those students more involved and make direct decisions … As a [Senate], we need to rally behind some sort of change, because right now we aren't making any progress."
Powell Vince, an Environmental Student Organization senator, said he liked the way the meeting was run, and he is looking forward to next week's meeting.
"We passed and denied the right amendments," said Vince, a sophomore in the School of Engineering. "Hopefully we will be able to get more done next week."
Adrianna Ortega, a South Campus RHA senator, said she was disappointed that Brewer's proposed amendment was not passed.
"[Senate] could have had 10 extra student groups represented and a town hall type of deal with the rest of the student body," said Ortega, a junior in the School of Education. "[Senators] have been working so hard to get everyone represented and we've been trying to make change happen, and it's really disappointing that we put in all this work and it's not happening."