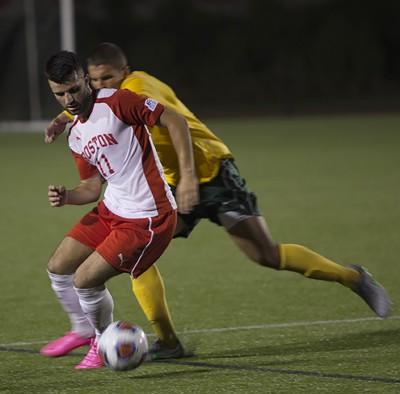 Fall Sports
Men's soccer (12-6-2, 6-1-2 Patriot League): Serious question marks surrounded BU head coach Neil Roberts' side before the 2015 campaign, and by the season's end in November, all were answered with aplomb. The Terriers posted seven shutouts, earned an at-large bid to the NCAA Tournament and were one point shy of the conference's regular-season title.
Perhaps the biggest trend of all, though, was upper- and underclassmen fusing on the pitch. Whether it was junior goalkeeper Matt Gilbert anchoring the backline, sophomore Anthony Viteri running rampant in midfield or junior striker Felix De Bona emerging as a consistent goal-scoring threat, BU was a force to be reckoned with.
"We had a number of young kids come in and help right away with some guys that have been here a little bit longer, so it's been good to see that development," Roberts said. "From last year to this year, the development of the group as far as their play, as far as their commitment to what they're trying to do and how we're trying to play, has probably been the storyline for us."
Women's soccer (13-6-3, 8-0-1 Patriot League): After stuttering out of the gate in 2015, the Terriers were virtually unstoppable from mid-September to mid-November. They only lost two of 17 games in that timespan, paving the way for a memorable postseason run.
BU hosted and won the Patriot League Tournament, and it knocked off St. John's University in the NCAA Tournament, only to be bounced by Pennsylvania State University in the second round. BU's success was largely the result of sure presences in senior center midfielder Clare Pleuler and senior center back McKenzie Hollenbaugh blending with freshman sensations in striker McKenna Doyle and center midfielder Julianna Chen.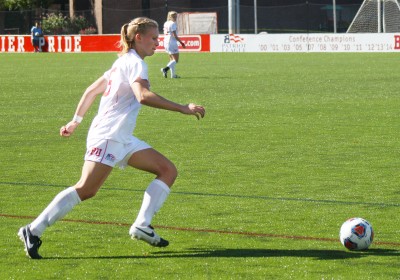 "We've won the Patriot League Tournament two years previously, but we never won the regular season, and I think that's an incredible achievement to go through the conference season undefeated," said BU head coach Nancy Feldman. "It speaks to the level of consistency these seniors brought and led with."
Field hockey (15-7, 6-0 Patriot League): This team has set the bar high, and it was certainly met in 2016. It captured its second-straight Patriot League championship, advanced to its 12th NCAA tournament appearance and routinely went toe-to-toe with many of the nation's best teams.
"It really requires a sustained level of commitment by the athletes to keep looking forward and keep working hard to get better and not resting on their laurels at all," said BU head coach Sally Starr. "Just recognizing it takes a lot of hard work, commitment and teamwork to win a championship like that."
Starr's 35th year at the helm was also met by some spectacular individual performances. Senior midfielder Sofi Laurito was named a NFHCA First Team All-American and senior back Rachel Coll was named a NFHCA Third Team All-American.
"That's a huge accomplishment and a huge tribute to our program, but what I love about our team is that we truly are a team," Starr said. "We're a group of young women that push each other, really work hard together and enjoy being together."
Winter Sports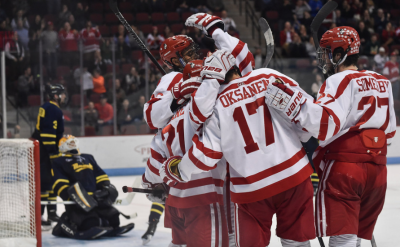 Men's hockey (21-13-5, 12-6-4 Hockey East): Coming off an NCAA title appearance in 2015, BU always had a tall task to meet. While no silverware came, the Terriers did finish ninth in the Pairwise Rankings, 14th in the final USCHO.com poll and bid farewell to a six-member senior class that included the likes of captain Matt Grzelcyk and assistant captain Danny O'Regan.
The year was also buoyed by freshman forwards Jordan Greenway, Jakob Forsbacka Karlsson and Bobo Carpenter, as well as freshman defenseman Charlie McAvoy. BU lost four of its last six games, and head coach David Quinn said the group's psyche took a hit when an appearance in the Hockey East Tournament's quarterfinal round came about.
"I think there's always the BU pride thing," Quinn said. "You know, we're BU. We're not going to be playing in the first round. And I think the devastation of not finishing in the top four — I felt we lost our swagger, I thought we lost our mental edge. You guys have watched us all year. We go down, 1, 2 to nothing, we come back. And for some reason, we lost that."
Women's hockey (23-14-2, 17-5-2 Hockey East): BU head coach Brian Durocher has assembled arguably the most consistent program on Commonwealth Avenue, and 2015-16 was no different. It again made the Hockey East title game and missed out on the NCAA Tournament for the first time in seven years.
The biggest takeaway, though, was how seniors and underclassmen seamlessly shouldered the burden of a grueling schedule. The team's top two scorers — sophomore forwards Rebecca Leslie and Victoria Bach — stole the show, but an eight-member senior class left a legacy in which playoffs were seldom an obstacle.
"This was the year the seniors had to be a little bit more on the front and center part of the stage," Durocher said. "They answered the bell when it came to leadership, they answered the bell when it came to their on-ice performance, and I certainly think of people like Rebecca Russo, Sarah Lefort, Kayla Tutino, Alexis Woloschuk in a very subtle way had a great year."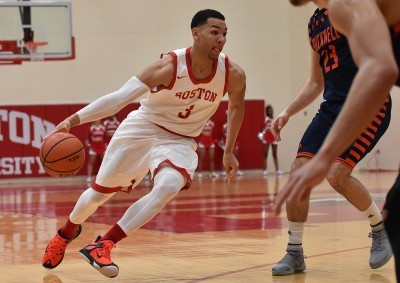 Men's basketball (19-15, 11-7 Patriot League): It's hard to look back on BU's season without discussing injuries. Key players in junior guard Cedric Hankerson and senior forward Justin Alston redshirted, while senior forward Nathan Dieudonne and freshman guard Kyle Foreman battled ankle injuries down the stretch.
Nonetheless, BU rattled off seven wins in a row across January and February, won a CollegeInsider.com Tournament game on the road against Fordham University and senior guard John Papale set a record for 3-pointers in a season (95).
"It was kind of a team effort," BU head coach Joe Jones said. "Without the number of dudes we had that were able to perform, I don't think you can talk about our season without talking about the group. It wasn't one person that stood out. It was all different guys."
Women's basketball (3-27, 3-15 Patriot League): There are no two ways to slice it — the 2015-16 season was rough for BU head coach Katy Steding's squad. Struggles persisted at Case Gym and on the road, no player averaged double-digit scoring and the year started with 15 consecutive losses.
One highlight came about when junior guard Sarah Hope's game-winning layup led to a 51-49 win over the United States Naval Academy, a play that earned the top spot on SportsCenter's Top-10 plays. Still, much was left to be desired from Steding's second year in charge.
"I know we got better as a team," Steding said. "I felt like we improved, but we just weren't quite there. We had some great moments, with Sarah's buzzer-beater [and] with our team effort against American [University] in our first road win … I think we had some great moments like that."
Spring Sports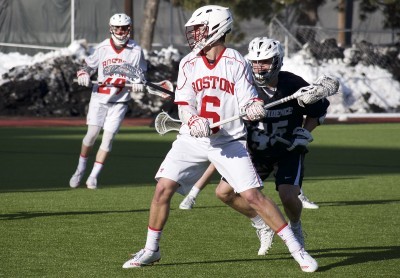 Men's lacrosse (8-6, 3-5 Patriot League): As a third-year program, high expectations preceded BU's 2016 season. And come the end of March, that level of excitement was rewarded, as head coach Ryan Polley's side held an 8-2 record, consistently was in the national rankings and knocked off two ranked sides.
Then April came, and the Terriers' preseason goal of making the Patriot League Tournament fell agonizingly short. They lost their last four games, and, while a final contest against No. 14 Duke University awaits on May 8, the program's first winning record was soured.
"It's a little bittersweet because we were in a great position to secure a playoff berth, and we were unable to do that," BU head coach Ryan Polley said. "You can't really forget the accomplishments we've made in such a short period of time. To beat two ranked teams in Harvard [University] and [the United States Naval Academy] and then get ranked as high as 16th is a really nice accomplishment for this young program."
Women's lacrosse (9-7, 6-3 Patriot League): After enduring a slow start in February, the Terriers turned their fortunes around drastically, winning seven of their last 10 games. A home quarterfinal matchup in the Patriot League Tournament awaits on May 3, and BU head coach Liz Robertshaw said she is overjoyed with her team's progress.
Led by seniors in midfielders Jill Horka, Ally Adams, Remy Nolan and Sofia Robins, as well as attack Mallory Collins, BU has evolved greatly. For Robertshaw, her team's strengths fall far outside any single measure or player, though. 
"I can say this team is a close-knit group, and I think that's a standard the seniors set, but more so the willingness of the freshmen through the juniors to believe, to believe in what they can do and who they can be," Robertshaw said. "I think it's been awesome. It's been very fun to coach. I've been really lucky this year to coach this team."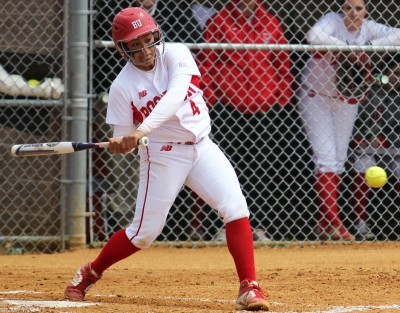 Softball (20-21, 6-5 Patriot League): The 2016 season reigned in a new era for BU, as head coach Ashley Waters took over from Kathryn Gleason. While a fair chunk of conference matchups remain, Waters has confidently marshaled her squad.
Whether it's freshman first baseman Alex Heinen's bat, senior pitcher Melanie Russell's arm or junior shortstop Brittany Younan's fielding ability, the Terriers definitely have enough talent. The hiccup, however, has been harnessing that into consistent performances, as they've experienced a seven-game winning streak and six-game losing streak.
"I think then for them it's a matter of coming back in a lot of games, and whether they've gone our way or not, we've legitimately fought until the last out," Waters said. "They have heart, they have passion, they have grit, and I think that's something at the end of the day is the ideal thing I'm looking for as a coach."
Jordan Green and James Mattone contributed to the reporting of this article.