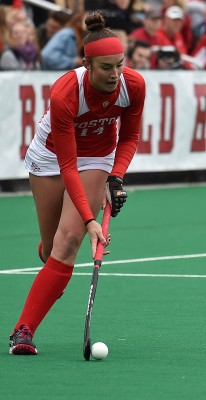 The No. 13 Boston University field hockey team looks to continue its undefeated start to the 2016 season Friday afternoon against the No. 20 University of Maine at New Balance Field.
The Terriers (4-0) are coming off their fourth consecutive one-goal victory following a 2-1 away contest at Miami University in Ohio. Against the Redhawks (2-3), senior forward Amanda Cassera carried BU's offense, netting both goals. Senior goalkeeper Cammy Jensen completed her fourth win by saving two Miami shots.
BU's first three victories came against Northwestern University to open up the season, followed by the University of New Hampshire, and most recently against Boston-area rival Northeastern University. The Terriers have outscored opponents 10-6 to begin the season, and have held opponents to a meager 10.3 shots per game.
Conversely, the Black Bears (4-0) are nationally ranked and have outscored opponents at a staggering 24-6 margin. Maine's potent offensive attack is led by junior forward Madison Cummings, who has eight goals and 17 points on the year, and sophomore midfield Libby Riedl, who has three goals and four assists thus far.
"When you look at their numbers they are scoring a lot of goals, very dangerous on attack, play fast and get a lot of numbers in their attack zone very quickly," said BU head coach Sally Starr.
Maine most recently toppled Dartmouth College 7-3 at home on Monday. The Black Bears have netted six or more goals in three of their four games.
On the other side, Jensen has let in an average of 1.47 goals per game this season, giving the Terriers a reliable force in net. Cassera, native of Fairfield, New Jersey, leads the team with four goals and one assist, while junior midfielder Allie Renzi and senior forward Taylor Blood are tied for second on the team in scoring, each tallying two goals and one assist.
After four close contests, Starr and her squad have been working in practice to develop more scoring chances.
"The point of emphasis has been to be a better finishing team," Starr said.
The matchup against Maine is the first time BU has seen a nationally ranked opponent since the season opener, a 2-1 victory against then No. 16 Northwestern (2-2).
"[The game against Maine] is important game regionally and obviously to uphold our national ranking," Starr said. "You try not to look at it too much at this point in the season and you need to take it one game at a time."
For Maine, this is the first true test of the young season, as Friday's contest will be the first time the Black Bears take on a nationally ranked opponent.
With a 17-game regular season schedule, BU is just starting to embark on a long year, and taking it game by game is critical to having a successful season. Eyeing a 5-0 record to begin the 2016 campaign, Friday's game could very well be the biggest matchup yet for the Terriers.
"I like how my team is playing, been a really good practice week for us," said Starr. "Now we are getting into the academic portion of the schedule and we have a ton of energy."