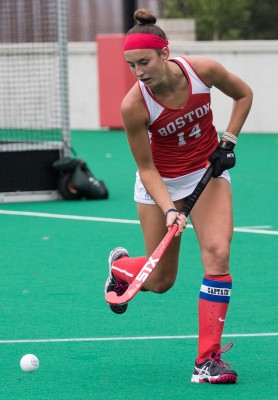 The No. 9 Boston University field hockey team is off to its best start in school history after winning its seventh straight game this past Saturday against Colgate University. A talented group of seniors leads the team including leading scorer, senior captain and forward Amanda Cassera.
Cassera was named the Patriot League Rookie of the Year as a freshman in 2013, and subsequently earned Patriot League All-Conference Second Team honors as a sophomore and junior. The Fairfield, New Jersey native ranks third in the Patriot League in goals scored and places in the top 10 in assists as well.
The Terriers (7-0, 1-0 Patriot League) remain the only undefeated team in the Patriot League, and as conference play has just begun, BU enters the most challenging part of its schedule.
The Daily Free Press caught up with Cassera after Saturday afternoon's 9-0 victory over Colgate (1-8, 0-1 Patriot League) where Cassera netted her fifth goal of the season.
1. What's your major?
"My major is health science. I'm hoping to go to nursing school once I graduate."
2. How old were you when you started playing field hockey?
"I was in about third grade, I believe. I don't really know how old that is, but pretty young."
3. What about your thoughts on Boston winters?
"They're the worst … Going home for Christmas and then coming back you know you're in for it, so hopefully it'll stay kind of warm this year."
4. Favorite musical artist?
"Wow, that's a tough one. I'm going to go with Taylor Swift. Not really before game, but just in general she's kind of my girl."
5. If you were stranded on a deserted island and you could bring one teammate with you, who would it be?
"I guess I'd bring [senior forward] Taylor [Blood] — she's one of my really close friends and we kind of drive each other insane, but we also have a good time together, so definitely her."
6. What is your pregame meal?
"T. Anthony's french toast, eggs over easy and a bagel."
7. And how about your favorite junk food?
"Anything for dessert."
8. Why did you choose BU?
"Honestly, I really was excited to be in the city. You have so many opportunities and there's so much going on all the time. I knew I wanted something more exciting than just your average college campus."
9. Are you involved with any other extracurricular on campus?
"No, field hockey usually takes up most of my time."
10. Did you play any other sports growing up?
"Yeah, in high school I played field hockey, basketball and lacrosse."
11. Where's your favorite place to play an away game?
"I really liked playing at [the University of North Carolina] last year.
12. Why?
Probably because we went to Maggiano's for dinner before and it was unreal. That definitely was my favorite place so far."
13. What's your Chipotle order?
"Burrito, white rice, chicken, no beans, mild salsa, corn, sour cream, guac, lettuce."
14. What are your post-college plans?
"I'm hoping to go to nursing school. I really would love to do labor and delivery, ER kind of stuff. We'll see."
15. Best place to eat on campus?
"I'd say Panda Express in the GSU. I don't get it often, but I love it."
16. An age-old debate in Boston: Mike's or Modern Pastry?
"Mike's."
17. What's your favorite home-cooked meal?
"I'd have to go with my mom's baked ziti."
18. Best concert you've ever been to?
"Beyoncé, floor seats with [senior midfielder] Ellie [Landsman] and [senior forward] Sara [Martineau] freshman year."
19. Favorite emoji?
"The sassy girl with her hand to her side."
20. How do you feel about your team being ranked top 10 in the country right now?
"It's an amazing feeling. We knew that my class coming in could do something really special this year and I think that to have things play out the way that they are right now, we know it is very possible to do something really special this year."