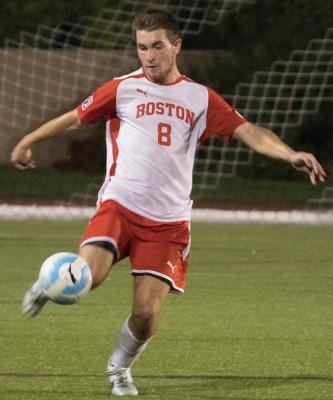 In its final contest before Patriot League play, the Boston University men's soccer team shut out Brown University 2-0 at home Tuesday night.
Terrier (3-2) freshman Matt McDonnell was one of the heroes of the contest, with his rebound goal in the 42nd minute being the initial blow.  
McDonnell's goal was followed 12 minutes later by junior midfielder Anthony Viteri, who slotted the ball into the side netting just outside of Bears (3-3) goalkeeper Erik Hanson's reach.
BU head coach Neil Roberts was proud of his team's effort, but noted that there is still progress to be made.
"We're not ready yet, but we're close," Roberts said. "The good thing about this group is that every game we've gotten a little bit better. At Princeton [University] we had some good things, some more good things in this game here."
Though each of the two goals was impressive in its own right, the plays behind those goals were even more striking.
On McDonnell's put-in, freshman midfielder Jerry Ozor gave a phenomenal run down the sideline, evading multiple defenders before firing a shot at Hanson that he could not collect. The rebound then fell to the feet of McDonnell, and the Smithtown, New York native calmly slotted it through for his second collegiate goal.
On Viteri's goal, Ozor added his second assist of the match as he slid his way past the Bears and delivered a fine pass to Viteri, who netted his team-leading fourth goal of the season.
Those were Ozor's first points of the season, as he had only mustered one shot until Tuesday night.
BU had another two scoring opportunities in the first half when sophomore midfielder Magnus Benediktsson fired a shot in the 17th minute that stunned Hanson but didn't beat the crossbar.
Senior forward Felix De Bona also had a chance in the same minute, and though it looked like De Bona had a clear shot at net, the ball was deflected for a BU corner, which the Terriers failed to convert.
Complementing the Terriers' strong offensive performance was a dominant defensive performance in the first half. The Bears were only able to put up five shots through the first 45 minutes, only one of which was on target.
The second half was a different story though, as the Bears outshot the Terriers 7-6.
"We kept the ball, they chased us," Roberts said. "When they don't have the ball it's hard to shoot and that was the difference. We got the second goal and after that we just kind of lost it a little bit and that's the disappointing part. If we just keep to the plan then you get three, four [goals]. A team like Brown, when you let it get hectic, as you saw, anything can happen."
Despite this, BU was able to convert some of its chances, while senior goalkeeper Matt Gilbert closed out his second shutout of the season against a formidable Bears offense.
"Matt's come so far," Roberts said.  "He's such a hard worker and so demanding of himself. He's worked hard in the weight room, put good weight on. You want good things to happen for him because he's a good leader for us and he's an extremely hard worker."
For Gilbert, the 2015 Patriot League Goalkeeper of the Year, nights like these have become the norm. He boasts a .786 save percentage to go along with his 15 career shutouts. Roberts is particularly impressed with the growth he's seen from his keeper.
"I never thought I'd see him doing what he's doing right now, so that's a credit to him," Roberts said.