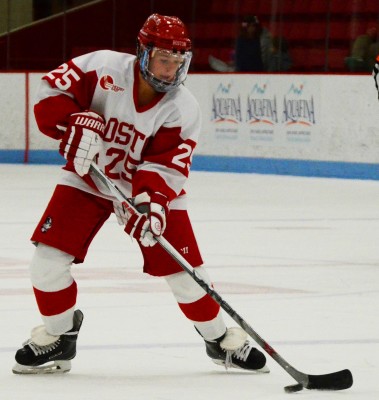 With the official start of the 2016-17 Boston University women's hockey season this weekend, training has begun for senior defenseman Alexis Crossley, though in a bit of a different fashion.
The Cole Harbour, Nova Scotia native is set to participate in the Trans Am Bike Race next June. The race, starting on June 3, 2017, will stretch from Astoria, Oregon to Yorktown, Virginia — a total of 4,300 miles spanning the entire continental United States.
During the race, participants carry necessary materials to survive, including warm clothes, wet weather gear, sleeping equipment, food and water, to name a few. Riders are not allowed to have support crews following them in cars, and must obtain their own food, find places to sleep and tend to any issues regarding the malfunctions of their bikes.
The goal is ultimately to promote awareness of children dealing with mental and physical health issues related to weight management and obesity due to of inactivity or poor nutrition.
For Crossley, the race carriers a special meaning, as she is participating in it with her father, Brad, who is an elementary physical education teacher.
"It's a race that my dad has been talking about since I can remember," Crossley said. "My dad has a lot of young kids coming in and out of his gym at school everyday. Over the last while, he's seen an increase in kids coming in who can barely even run a lap around the gym without being tired and complaining. There's just an increase in lack of physical activity among children."
A healthy lifestyle is something Crossley grew up with all her life, stemming from her parents. As a young kid, she and her younger siblings were always active, which she said played a large role in forming the person she has become today.
"It not only developed commitment and leadership and communication, but it also just set us up for a healthy lifestyle moving forward," Crossley said. "While the biking stuff goes along with the physical activity, creating awareness about trying to change the way people are eating, the way people are living their lives on a daily basis is something that hopefully is going to come out of the whole thing."
By participating in the Trans Am Bike Race, Crossley hopes she can play a small part in helping children reap the same benefits she experienced from physical activity at a young age, especially considering the way children are becoming much more engrossed in technology.
"There's so many more kids that are getting an iPad for Christmas than a water gun," said Crossley. "As much as that is cool, I think that it needs to be brought to light that being outside, being active and living that lifestyle at an early age is something that is needed to carry with you for the rest of your life."
The inspiration to participate in this race largely stems from her father's passion for not only living a healthy lifestyle, but also cycling. With her college hockey career winding down, Crossley wants to hopefully follow in her father's footsteps and become more involved in cycling herself.
"My dad did a bike race from Banff, Alberta to the border of Mexico and I just always followed that," Crossley said. "Cycling has always been something that I've loved. Whenever my dad used to go for runs when I was little, I was always on a bike beside him."
However, since the race is not set to start until next summer, Crossley wants to keep her focus on her last hockey season as a Terrier.
"First and foremost, my priority right now is the season and training to make sure that I'm maintaining hockey shape," Crossley said. "Once the season ends, that's really where I'll take off and get some longer rides in."
Once June rolls around, Crossley will be celebrating not only the end of her BU career, but she'll also spending some quality time with one of her biggest role models. This being her ninth year in the states, she couldn't be more excited to embark on this adventure.
"For me to be able to spend a whole month biking across the U.S. with my dad and just spending really close time with him, it's not only making up for the fact that I haven't got to spend that time with him over the last nine years, but it's also a way to celebrate finishing my college education and my college hockey career," Crossley said. "We're just really excited to take it on together."