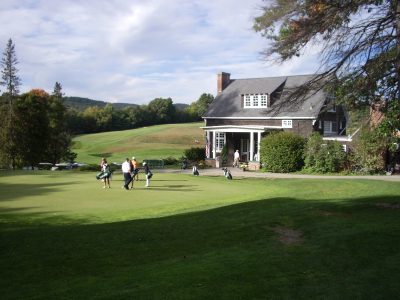 Freshman Abby Parsons impressed for the Boston University women's golf team at the Dartmouth Invitational this weekend. The Terriers came in ninth place out of 14 teams with two-day scores of 321 and 312 for a combined 633, but the Pinehurst, North Carolina native led the way for her team.
Parsons posted an opening-round 79, and finished on Sunday with a team-low 76 for a two-day total of 155 — good for a 22nd place finish overall.
Senior Adela Cejnarova (33rd place) and junior Phyllis Tang (37th place) were the second- and third-best Terriers, as each posted weekend totals of 158 and 159, respectively.
Another BU freshman, Saeros Oskarsdottir, matched Cejarnova's results by going 81-77 in the two rounds, tying the latter for 33rd place.
Sophomore Megan Carter and freshman Zhangcheng Guo rounded out the team's weekend at the Hanover Country Club in New Hampshire by posting a 162 and 169, respectively.
The Terriers' next competition will begin this Sunday as they travel to Greensboro, North Carolina to compete in the UNC Greensboro Invitational.
70 BU student-athletes participate in Brian J. Honan 5K Run/Walk
Seventy Boston University students — and over 1,500 people total — took part in the Brian J. Honan 5K Run/Walk this Sunday in Allston.
As a teacher, prosecutor and City Councilor, Honan worked to "give ordinary people the chance to live extraordinary lives — through education, recreation, housing and healthcare," according to the Brian J. Honan Charitable Fund's website.
Terriers from the men's rowing team and women's lightweight rowing team ran the 3.1 mile course to help raise money for the fund.
The fund will "support and foster programs to help local communities realize the true potential of its citizens in creating those extraordinary lives," according to the event's website.
BU sponsored over 200 volunteer runners throughout the university to participate in Sunday's event.
The money raised through the Honan 5K benefits scholarship opportunities for children in the Allston and Brighton communities, which goes directly into the Allston and Brighton Board of Trade's scholarship funds.
Boston Mayor Martin Walsh was among the run's participants. He posed for pictures with the Terriers and thanked each participant for his or her involvement in the event, which is a part of Boston University's Student Athlete Advisory Council's ongoing community outreach initiative.