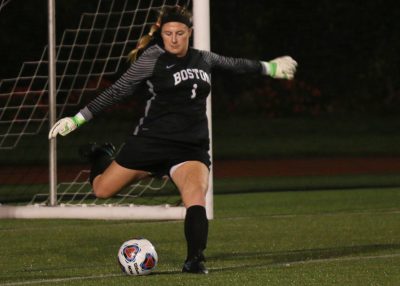 One goal was all it took for the Boston University women's soccer team to defeat Colgate University on Wednesday night at Nickerson Field.
The Terriers (2-10, 2-1 Patriot League) defeated the Raiders (4-4-3, 2-1 Patriot League) 1-0 behind strong performances from junior midfielder Jesse Shreck, who scored the lone goal, and sophomore midfielder Dorrie Varley-Barrett, who tallied an assist.
Despite starting the season 0-10, the defending Patriot League champions have kept their confidence, with team's performance in two straight victories evidence that they're starting to peak.
"Over those first 10 games we saw the progress we were making," BU head coach Nancy Feldman said. "People weren't pointing fingers. Our improvement was a combination of looking at how we were improving, and the players staying positive while being accountable."
Contrary to BU's early dominance last weekend against American University, Colgate was the early aggressor.
Freshman Abby Sotomayor drew a free kick and a corner in the game's early moments. The Terriers cleared a Colgate corner right to the Colchester, Connecticut native, whose shot was stopped by senior goalkeeper Bridget Conway in the sixth minute.
The Terriers attacked in the 11th minute, when sophomore forward McKenna Doyle found Varley-Barrett wide open in front of the net. Despite having nobody around her, she rushed her shot attempt, and sailed it left.
Varley-Barrett redeemed herself four minutes later, though, as she led the BU attack and dribbled it deep into Colgate's backline. She then sent a ball into Shreck, whose effort bested Raiders goalkeeper Kelly Chiavaro to give BU the 1-0 lead.
Despite their recent pressure on opposing defenses, the Terriers are still the least proficient scoring team in the Patriot League.
They rank third in shots on goal, but have a league-low four goals to show for it. Until last weekend, they hadn't been able to convert their opportunities; two wins later, and their hard work is starting to produce good results.
"We didn't come to practice and just say, 'Oh, we're unlucky' or 'it'll come,'" Feldman said. "We were working through it and staying positive."
BU showed no signs of losing its intensity coming out of halftime, but Colgate picked up the urgency, led by Sotamayor and senior Sarah Coy.
"I thought Sotomayor got away from us a few times, and so did Coy," Feldman said. "They're two tough players to defend — they're there one second, and then they're not there. They're mobile. They play with a lot of creativity. They're unpredictable."
In the 51st minute, Sotomayor moved past a pair of defenders and sent a shot wide past Conway.
Thirteen minutes later, Bloznalis was given a yellow card for taking down Coy. With a chance to tie the game, the Boca Raton, Florida native sent her free kick high and out of play.
The Raiders came closest to equalizing in the 83rd minute. Coy advanced the ball into the Terriers' zone and crossed the ball for senior Sophi Lederer, who headed the ball high over the net.
Overall, BU contained one of the more aggressive offenses in the conference. Colgate is a force on offense, as indicated by 87 total shots on goal, good for first in the conference.
BU's defense bent against the Raiders, but it did not break. Conway finished the night with three saves; Hannah Ciolek, her second-half substitute, chipped in one save.
Feldman preached that the victory was due to the efforts of the entire team, and if the Terriers continue this approach, the wins should follow.
"It was a team effort limiting how much [Sotomayor and Coy] got the ball," Feldman said. "It was team defense to not let them get through, and when they did, our backline was stable. It limited their free looks."