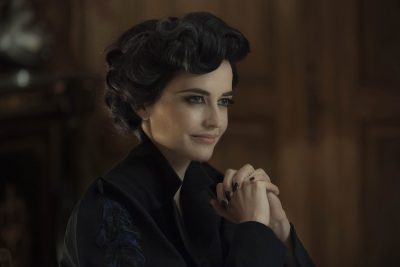 "Miss Peregrine's Home for Peculiar Children" is a 2011 young-adult novel about a group of misfit kids with special abilities, called "peculiars," and a collection of their old, eerie photographs. Although written by Ransom Riggs, the plot reads like a Tim Burton film, which is only fitting because he is at the helm of the movie adaptation.
"Miss Peregrine's Home for Peculiar Children," directed by Tim Burton, is about a teenager named Jake who lives an ordinary life in Florida but finds escape in his grandfather and the old man's magical stories. When his grandfather dies and odd clues are left behind, Jake sets out on a quest to determine the reality of those childhood stories. He gets more than he bargained for, however, when he is thrown into a world of children with special abilities, hideous monsters and time travel.
The film stars a surprisingly all-star cast for a young-adult book adaptation that never gained the popularity of "The Hunger Games" saga or the "Harry Potter" series. Jake is played by Asa Butterfield, who showed his superb talents in "Hugo," though he falls somewhat short in "Miss Peregrine." He was unable to captivate the audience, and as a whole his performance felt bland and uninteresting. Perhaps that is because he was surrounded by other characters who could make fire with their hands or turn into a bird.
Speaking of avian shapeshifting, the titular character, Miss Peregrine, is played by the wonderful Eva Green. Green fit the character nicely, and brought some youth and vigor to the film adaptation, as opposed to the character in the book — but there was still something left to be desired. Her character lacked the heart and compassion that she was so well-known for in the book, and was greatly underutilized in the film with hardly enough screen time.
Ella Purnell and her character Emma proved to be a pleasant surprise in the movie. Purnell is not big in Hollywood yet, and certainly wouldn't be recognized by general audiences, so it was a surprise that she was chosen to lead an adaptation with a big fan base. Her performance was probably the most genuine and heartwarming of the entire movie, and every time she was on screen you couldn't help but smile. We will definitely be seeing more of her in leading roles in years to come.
Now we come to probably the oddest character of the entire movie: not the little girl who can lift boulders, or the faceless children eating monsters, but the accomplished Samuel L. Jackson. Jackson plays the film's main villain, Barron, a "peculiar" gone rogue who eats children's eyeballs, has bright white eyes and long sharp teeth. It is a bizarre sight to see such a prolific actor in such a clownish role, and his performance is nothing less. He parades around, screaming with his big smile and fake teeth. The whole thing is distracting. It doesn't come off as scary, and every time he is on screen you can't help but laugh at the cheesiness.
Although this movie is not Burton at his finest, there are some terrific moments that only a director like Burton can pull off. He has a way of taking the macabre and disturbing and turning it into something heartening and cute. For instance, there is a scene where the children watch a Nazi bomb drop on their home while wearing antique gas masks — a disturbing image. Yet, Burton turns it into one of the most memorable and heartfelt moments of the film.
He also brings some new interpretations of the book, including the portrayal of the disgusting monsters, called "hollowgasts." Although their depiction in the movie is different from the book, fans will be pleased because he makes them creepy, yet cool, in an intriguing way.
Overall, the movie does its job. It doesn't excel. It tells the story laid out in the book and introduces audiences to interesting characters. Could it have been better? Absolutely. The entire thing felt a bit forgotten, like Burton was not fully invested in this movie and his mind was elsewhere. Some scenes were so awkward that you have to ask yourself if Burton was even present during the filming because it is so unlike him.
In spite of this, "Miss Peregrine's" still provides entertainment for the whole family. Some beautiful, though disturbing, scenes could only have been brought to life on screen by the twisted mind of Tim Burton. Hopefully, we will get film adaptations from the other books in the series so their fascinating world can be better developed.