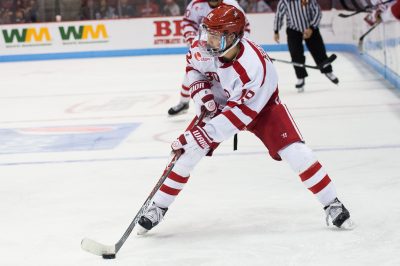 David Quinn, head coach of the No. 4 Boston University men's hockey team, shaped preseason hoping to gauge where his hyped-up squad would stand in the 2016-17 season's early goings.
But when the University of Prince Edward Island entered Agganis Arena for an exhibition game Saturday night, deeper truths were few and far between. Sure, the final scoreline was 10-2 in favor of the Terriers, but penalties flowed like wine and the referee's whistle became an all-too-common sound.
"I thought college hockey had gotten away from calling penalties," Quinn said. "I thought it was starting to morph into 1995, '85, and I just thought there was too much hooking, holding and grabbing, and we've got to get back to calling the penalties that are penalties. To me, we have to do a better job of staying out of the box. I'm not blaming the referees in any way shape or form.
"We've got to adapt to the way they're going to call it, and we're going to watch every penalty we took tonight and they have to have a better understanding of what a penalty is," Quinn added. "You can't hit people high, you can't go over the top and hook somebody, and we just have to adapt. We will, we'll adapt."
By the night's end, BU and the Panthers combined for 39 penalties, or 122 minutes of time in the sin bin. And for a team that completed its first official practice of the year on Saturday morning, the Terriers' skill was what ultimately guided them past their elder Canadian foes.
However, none of that's to say Quinn went home with no lessons learned for next Thursday's home scrimmage against the United States National Team Development Program. For starters, the nine-member freshmen class proved exactly why they were so highly touted this offseason, even from the first whistle.
Forward Patrick Harper, the night's first star and a product of the Avon Old Farms School in Connecticut, got the scoring underway 3:16 into the contest, only to add another in the first period, two more in the second and another in the third.
Forward Clayton Keller posted a hat trick of his own, defensemen Dante Fabbro, another newcomer, found net in the first and Chad Krys, his classmate and fellow blueliner, racked up three helpers.
"You certainly don't expect your freshmen to score – one guy gets five and other guy gets three," Quinn said. "That's unbelievable and hopefully it continues, but odds are it won't. I'm very excited for all of them and it's one game, but we know what type of talent these kids have … It's a long season, so I hope we're not in there backslapping each other and telling each other how great we are. There's a lot of hockey to play."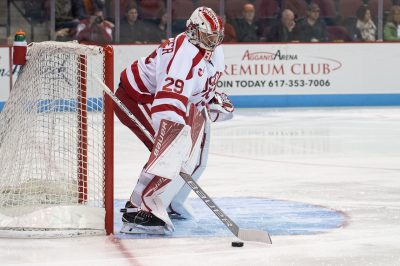 A far subtler takeaway, though – and largely the reason for sequential 4-2 and 8-2 leads heading into each intermission – was just how solid the goaltender contingent was. Junior Connor LaCouvee played the first, freshman Jake Oettinger the second and sophomore Max Prawdzik the third, with only two 5-on-3 strikes from the Panthers besting LaCouvee.
And for much of the evening, BU's eight defensemen stood tall before its trio of netminders, offering a glimpse into what could be.
"To start, our goalies are really competitive," said senior captain and defenseman Doyle Somerby. "They're always our backbone no matter if we make mistakes, and we did have a lot of mistakes I think in the D zone, which will come with practice and getting more comfortable with our D partners. But they were really good all night, and unfortunately Connor lets up two, but they're two 5-on-3 goals."
In a similar vein, the Terriers laid the groundwork in myriad ways Saturday night. They went 12-of-14 on the penalty kill, scored on six of their 11 power plays and won the shot battle 38-30.
Even the night's low moment – when Krys and sophomore forward Jordan Greenway were ejected following a scuffle in the second period – offered an important lesson, Somerby said. Then add in the fact that BU won the last two periods by a combined score of 6-0, and Quinn felt pretty good about how an otherwise mind boggling game unfolded.
"The second period ends and all we talked about was, 'Let's win the period, let's stay out of the box, let's play a cleaner brand of hockey than we did then,'" Quinn said. "That's going to be our goal every game each period. We just have to keep getting better, and the winning and losing will take care of itself.
"If you live in the moment and play the right way and are mentally and physically committed to playing the right way and have talent, you have a chance to have a lot of success," Quinn added. "That's what we have to focus on."
Looking forward, BU just has the aforementioned U.S. NTDP game left to get everything right before its first NCAA game of the year on Oct. 8 against Colgate University. Somerby stressed things are falling into place, and while Prince Edward Island doesn't quite mimic a Hockey East opponent, BU is starting to form its identity.
"As far as the little adjustments, we're going to have make a lot this next week," Somerby said. "The USA team came in and beat us last year, so I know for a fact we're not going to take them lightly this year. I know everyone is excited to get on the road and start this for real, because obviously we have high expectations in our locker room and we're ready to get going with this process."