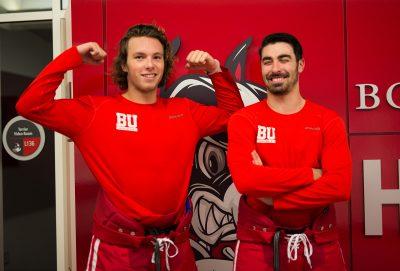 The No. 4 Boston University men's hockey team is full of big personalities, and two of the biggest are junior defensemen Brandon Hickey and Brien Diffley. We took some time to learn about these two dynamic Terriers.
1. Why did you choose to play at BU?
Brien Diffley: For me, I grew up in Boston about 10 miles north. Seeing what BU is made up of with the Beanpot, Hockey East playoffs, the Garden, I've been watching that my whole life. It's hard to say no to an opportunity like that.
Brandon Hickey: When I came on my fly down everything was pretty outstanding. Coach Quinn and [former] coach Greeley did a great job of showing me around, and they sold me on the school as soon as I came here. Especially seeing the coaching staff, the facilities and the freshman class we had coming in. I was excited about all that.
2. Do you have any pregame rituals or superstitions?
BH: I've noticed Brien washes his socks on gameday. He does all his laundry and makes sure everything is nice and fresh and clean.
BD: Hicks wears a sweatshirt over his suit to the rink.
BH: The hoodie keeps my head nice and warm.
3. Favorite place to eat at BU, on or off campus?
BH: You gotta go with Chipotle. Their burritos are unbelievable, and they don't have that in Canada.
FreeP: What's your order?
BH: A nice little chicken burrito, double chicken, let's go black beans, brown rice, salsa, guac, a little bit of cheese and sour cream, lettuce.
BD: I go with Yamato on Boylston Street. On Sundays I hit it every time, all-you-can-eat sushi.
4. What's your biggest fear?
BH: I hate mice. I can't stand them. Diff and I had one in our room freshman summer and it was in our bathroom, so we stuck towels underneath the door so it couldn't get into our rooms.
BD: That was a rat.
BH: That was definitely a mouse.
BD: I'm going to go with snakes for mine.
5. What's your favorite movie?
BH: "The Dark Knight" is pretty good, but I watched "The Big Short" the other day and it's a pretty great economic movie. "The Dark Knight" takes the cake, though.
BD: I'm stumped right now. I'll go with any of River Phoenix's movies. You've got to watch his movies.
6. If you could time travel to one place, where and when would it be?
BH: 1970s Discoland. You have to hang out, those platform shoes, the nice parachute pants, hit up some clubs.
BD: I'll go to the Northern Lights.
BH: Time travel, Diff, time travel.
BD: Oh, time. Let's see. The future, I'll go forward.
7. Who is your favorite musical artist?
BH: This one is hard. Kanye West is up there for sure, same with Nirvana. Then Drake, too. Those three are my top ones.
BD: I'm more of an indie rock guy, but I'll make an exception and go Kygo. Have to branch out from the indie rock a little bit.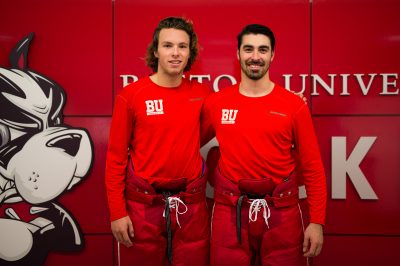 8. Did you play any other sports growing up?
BH: I know Diff plays a bit of tennis. Kid's always got the tennis gear around the room. But for me, I used to play basketball, volleyball, badminton, track and field events. Basically everything back when I was in elementary school.
BD: I was hockey, tennis and golf.
9. What's the best place to study on campus?
BH: 26th floor of [33 Harry Agganis Way]. I like the view, it calms you down and really gets you in the zone. Night time.
BD: I'll go my room. Nice and quiet, you get a nice view.
10. What's the best concert you've ever been to?
BD: I'll go Coldplay.
BH: Kanye West this summer. I went with [junior goaltender] Connor [LaCouvee] and [sophomore goaltender] Max [Prawdzik], and we had an absolute blast.
BD: Coldplay at the Garden, you can't beat that.
11. So far, what's your favorite moment in your hockey career?
BH: I've got two. Playing in World [Junior Championship] last year for Canada, you go out there for the first game and represent your country, that's pretty special. Something that comes pretty close was winning the Beanpot. That was probably one of the most special moments of my career.
BD: Winning the Beanpot for sure during our freshman year.
BH: You don't quite realize how big that tournament is until you win it. All of a sudden everyone's losing their mind and everyone's so excited for you. It honestly felt like we were playing for a whole country, just like at World Juniors.
12. Who's the funniest guy in the locker room?
BH: Connor LaCouvee, hands down. He always says the most outrageous things and is up to some mischief all day.
BD: I'll give [freshman defenseman] Chad Krys a shoutout. We've got the comedy act going on the D-line. We've bonded quick.
13. Who has the worst style on the team?
BD: Everyone dresses decently well. This one's hard.
BH: I think maybe [senior forward Tommy Kelley]. He wears those dad jeans once in awhile. It could be [freshman forwards] Johnny McDermott and Patrick Curry though, put them down.
14. Who is your favorite NHL player?
BH: I love [Blackhawks blue-liner] Duncan Keith. Him and [Kings defenseman] Drew Doughty are my top two, but I think sometimes Keith takes the cake. A little lefty, from Western Canada, great guy.
BD: I'll go [Predators defenseman] Roman Josi.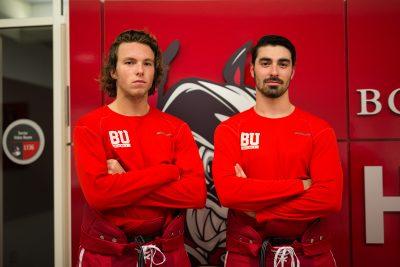 15. What is your dream job outside of being a hockey player?
BD: I'd be a beach painter. Chill out on the beach, paint some landscapes.
BH: That's the weirdest thing I've ever heard. For me, I think being a baseball player would be pretty chill. You hang out, swing the bat once in awhile, toss in a few sunflower seeds, catch a couple fly balls.
16. Have you ever seen a movie that just was absolutely horrible?
BH: Not lately.
BD: What's that movie that just came out with all the swearing?
BH: "Sausage Party"?
BD: "Sausage Party" was terrible.
BH: I guess I won't see that one then.
17. If you could take three celebrities to a party, who would they be?
BH: Christian Bale, Leonardo DiCaprio and Jennifer Aniston. I think they're pretty great decisions.
BD: I'll go with Leo.
BH: You're stealing my answer.
BD: No, that's my answer too. Then I'll go with Kygo and Novak Djokovic.
18. If you could take the place of a professional athlete for a season, who would it be?
BH: Drew Doughty, 100 percent. That guy lives the life. Being in LA, playing for the Kings, as good as he is. Just a great guy.
BD: I'll take Dustin Johnson, the pro golfer.
19. How do you tune out all the noise and hype surrounding this team?
BH: Just don't read anything, don't listen to anything, just play hockey and block out the outside world. When you're in that room it's just the team, and that's all that matters. It doesn't matter what some columnist says or what another team said about you.
BD: That about sums it up.
20. You've both played in a national title game. What's the mentality to reach that height again?
BD: The biggest thing for us is the camaraderie. Once you have that, everyone wants to work for the guy next to them. Then everything else takes over; the skill takes over. It goes from there.
BH: I agree with Diff, but I'd add we have to come to the rink wanting to get better every day. You can't come to the rink and dog it. That's one of the biggest keys to having the success we're capable of having this season.