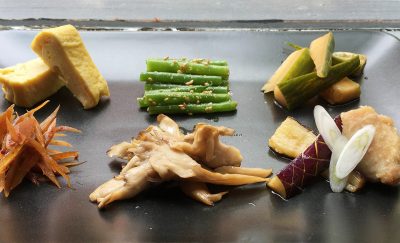 In an era where business environments are often competitive, startups sometimes struggle to make ends meet while preserving clientele. Many young entrepreneurs have no other choice but to adopt innovative tactics, abandon traditional paths and, most importantly, fully dedicate themselves to their businesses.
Moe Kuroki, founder and chef of OISA Ramen, a pop-up restaurant, has succeeded at all of the above.
Her pop-up events are booked out for the season. OISA Ramen has clearly earned a place among the most awaited local food events.
OISA Ramen began as a byproduct of Kuroki's curiosity and craving of authentic Japanese cuisine — food that reminded her of home. Upon her return to the United States from Japan in 2014, she found herself missing her native cuisine more than ever before, and ramen was something she was most attached to, Kuroki said.
"I started making ramen just for me to enjoy, explore and see if I can actually make it," Kuroki said. "Initially it was just sharing, so I did not take any money."
Even though Kuroki had not intended for her "sharing" event to transform into a business, the demand has long surpassed the one that any reasonable family dinner format could satisfy.
One of the reasons behind this prevailing success is a virulent word of mouth, Kuroki said.
"I had guests coming who were friends of friends of friends, and then from there it started," she said. "Guests who came to the second and the third events were wondering when is the next one, so from there I decide to turn it into events, somewhat regular things that I do."
Social media, especially Instagram, has also helped in bringing her popularity to a new level, Kuroki said.
Instagram, however, is not the only trend that facilitates Kuroki's success. With the rise of "authentic" international cuisine in the United States, Kuroki is convinced that she got lucky with ramen being so trendy currently.
"People were craving noodles," Kuroki said. "I think part of it is that the style that I make is pork broth, and it helps that I am from that region too."
Kuroki said she feels grateful for all the support and attention she has received from the Boston community.
"A lot of my regular guests have become family to me," she said. "They are very supportive and they just generally push me forward. I was blessed to be able to work with wonderful workers and wonderful chefs and owners."
Alvaro Morales, the co-owner of The Middle Gray, is one of them. The Middle Gray functions as a venue, inviting different chefs and hosting pop-ups regularly. Kuroki is hosting a brunch-esque pop-up event at The Middle Gray for the fall, which began Sept. 28 and runs through Sunday. Morales collaborated with both Kuroki and her husband, also a chef, in the past, though this is the first time OISA Ramen is doing breakfast food for a pop-up.
The pop-ups, Morales said, have gone very well.
"It was good, it was really good!" Morales said. "We had three sittings — all three were packed. We were running around, and it was pretty wild. People liked this a lot."
Despite the success, the organizers couldn't help but notice their logistical difficulties.
"Every time it's a brand new venue, I have to learn all over again," Kuroki said. "It requires everybody's patience. In my business you want to work with people who can be your partners. You have to work together."
Cooperative energy filled the atmosphere at The Middle Gray. Kuroki and Alvaro personally brought out every dish and talked to the visitors.
Kuroki admitted her favorite thing on the menu was the chili dog served with ramen, though she also enjoyed the sukiyaki beef over rice.
"It's simple, but it is comfort," she said.
As a mother of two, Kuroki values simple, comforting and wholesome food. However, she does not limit her daughters' diets or instill an idea of "taboo food."
"I try to show them a variety of food, but I do not force them," Kuroki said. "They can have their opinion. I only want to show them food from beginning to the end for them to understand what they are eating."
Revealing the food process is very important to her, Kuroki said. As part of her journey, her goal is to create a "wholesome family friendly experience," according to the advertisements for OISA.
When asked whether she was thinking about opening her own ramen shop, Kuroki smiled.
"For a long time I would say no and that I'm not ready," she said. "But the funny thing is that you are never ready. You just do it."