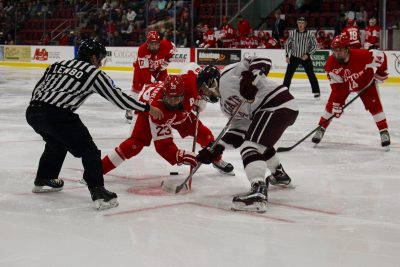 HAMILTON, New York – Get contributions from all 18 skaters? Definitely. Win the first game of the 2016-17 season? A resounding yes. Post a shutout? Almost.
The No. 4 Boston University men's hockey team checked all the boxes on Saturday night at Colgate University, comfortably skating to a 6-1 win against their ECAC foe. By the night's end 13 skaters recorded a point and the Raiders (0-1-1) were kept under wraps, providing head coach David Quinn with plenty of answers as to where his Terriers (1-0) stand.
"It's huge coming on the road like this," said senior defenseman and captain Doyle Somerby. "You have nine freshmen, and it's always going to be a tough atmosphere, especially since [Colgate] tied their home opener. We knew they were going to come out guns blazing again. For the freshmen to handle it the way they did was really impressive, and Harper just keeps it going. For us as a whole, it was nice to show we have the work ethic and did the little things."
As was the case all throughout preseason play, the night was dominated by Patrick Harper, the freshman forward who has seamlessly become a part of the top line. A product of Connecticut's Avon Old Farms School, Harper got the scoring underway 15:11 into the contest, firing a wrister past Colgate's Charlie Finn during the waning seconds of a 5-on-3 power play.
With momentum on BU's side, it was senior forward Nick Roberto who found net next, opening up a 2-0 lead courtesy of a shorthanded goal with 2:33 left in the first period. It was the senior's first goal since Feb. 27, 2015 when he tallied against Northeastern University.
"Any time you can get out to a 2-0 lead, the opposing team is on their heels, and I thought that's what happened a little bit," Quinn said. "A huge kill for us, the 5-on-3. We go down five minutes into the game 5-on-3 and we survive that, and then we get a 5-on-3 and capitalize on it. Obviously that's a big swing of events, and then we get the shorthanded goal, and I thought the Curry line played really well."
Not to be stopped there, Harper pushed the lead to three, this time 5:28 into the second frame and right in the slot's center. From thereafter, the depth of Quinn's side was on full display, allowing BU to secure its 21st season-opening win since the 1989-90 season.
All in the span of 2:13 during the third period, senior forward Tommy Kelley made it 4-0 on a one-timer from a picturesque feed from freshman forward Gabriel Chabot. Then, freshman forward Clayton Keller netted the first of his collegiate career off an airmailed pass from junior defenseman Brandon Hickey, only for sophomore forward Jakob Forsbacka Karlsson to jam home the team's sixth seconds after.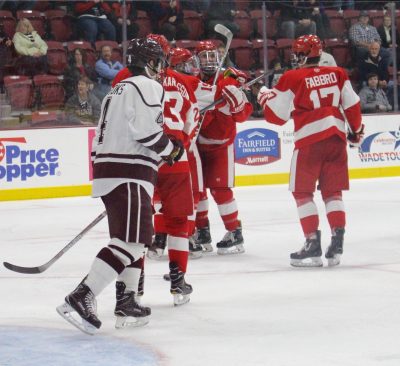 As the shots rolled past Colgate's netminder, perhaps the most encouraging stat of the night emerged: BU received scoring from three classes and each forward line.
"It's huge for our depth, and I think that's our strongest asset," Somerby said. "We have a lot of high-skill guys, but the depth is really nice. I think the upperclassmen were sick of hearing about how good the freshmen were doing, so it was nice to help them out."
BU's offensive production wasn't the only storyline of the night, though. For the first time in 315 games, BU started an American goaltender, and this one – freshman Jake Oettinger of Lakeville, Minnesota – did not disappoint. He finished the night with 29, the best coming when he stymied Colgate's Tyler Penner on a penalty shot in the second period.
He had plenty of help in front of him, too, with BU going 7-for-7 on the penalty kill and blocking 10 shots. Despite those impressive numbers, Colgate's Mike Panowky scored a consolation goal 11:47 into the third period, and Quinn was still left desiring a bit more from his defensive unit.
"It's early in the season, and obviously there are things we're going to have to work on," Quinn said. "Number one, the first thing is our net-front play. The puck gets shot down low, and you have everybody looking for the puck instead of picking sticks up. That's something that will be addressed, but really a big win for us."
The win, however, didn't just draw plaudits from BU's locker room. Don Vaughan, Colgate's head coach, had only positive things to say about the Terriers, speaking to the respect this young team has rapidly garnered throughout the NCAA.
"We knew they were going to be playing a very good team tonight, and they didn't disappoint," Vaughan said. " … They're an unbelievably talented hockey club, and we can learn a lot from tonight. They're talented, but they work extremely hard as well. That's a pretty potent combination."