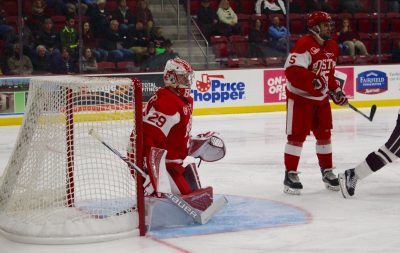 HAMILTON, New York – It was the freshman forwards and defensemen who garnered a lot of attention after the No.4  Boston University men's hockey team's first two exhibitions of the season, and rightfully so.
During Saturday's 6-1 win over Colgate University, however, it became clear that the new goaltender deserves a piece of the spotlight, too.
Getting the start during his first college appearance, freshman Jake Oettinger put on a show for the Terriers (1-0), making 29 saves against the Raiders (0-1-1) to kick off the 2016-17 season.
The Raiders got plenty of open shots on net, thanks in part to 10 penalties on BU, but the 6-foot-4, 205-pound freshman stood tall time and time again. Oettinger, who found out he would get the start Friday night, stopped .967 percent of shots in the contest, often stretching out to make the difficult plays.
"He makes it look easy," said BU head coach David Quinn. "He's a big kid who has a lot of composure and he's athletic. He makes some tough saves, but he doesn't make it look tough. When you're a guy that size and you have the composure he has, there's no mystery [as to] why people think so highly of him."
Colgate head coach Don Vaughan also had high praise for the netminder, whose lone goal allowed came with 9:13 remaining in the third period.
"I was disappointed that we didn't throw more pucks at him," Vaughan said. "I think what happens when you have a goalie like that, there's a tendency to almost respect him too much. You're looking for that perfect shot, and I thought we did that too much tonight. A goalie like that, you just got to try and get something into his pads and bang in a rebound, because he's going to make a save on the first shot probably 99 percent of the time."
Oettinger was especially impressive in the second period, getting a glove on all nine shots on goal, including a penalty shot with 1:37 left in the frame. With the Terriers up three, junior defenseman Brandon Hickey was called for tripping on an open Colgate look, meaning Oettinger would face an uncommon test early in his collegiate career.
As Raider forward Tyler Penner approached Oettinger with the puck, the Lakeville, Minnesota native showed resiliency, deflecting the shot attempt away at the last second to keep Colgate scoreless.
"I knew it was going to be a big turning point in the game, I showed a little emotion after I made the save because I was really excited to be there for the guys," Oettinger said. "I play any breakaway the same way, and luckily I made the save and it was a big point in the game and I was really happy to step up when the guys needed me to."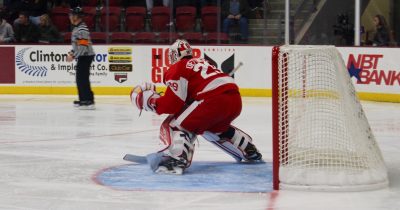 Quinn agreed that the blocked shot was a huge point in the game, as it meant the Terriers could go into the second intermission without losing momentum.
"It's always a big momentum swing when the penalty shot's taken, whether it be for the team that scores it or the team that doesn't give it up," Quinn said. "I thought that kind of held in the day a little bit so we could get him into the locker room after the second and regroup and get back to playing the way we were playing."
The offense may have provided plenty of scoring for the freshman 'tender, but Oettinger's performance still stole the spotlight. After junior goaltender Connor LaCouvee posted a .897 save percentage and a 8-4-4 record in 19 appearances last season, the door was left open for Oettinger, who posted a .908 save percentage in 37 games with the Under-18 U.S. National Team Development Program, to claim the starting gig.
Despite there being competition for starting time, Oettinger credits LaCouvee and sophomore goaltender Max Prawdzik for helping him on and off the ice.
"They've both been really good, they've both been great friends to me since I've been here," Oettinger said. "Obviously it's great having two really talented goaltenders pushing me in every practice. I know if I'm not going to get the job done out there, both of those guys can. Obviously they push me really hard and I'm really lucky to have two great goalie partners that are also great guys."
He likely hasn't clinched it yet, and LaCouvee will get some opportunities in net this season, but make no mistake about it: Saturday's performance gave Oettinger an early lead in the goaltender battle. For now, however, all Oettinger can do is soak in and appreciate a strong start to his time as a  Terrier.
"Obviously, the boys played great," Oettinger said. "Our defense was awesome, our penalty kill was great. A lot of credit to the guys in front of me tonight, they did a great job … All around, I thought it was a great start to the season. All the boys are really happy, and now we're focused on Denver."